Arkansas LEARNS Act Repeal Effort Fails to Gather Enough Signatures
Citizens for Arkansas Public Education and Students fell short of the 54,422 signatures required to place a referendum on the '24 ballot.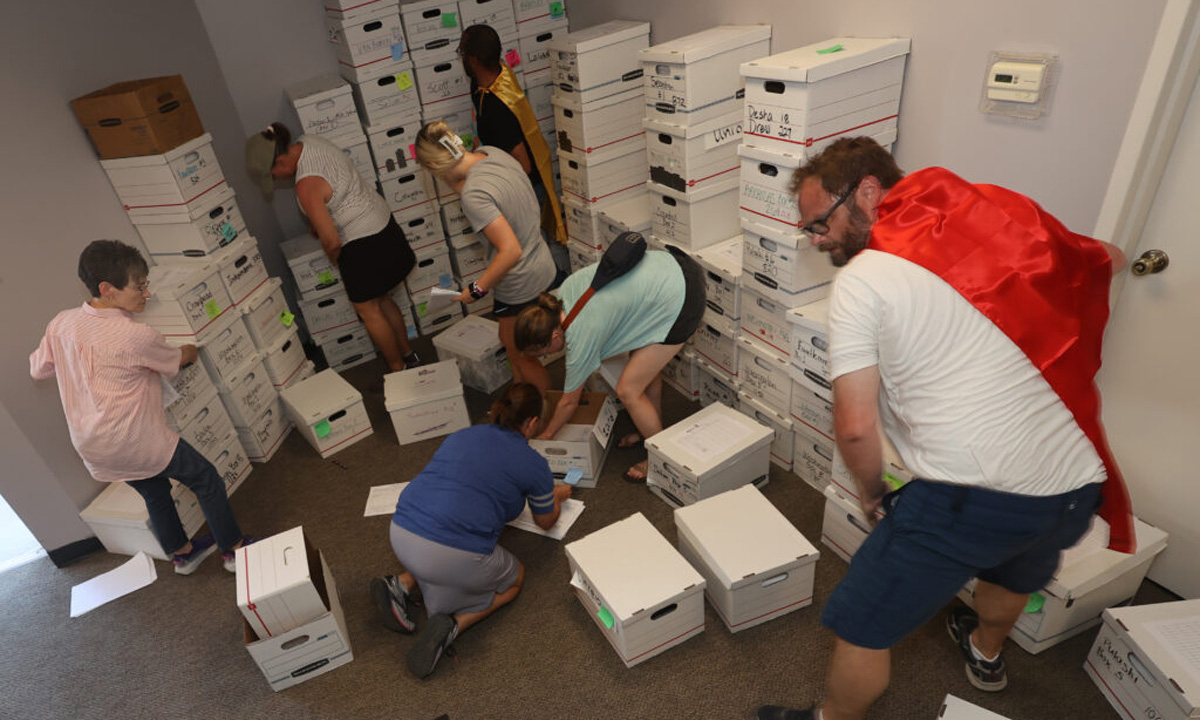 Get stories like these delivered straight to your inbox. Sign up for The 74 Newsletter
The public education group that spent the summer petitioning for a ballot measure to repeal the LEARNS Act failed to gather enough signatures and submit the proper paperwork, Arkansas Secretary of State John Thurston determined Friday.
Thurston's rejection means the referendum will not appear on the 2024 ballot, barring some sort of legal challenge.
Thurston's staff found that Citizens for Arkansas Public Education and Students fell short of the 54,422 signatures required to place a referendum on the ballot both in the group's own estimate and in an actual count of signatures.
CAPES submitted a document claiming it collected 53,675 signatures of registered voters just before Monday's deadline to submit referendum petitions.
"While the Secretary of State is not required to conduct a raw count of signatures when a sponsor represents that the submission is legally insufficient, we nevertheless — as a courtesy to you — proceeded with a raw count," Thurston wrote in a Friday letter to Steve Grappe, CAPES' executive director. "That count determined that you submitted no more than 53,444 signatures — at least 978 signatures short of the number legally required."
CAPES officials initially acknowledged the signature effort had fallen short by under 1,000 signatures, but a day later, they reversed, saying they thought volunteers might have gathered enough to put the LEARNS repeal to voters next year.
In addition to the signature shortfall, Thurston's office also said CAPES didn't submit the required affidavit indicating the number of signatures and petitions being filed.
Further, CAPES failed to meet new requirements set forth in Act 236 of 2023, which requires signatures to be gathered from 3% of voters in each of 50 counties. The requirement was met in 48 counties, according to the secretary of state.
Previously, signatures only needed to be collected from 15 counties. The new law has been challenged in an ongoing lawsuit.
"We certainly appreciate the efforts and impartiality of the Secretary of State's office to expedite this process as quickly and as accurately as possible," Grappe said in a statement. "We are very disappointed they did not show we met the minimum totals. We are confident that if we had the time the Constitution allows, we would have far exceeded the minimum."
Arkansas' Constitution allows citizens to, by petition, order the referendum against an act passed by the General Assembly.
CAPES launched its repeal effort in April. The group's proposed ballot title was rejected twice before Arkansas Attorney General Tim Griffin approved it on June 5.
The nonpartisan group then had about 55 days to collect signatures from 6% percent of the total votes cast for governor of the preceding general election.
The group has been critical of Griffin's ballot title denials and the manner in which the LEARNS Act was enacted by the state Legislature and Gov. Sarah Huckabee Sanders.
"The Executive Branch, under the leadership of Governor Sanders, used the Legislative Branch and Attorney General's office to actively bypass the Constitutional rights of the Citizens of the State of Arkansas to actively participate in direct democracy," CAPES said in a news release. "CAPES will pursue this issue to the fullest extent as allowed by law."
The LEARNS Act, which took effect Tuesday, makes sweeping changes to the state's education system, including increasing the minimum teacher salary to $50,000, creating a school voucher program and repealing the Teacher Fair Dismissal Act.
Sanders has attacked efforts to stop the LEARNS Act as coming from the "radical Left."
"I ran for Governor & Arkansans elected me on the bold promise to overhaul Arkansas' education system and break the failed status quo. Arkansas LEARNS is the plan our state needs and voted for overwhelmingly," Sanders said in a statement. "Self-serving partisan extremists tried to play political games to undermine LEARNS, overturn the will of the voters, and hold our kids back. Today it's official: they failed, Arkansas' students won, & my administration will continue to raise teacher pay, invest in literacy, & empower parents & students through LEARNS."
It is rare for a referendum to make it to the ballot. The last time was in 1994 when voters affirmed the state's soft drink tax with 55% voting for and nearly 45% voting against, according to the secretary of state's office.
A referendum would've raised complicated questions for state education officials because the Constitution requires laws that have been challenged through the referendum process to be put on hold until a vote is held.
Information for this article was contributed by Antoinette Grajeda.
Arkansas Advocate is part of States Newsroom, a network of news bureaus supported by grants and a coalition of donors as a 501c(3) public charity. Arkansas Advocate maintains editorial independence. Contact Editor Sonny Albarado for questions: info@arkansasadvocate.com. Follow Arkansas Advocate on Facebook and Twitter.
Get stories like these delivered straight to your inbox. Sign up for The 74 Newsletter