Arkansas House Panel Approves Governor's Education Package
The legislation covers teacher pay, school safety, career readiness, literacy, "indoctrination," a new voucher program and a variety of other topics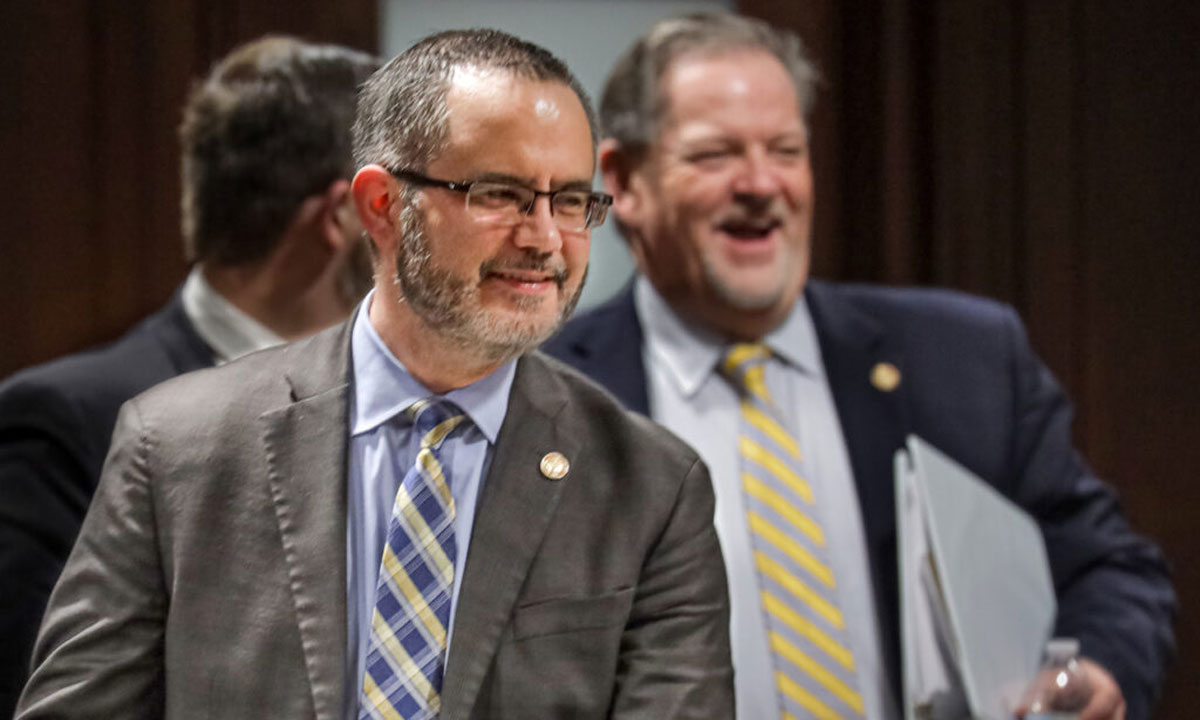 Get stories like these delivered straight to your inbox. Sign up for The 74 Newsletter
The Arkansas House of Representatives plans to consider Gov. Sarah Huckabee Sanders' sweeping education bill Thursday afternoon.
The House Education Committee advanced Senate Bill 294, also called the LEARNS Act, Wednesday after about 45 minutes of discussion.
Because the bill was amended, it will have to again be approved by the Arkansas Senate if successful on the House floor tomorrow, as is expected.
House sponsor Rep. Keith Brooks (R-Little Rock) said the legislation could become law as early as next week.
Rep. Denise Garner (D-Fayetteville) and Rep. Vivian Flowers (D-Pine Bluff), the House committee's two Democrats, were the sole audible dissenters on Wednesday.
The LEARNS Act is the fulfillment of Sanders' campaign promise to make wide-ranging changes to the state's education system. The legislation covers teacher pay, school safety, career readiness, literacy, "indoctrination," a new voucher program and a variety of other topics.
The 144-page bill was made public last week and passed through the Senate after three days. Brooks filed a six-page amendment late Friday, addressing some of the issues lawmakers discussed last week.
The House Education Committee listened to 10 hours of discussion from lawmakers and members of the public Tuesday before a final vote Wednesday.
Brooks said the LEARNS Act has provided an opportunity to discuss several topics with "passion and clarity," and Arkansans are better for it. However, this is not the end of the conversation, he said.
"This is the beginning of our commitment as a state to put students first, and to look everyone in the eye and say Arkansas will continue to lead in terms of education," Brooks said.
While she voted against the bill, Flowers said she was appreciative of efforts by committee chairman Rep. Brian Evans (R-Cabot) to ensure that the nearly 100 people who signed up to speak during Tuesday's marathon meeting were given the opportunity to voice their concerns.
"We heard a lot of information, a lot of data, a lot of facts, and so whatever our votes are, whatever happens in the future, we will not be able to say that we didn't know," Flowers said.
Rep. DeAnn Vaught (R-Horatio) said "education is very emotional" and admitted she's cried and worried over the implications of the LEARNS Act.
"I've had fears, I've had doubts, I've had questions about this bill, but I'm trusting the sponsor that if there's problems with the bill and there's things that need to be changed, that we'll work together to make sure that they get addressed and fixed at a very quick pace," Vaught said.
Some committee members said they liked parts of the bill and had concerns about others.
Rep. Brit McKenzie (R-Rogers) noted the varying opinions on different parts of the legislation, but he said he's hopeful the bill will produce better student outcomes.
"I believe this is a compromise bill," McKenzie said. "I think that there are things that we can take back to teachers, we can take back to students, we can take back to our parents, we can take back to our administrators, and albeit it's not the best bill, it is the best bill for our students."
Garner said her biggest concern with the LEARNS Act was the Education Freedom Account program, citing studies that have shown similar programs can have a negative impact.
"Vouchers do not support students with disabilities and it does exacerbate segregation, skirt accountability and transparency, funds discrimination and leaves underserved students and communities behind," Garner said.
The proposed Arkansas Children's Educational Freedom Account Program would provide families state funds up to 90% of the annual per-student public school funding rate for use on allowable education expenses, like private school tuition, homeschool costs, tutoring, testing and more. The program will have limited enrollment in the first two years before expanding to all families in the third year.
Critics of the program are opposed to sending state funds to private schools and contend they are not held to the same standards as public schools.
The LEARNS Act would increase the state's minimum teacher salary from $36,000 to $50,000 and create a fund to help districts meet that minimum. While many applauded the pay raise, they were critical of the elimination of the mandatory teacher salary schedule, which rewards more-experienced teachers.
In response, an amendment to the bill now requires districts to adopt an employee salary schedule in order to be eligible for state funding that helps meet the new minimum teacher salary.
If the LEARNS Act passes the House Thursday, Brooks said the amended bill could be heard by a Senate committee Monday and the full Senate Tuesday.
If Senators give final approval, the legislation would head to the governor's desk to be signed into law.
Arkansas Advocate is part of States Newsroom, a network of news bureaus supported by grants and a coalition of donors as a 501c(3) public charity. Arkansas Advocate maintains editorial independence. Contact Editor Sonny Albarado for questions: info@arkansasadvocate.com. Follow Arkansas Advocate on Facebook and Twitter.
Get stories like these delivered straight to your inbox. Sign up for The 74 Newsletter