Arkansas Governor Plugs LEARNS Act Benefits Before Receptive Jonesboro Audience
Outside the venue, protesters challenge the feel-good atmosphere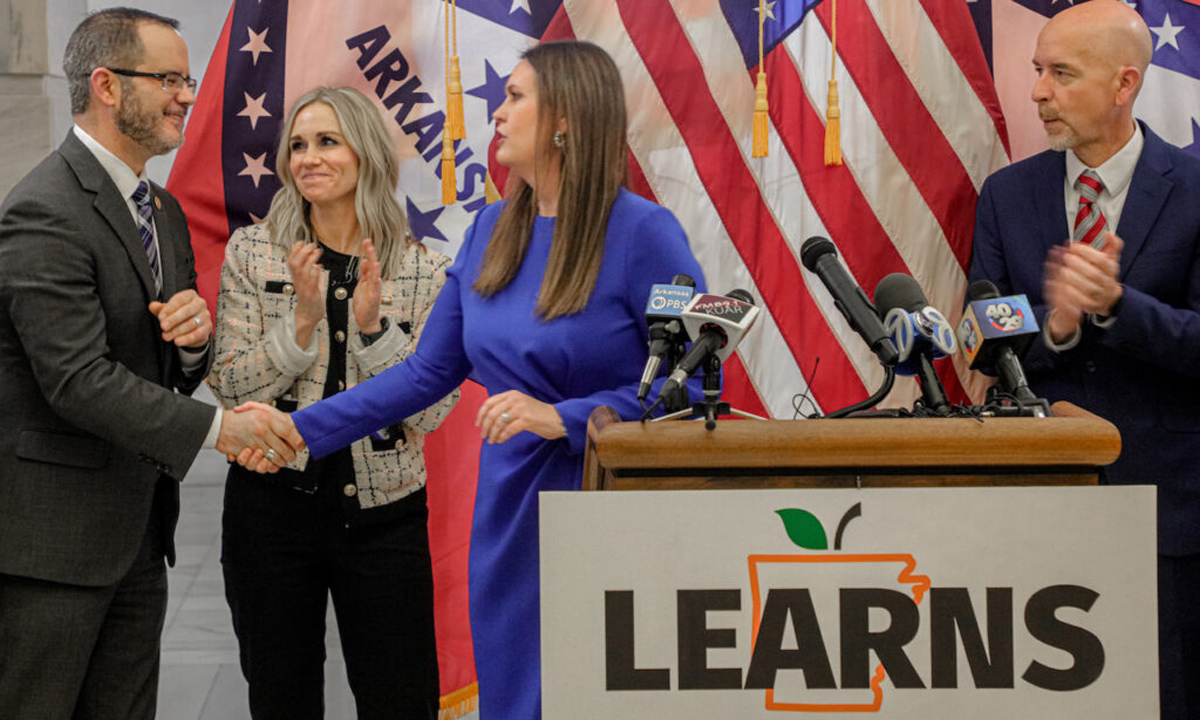 Support The 74's year-end campaign. Make a tax-exempt donation now.
JONESBORO — Touting her new education overhaul during a town hall meeting in Jonesboro Monday evening, Gov. Sarah Huckabee Sanders said she expects Arkansas will soon lead the nation in elementary and high school education.
"We'll see significant changes," she said to a crowd of about 120 in a small theater inside the Fowler Center on the Arkansas State University campus. "The good news is there's no place to go but up. I'm tired of Arkansas being on the bottom of nearly everything. I know we have the capability to be in the top 10 in education."
It's a message Sanders' administration has boasted in several town hall meetings across the state since she signed into law the $300 million LEARNS Act on March 7. The act contains an emergency clause, and many of its provisions took place immediately.
The law calls for restructuring the state's kindergarten through 12th grade schools by increasing teacher salaries, bettering career readiness, ensuring school safety, improving state benchmark exam scores and providing early intervention measures for any students falling behind.
She's repeatedly called the measure the "largest overhaul of the state's educational system in Arkansas' history."
Sanders was basically preaching to the choir Monday. Audience members included Republican Sen. Dan Sullivan of Jonesboro, Reps. Jack Ladyman of Jonesboro and Jimmy Gazaway of Paragould, and Sen. Breanne Davis of Russellville, who was the lead sponsor of Senate Bill 294, which became Act 237 with Sanders' signature.
Outside, though, about 20 Arkansas State University students stood by the entrance to the center in protest before Sanders' meeting began. They held signs reading "Education, Not Indoctrination," "Sarah Huckabee Sanders Will Not Survive the Revolution" and "WTF? Where's The Funding?"
The students, mostly education, theater and communication majors, also chanted, "Hey, hey. Huck no. Arkansas LEARNS has got to go."
Dean MacDonald, who is earning a master's degree in public administration at ASU and was one of the protest's organizers, said he feared the LEARNS Act could hurt rural schools trying to meet the law's expectations.
"I think smaller schools are definitely at risk of having to be consolidated," he said. "I think we'll see it on a wide scale once this gets going."
MacDonald also criticized the plan's use of a voucher system to pay students who are in private schools or are home-schooled.
"That's a scam," he said. "Why give taxpayer money to private schools?"
Within days of the LEARNS Act passage, a group called Citizens for Arkansas Public Education and Students formed and began working to repeal it. Attorney General Tim Griffin on Monday rejected the group's ballot title.
But inside the Arkansas State University theater Monday, any opposition was muted.
"Is it perfect?" Sanders asked. "No. But is it worthwhile to change the lives of the kids of Arkansas? Absolutely."
Arkansas Education Secretary Jacob Oliva also attended the town hall meeting and with Sanders fielded questions from the audience.
He said lawmakers reviewed existing educational measures before developing LEARNS.
"We said, 'We can do better,'" Oliva said. "Let's come up with a way to do that."
He called the act a way to help students go from "cradle to career."
One of the key elements of LEARNS, he said, was to implement early intervention programs if a student is falling behind. Heavy emphasis will be placed upon benchmark test results of third graders.
"Because of LEARNS, we will stop early problems with long-term sustainability," he said.
The state will use dozens of reading coaches to help students progress, Sanders added.
"If we don't better literacy by third grade, we are setting them up for a lifetime of failure," she said.
The act also calls for increasing the minimum yearly salary of Arkansas teachers from $36,000 to $50,000 and to give $2,000 raises to veteran teachers as a way of recruiting better teachers and retaining them in the state.
"Every teacher in the state will be rewarded for their hard work," the governor said.
The plan may be feasible for larger school districts, but opponents are concerned that it may financially strap smaller districts.
Brookland School Superintendent Brent Bunch said he's already created the yearly pay budget for his 240 teachers this year and, because of the rapid growth in the Craighead County town, he sees no problems meeting salaries.
Bunch said his school will have to build new facilities to accommodate the rapid increase in enrollment.
"We're constantly growing, and I don't see any issues," he said. "But smaller schools may have trouble."
Sanders said school districts receive an average of $73,000 of state funding for each teacher it employees. The money does not all go to teacher salaries, but under the LEARNS Act, 87% of that money received is now earmarked for salaries.
The act also eliminates salary caps that schools had implemented after teachers reach a certain number of years of experience.
"We value experience," she said.
The governor said the law will begin implementation immediately and its success will be monitored in "real time" to assure its measures are working.
She added that she expects to see vast improvements in students' educational performances in 2024-25.
Arkansas Advocate is part of States Newsroom, a network of news bureaus supported by grants and a coalition of donors as a 501c(3) public charity. Arkansas Advocate maintains editorial independence. Contact Editor Sonny Albarado for questions: info@arkansasadvocate.com. Follow Arkansas Advocate on Facebook and Twitter.
Support The 74's year-end campaign. Make a tax-exempt donation now.