Educational Freedom Accounts: Arkansas Parents Can Apply to Access Around $6,600
Arkansas DOE began accepting applications after the state Supreme Court lifted a temporary restraining order blocking the LEARNS Act.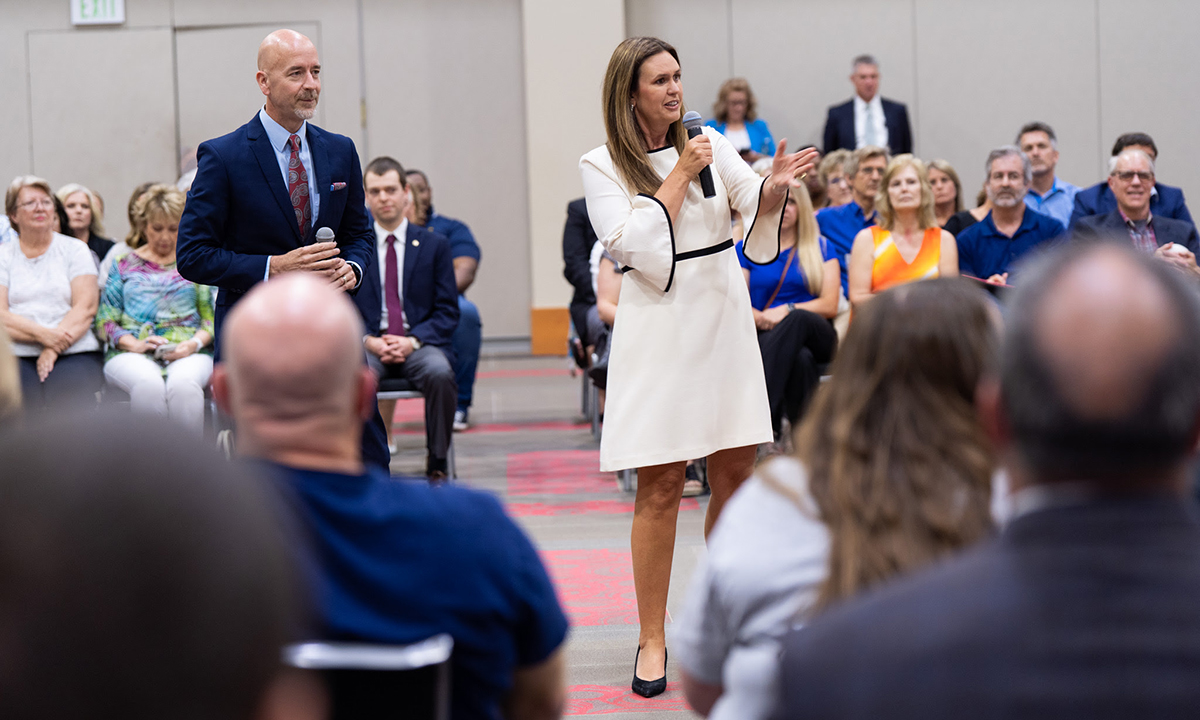 No paywall. No pop-up ads.
The Arkansas Department of Education began accepting applications for a new school voucher program last week after the state Supreme Court lifted a temporary restraining order blocking implementation of the LEARNS Act.
The department opened the application window with little fanfare and has declined to answer the Advocate's questions about the program or the application process amid the continuing litigation.
A legislative priority of Gov. Sarah Huckabee Sanders, the LEARNS Act created the Educational Freedom Account program that will provide up to 90% of the annual per-student public school funding rate for use on allowable expenses, including private school tuition. That's roughly $6,600 per account for the 2023-24 school year, according to the ADE.
The program will be phased in over three years and absorbs the Succeed Scholarship Program, which provides about $7,400 for private school tuition for students with disabilities, foster children and military families.
Mary Catherine Paulus of Little Rock was told her seven-year-old son would be grandfathered into the new program as a current Succeed Scholarship recipient, but said there's been a lot of confusion and uncertainty surrounding next steps.
Since the law was passed in March, Paulus said she's reached out to the Arkansas Department of Education and The Reform Alliance, the nonprofit organization that administered the Succeed Scholarship, with questions about the process.
More recently, she's learned information about enrolling her son in the program by communicating with other parents who are in a similar situation.
"It's really confusing and for me, if I didn't know any other parents in this world, I would be lost," Paulus said. "Even with the help of The Reform Alliance, I mean they're one organization and they're helping a lot of families. So you really need a network of other moms and dads because different people are going to know different things."
A lawsuit challenging the LEARNS Act's effective date has added to the confusion of navigating a new application process. According to an affidavit from Education Secretary Jacob Oliva, the EFA program was set to launch June 1, but that was put on hold when a judge issued a temporary restraining order that paused implementation of the law on May 26.
The Arkansas Supreme Court vacated the order on June 15. When asked on June 16 when ADE would launch the EFA program, a spokeswoman told the Advocate to refer questions about the LEARNS Act to the attorney general's office because "we are currently engaged in an active lawsuit."
On June 19, an attorney general spokesperson responded to emailed questions saying, "Following the Arkansas Supreme Court's vacating of the Temporary Restraining Order, we reaffirm what we previously said: The Department of Education can get back to implementing LEARNS. Please see the LEARNS website at learns.ADE.arkansas.gov for the latest updates."
Paulus received an email from the Reform Alliance on June 20 that the EFA portal was open. The email contained a link to the portal, but that same link wasn't added to the homepage of the LEARNS website until Tuesday morning.
The email was confusing to Paulus, who said she had reapplied for her son through the old Succeed Scholarship process in the spring, per The Reform Alliance's instructions. She later received clarification that her son's application needed to be resubmitted through the new portal.
When Paulus completed the new application process last week and received confirmation, she said it was "really a great feeling."
Paulus also decided to apply for her daughter who's entering kindergarten this year once a father with a special needs child told her new applicants could apply, not just former Succeed Scholarship recipients.
In the first year of the program, eligible participants include students with disabilities, students experiencing homelessness, foster children, children of active duty military members, students enrolled in an "F"-rated school or school in need of Level 5 support, and students enrolling in kindergarten for the first time.
According to the application, students will be accepted on a rolling basis until Aug. 1. After that, students may be accepted on a one-off basis pending program funding availability.
ADE is also accepting applications for private schools interested in becoming EFA participants. Schools that did not previously participate in the Succeed Scholarship Program must apply by Friday, June 30. Schools will be accepted on a rolling basis, and private schools will be immediately deemed as eligible once approved by ADE.
Student EFA participation in the 2023-24 school year will be capped at 1.5% of the current public school enrollment in the state, or 7,148 students. As of April, 760 students were enrolled in the Succeed Scholarship program, according to ADE.
Paulus' son received the Succeed Scholarship for the first time during the 2022-23 academic year. When he started public school in 2021, he needed a higher level of support than the school could provide, Paulus said, so they switched to private school, where she said he's thriving.
Raising children is expensive, Paulus said, especially children with special needs, and the Succeed Scholarship can alleviate some of the financial burden of families taking steps to support their children.
"We're always in the car going to therapy and that's time and that's money for gas and babysitters to watch younger siblings if they can't go," she said.
Even though there has been confusion about the application process and glitches with the portal, Paulus said ADE and The Reform Alliance have done a decent job answering questions, considering the circumstances.
"Because of the lawsuit, something that was already kind of a tight timeframe, it just further truncated that and so everybody's sort of scrambling to do their part, but there's a lot of information to get out," she said.
Pulaski County Circuit Judge Herbert Wright on June 20 heard oral arguments in the lawsuit challenging the validity of the LEARNS Act's emergency clause, which would allow it to go into effect immediately, instead of 91 days after the legislative session ends.
Wright said he would issue a ruling within two weeks. If the emergency clause is ruled invalid, the law wouldn't go into effect until Aug. 1, again delaying implementation of LEARNS Act provisions like the EFA program.
The ruling could be appealed to the Arkansas Supreme Court, which has a vacancy following the death of Associate Justice Robin Wynne last week. Gov. Sanders will be responsible for appointing a justice to fill Wynne's seat until an election can be held.
Arkansas Advocate is part of States Newsroom, a network of news bureaus supported by grants and a coalition of donors as a 501c(3) public charity. Arkansas Advocate maintains editorial independence. Contact Editor Sonny Albarado for questions: info@arkansasadvocate.com. Follow Arkansas Advocate on Facebook and Twitter.
Get stories like these delivered straight to your inbox. Sign up for The 74 Newsletter