Answering the Call: Schools, Teachers and Students Use 3D Printers to Make Face Shields, Masks for Health Care Workers on the Front Lines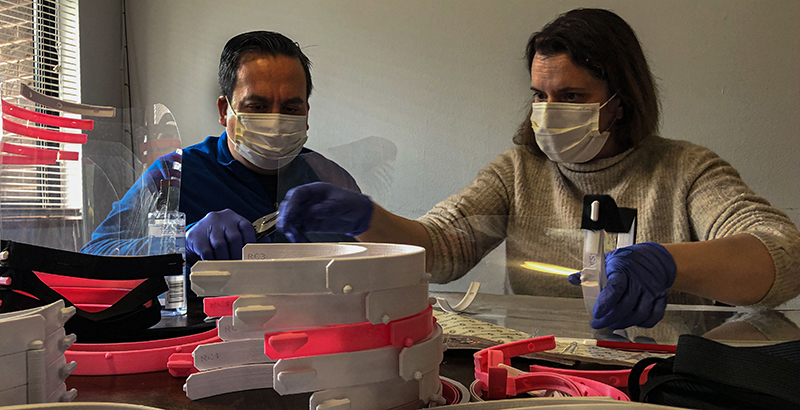 This article is one in a series at The 74 that profiles the heroes, victories, success stories and random acts of kindness found at schools all across America. Read more of our recent inspiring profiles at The74Million.org/series/inspiring.
If there is any job that requires problem-solving and creativity, it's teaching. So when the shortage of protective masks for health care workers surfaced, teachers far and wide set out to find a solution.
Middle school science and social studies teacher Emily Frawley read about a doctor who was using a 3D printer to make masks, and a light bulb went off. She knew she had the skills to do that, so she asked officials at her school, The Windward School in White Plains, New York, if she could use the school's Makerbot 3D printers to help out.
"[We can] think to ourselves, 'What skills do I have that could contribute to a solution, and what resources do I have around me that can help?' and then tinker around with the ideas that pop into our heads," Frawley said in a story on the school's website. "Instead of convincing ourselves they're too ambitious, or that they wouldn't make an impact, we'd be shocked what we come up with."
Frawley found a design for an N95-style mask that worked with the school's printers. She put out a call on social media and received donations of the materials needed to make the mask, including medical-grade filter fabric. The hardest element to find was plain old elastic, but she finally was able to secure 200 yards of that.
Now, Frawley can print up to 12 masks a day.
She's not the only one.
Jeff Motz and Rob Robison, industrial tech teachers in Iowa's Johnston Community School District, set up the district's 3D printers in their garages and stay busy printing all night, making parts of face shields that can be donated to the area's health care facilities and nursing homes, the Des Moines Register reported.
In Calabasas, California, teachers and students at The Viewpoint School have printed more than 400 face masks, visors and pieces of protective equipment for local hospitals, the Calabasas Patch reported.
The Information Services Department at the Lower Merion School District in Pennsylvania is using seven 3D printers to print headbands for face shields and teaming up with the Kohelet Yeshiva in Merion, which adds the plastic shields, the Ardmore-Merion-Wynnewood Patch said.
Jake Spearson, a drafting teacher at Helena High School in Montana, is one of several district educators who are using their own 3D printers to make personal protective equipment for health care workers, ABC News reported.
In Rye, New York, the director of Rye Country Day School's STEAM Initiative, Cathie Bischoff, and a group of five teachers joined forces to make part of the protective face shields that health care workers and first responders so desperately need.
The teachers make rim tops for the shields and deliver them to the Connecticut Personal Protection Equipment Project at the Danbury Hackerspace, which 3D-prints the face covering, assembles the full shields and distributes them to local hospitals.
"It's really inspiring to see," Bischoff said in a story on the school's website. "Everyone and anyone can help. For us as STEAM educators, it has been especially meaningful for us to participate in this 3D printing project."
Students and families from the school who have 3D printers at home have joined the effort, while those who have less sophisticated technology at home — such as sewing machines — are making cloth masks.
Frawley, of The Windward School, said it's important not to miss the teachable moments that stem from the opportunity to help during the COVID-19 crisis.
"I think it's really easy for middle school students like mine to write off possible careers in science, art and math — I know I did when I was their age! — but I think this can definitely inspire some of them to see how we can turn such a negative situation into something positive," Frawley told The 74. "Once they're comfortable with all of the technology we've been throwing at them, I'm thinking I might introduce them to a website where they can create their own 3D printer designs. Once things begin to calm down with the hospitals here in NYC, I can print their creations and figure out a way to deliver/mail them."
Get stories like these delivered straight to your inbox. Sign up for The 74 Newsletter