Anne Holton, Former Va. Schools Chief and Would-Be Second Lady, Carrying Clinton's Ed Message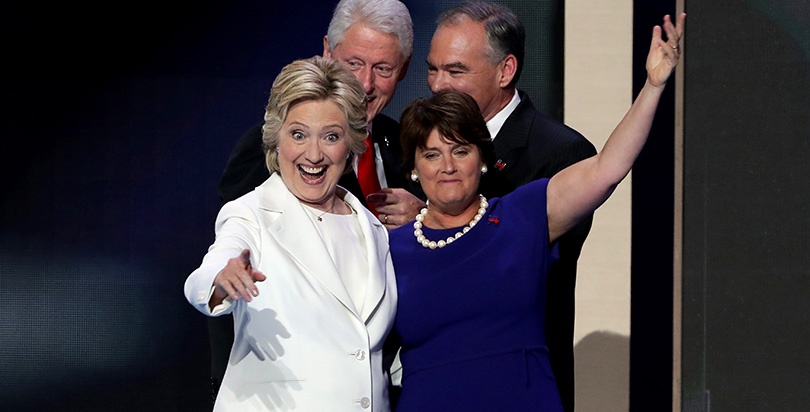 As it turns out, there's been plenty of education talk on the presidential campaign trail recently — if you know where to look.
Anne Holton, wife of Democratic vice presidential nominee Sen. Tim Kaine, served as Virginia's secretary of education from January 2014 until this July, when she stepped down after her husband's nomination as Hillary Clinton's running mate.
Her own history with education reform is storied: her father, then the governor, sent Holton and her siblings to all-black segregated schools in Richmond as the city fought desegregation efforts in the early 1970s. Before her time as education secretary, she served as a juvenile-court judge and also headed up efforts to find placements for children in foster care, particularly teenagers.
Holton has discussed education during at least five campaign stops in swing states around the country: Florida, Pennsylvania, Colorado, her native Virginia and even Texas.
She's frequently visited with teachers unions, strong early backers of Clinton's candidacy.
(The 74: Teachers Union Receives Clinton Warmly — Except on Charter Schools)
In late August, she visited the headquarters of the Pittsburgh Federation of Teachers. There, she disputed GOP nominee Donald Trump's assertion that city schools were failing children, particularly children of color.
"I will say that [schools are] doing incredible work in some of the most difficult circumstances … Over the last decade we've been asking more and more of them and giving them less and less in the way of resources," she said, according to the Pittsburgh Post-Gazette.
She also visited a local union office outside Dallas Sept. 6 and had a discussion with college students, a city school board member and the head of the state teachers union. There, she discussed school funding and the Texas Supreme Court's recent decision that upheld the state's school funding system as constitutional but declared it was in desperate need of fixes.
"People believe in public education, but that doesn't always translate to funding it," Holton said, according to The Dallas Morning News.
Holton recently defended Clinton on one of the education topics for which she's taken the most flack: charter schools.
Clinton last fall made some comments that caused charter backers to question her support, but the nominee is fully behind charters, Holton said during a speech in Colorado.
Clinton "has absolutely affirmed that she is supportive, that parents want and need options, and has affirmed publicly recently that she is supportive of high-quality public charters with proper oversight," Holton said, according to a local CBS affiliate. "She is not enthusiastic about for-profits, not enthusiastic about some of the cyber, online charters that have had such problems, so that all gets into [the fact that] we need high-quality schools, whatever they are."
(Holton, meanwhile, opposed expanding charter schools in Virginia, according to The Washington Post. The state, where only school districts can authorize charters, has just nine.)
Most recently, in Florida, she discussed college affordability.
Over the Labor Day holiday, she was back closer to home in Newport News, Virginia, attending an annual picnic held by Rep. Bobby Scott, the top Democrat on the House Education and the Workforce Committee. There, she hit on several points of Clinton's education platform: expanding computer science and preschool, elevating the teaching profession and improving community-school relations, The Virginian-Pilot reported.
If she becomes second lady, Holton can stake out the issues she cares most about, as Jill Biden did with supporting military families and stressing the importance of community college. When she ran education policy for Virginia, Holton focused on revising the state's curricular standards implemented in the late 1990s (Virginia never adopted the Common Core) and the bevy of tough tests associated with them.
The exams led to teaching to the test, misery for students and difficulty recruiting teachers — without closing the achievement gap, she wrote in a Washington Post op-ed. Holton and Gov. Terry McAuliffe worked with the Republican-controlled state legislature to pass a law ending five tests at the elementary and middle school level and creating a committee to study additional changes.
"Strong accountability will continue to be a hallmark of our system, but we have faith that, as has been said, 'Responsibility and delight can coexist,'" she wrote.
In the meantime, Holton is likely to continue being Clinton's surrogate on education in the remaining few weeks of the election — a role she embraces.
"Hillary has already told me what she wants me doing is listening to teachers and other educators and students and parents and bringing back suggestions and feedback and ideas for her and her administration. And so I'm honored to be doing that already on the campaign trail and after," Holton said.
Support The 74's year-end campaign. Make a tax-exempt donation now.