Anger & Fear: New Poll Shows School-Level Impact of Anti-LGBTQ Political Debate
A survey by The Trevor Project finds high levels of anger and fear, with some families changing schools and even moving to new states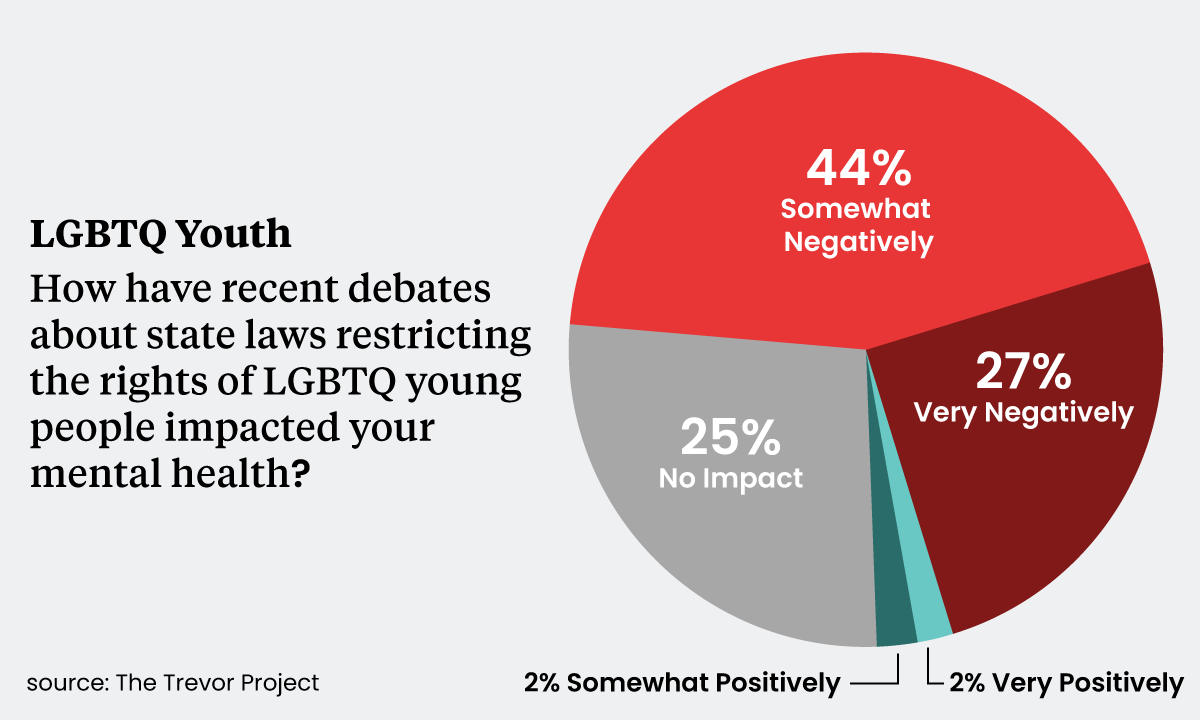 Get stories like these delivered straight to your inbox. Sign up for The 74 Newsletter
A new poll released today by The Trevor Project finds that recent debate over state laws restricting the rights of LGBTQ young people is having a huge negative impact on their mental health, their ability to seek health care and their exposure to in-school discrimination.
In the survey, conducted in October and November by Morning Consult, 71% of 716 LGBTQ respondents ages 13 to 24 said rhetoric surrounding the legislation has had a negative or very negative affect on their mental health, as did 86% of transgender and nonbinary young people. Three-fourths of LGBTQ youth, and 82% of gender-nonconforming respondents, reported stress and anxiety over threats of violence at LGBTQ community centers or events.
At the time the findings were released, three weeks into 2023, more than 150 anti-LGBTQ bills — most of them targeting transgender and nonbinary children and youth — had been filed in state legislatures. As in the last few years, youth reports of bullying and harassment remain very high.
The new report includes student responses to a number of questions about aspects of LGBTQ youth well-being that are less commonly discussed, including the emotions evoked by various controversies as well as the distress caused by current events such as racism and police brutality. Rates of anxiety were highest among Latino students.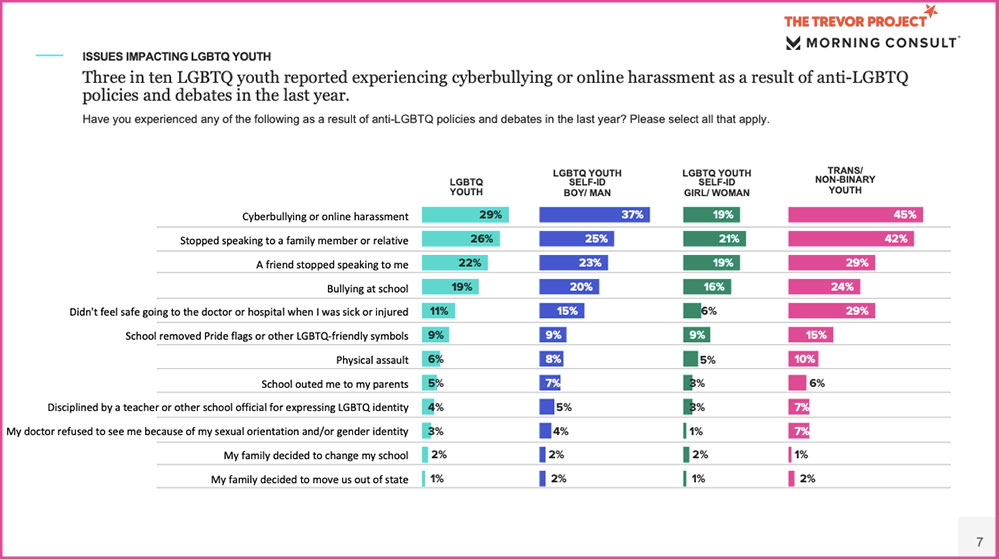 In the last year, as a result of anti-LGBTQ policies and debate, one fourth of the young people surveyed stopped speaking to a family member, a figure that rises to 42% for trans and nonbinary respondents. One fifth of LGBTQ youth and 29% of gender-nonconforming youth say a friend stopped speaking to them.
The survey also gauged students' experiences in school over the last year, with 9% saying their schools removed pride flags and other LGBTQ symbols, 5% reporting their school outed them to their parents, and 4% of LGBTQ students and 7% of trans kids saying they were disciplined for expressing their identity.
Two percent said their family decided to change their school, while 2% of gender-nonconforming kids and 1% of LGBTQ youth overall reported their family moved to another state. Twenty-nine percent of trans and nonbinary youth said they do not feel safe going to a doctor or hospital, a rate more than seven times as high as for cisgender LGBQ young people.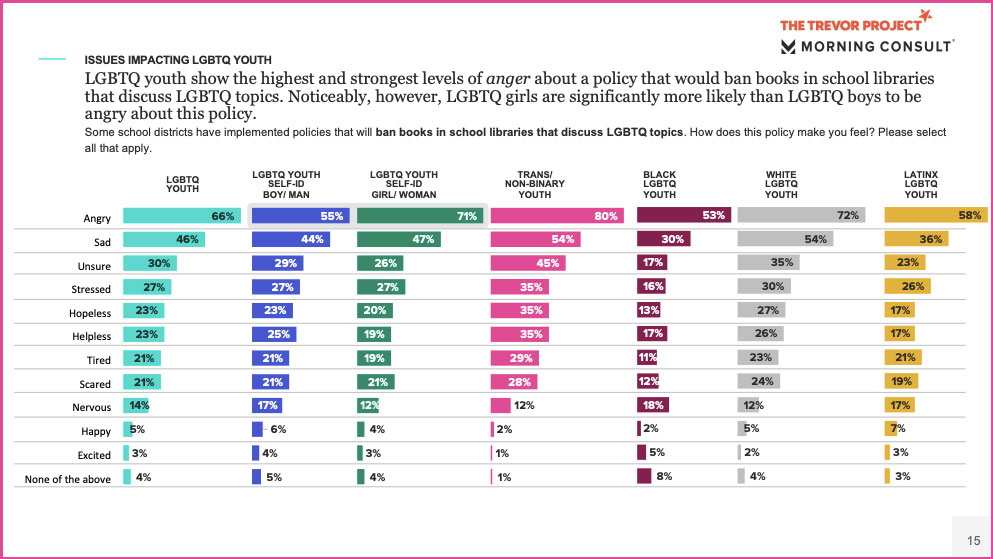 While the youth reported experiencing a range of emotions, anger was the dominant response to current events in every category surveyed. Two-thirds reported being angry about school library book bans, a figure that rises to 80% among trans and nonbinary students.
Young people also report high levels of anger, sadness and feelings of hopelessness in response to bans on gender-affirming medical care and transgender sports bans, policies that require schools to out them to their parents and "Don't Say Gay" laws that prohibit classroom discussion of LGBTQ topics. Four-fifths have heard of The Trevor Project.
The pollsters asked what popular media young people turn to for affirmation. The top response was the Netflix series Heartstopper, followed by The Owl House, Euphoria, RuPaul's Drag Race and Queer Eye.
Get stories like these delivered straight to your inbox. Sign up for The 74 Newsletter