And Her Little Dog, Too! NJ Student Who Uses Wheelchair Stars as Dorothy in 'Wizard of Oz' School Play — & Her Service Dog Is Toto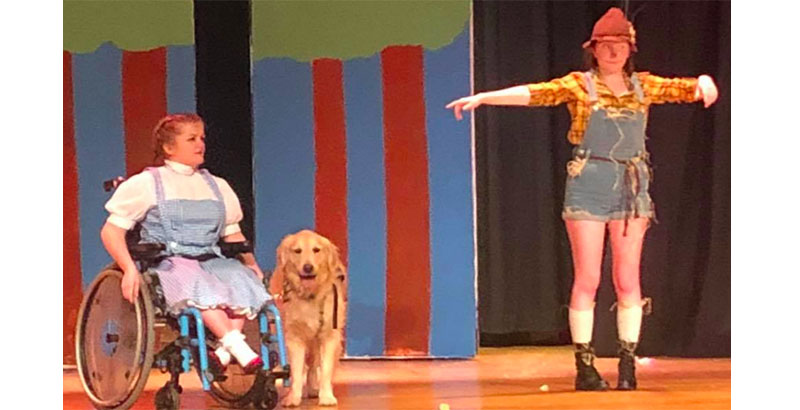 This article is one in a series at The 74 that profiles the heroes, victories, success stories and random acts of kindness found at schools all across America. Read more of our recent inspiring profiles at The74Million.org/series/inspiring.
Erin Bischoff, a senior at Hasbrouck Heights High School in New Jersey, auditioned for the school play. But needing a wheelchair, she never thought she'd be cast as the star.
Erin was born with osteogenesis imperfecta, a genetic disorder commonly known as brittle bone disease. In her 17 years, she's had 103 bone fractures and 10 surgeries.
What saw her through all those surgeries? Her very own service animal, a fluffy 6-year-old golden retriever named Gauge.
So when the yellow brick road led Erin to secure the role of Dorothy in the school production of The Wizard of Oz, it seemed fitting that Gauge would play Toto.
Gauge is a mobility dog, helping Erin by "retrieving items, opening doors, pulling [in] chair[s] and crowd control," she told People magazine. "We're partners, to put it simply."
Erin's furry friend has not only been a faithful companion through her surgeries; he's also appeared with her in various school performances. In an Instagram video posted a few weeks ago, Gauge lies beside Erin and licks her hand as she sings.
"Before, he was just an unnamed dog," Erin told NJ.com. This time, however, he's her co-star.
The drama department even reworked sections of the play, because unlike Toto the terrier, Gauge won't fit in a basket. Together, the cast and crew choreographed Gauge's entrances and exits.
Erin told People, "We worked out how we would get him to understand his cues with time, training, compromise and modification."
Occasionally, Erin admitted to NJ.com, Gauge would make a misstep, but this only contributed to the audience's laughter and amusement.
Not only did Gauge's blunders give the crowd a good chuckle, but, according to NJ.com, they helped the other actors learn to improvise, a necessary skill in theater.
Though she's been appearing in school performances since sixth grade, when Erin auditioned, she told CBS News, she "was not expecting [to be cast as] Dorothy. [She] was expecting more of a Glinda, a more secondary character."
However, director Paula Jacobs told NJ.com, Erin's "tenacity in the face of adversity is such an important part of who [she] is as a person. It's something, in combination with her sweetness and innocence, that is extremely important for someone playing the role of Dorothy."
"The fact that Gauge was her dog was a bonus," Jacobs added.
Erin's mom, Michelle, told CBS that seeing her daughter in a lead role "makes me a better person."
Erin hopes that her performance as Dorothy will promote visibility for kids with disabilities and encourage them to shine in the spotlight.
She hopes for radical acceptance — not just somewhere over the rainbow, but here and now.
"My main thing is, I really want them just to see me as anyone else who's on the stage. And that overall, disability should be embraced," Erin said to CBS.
Support The 74's year-end campaign. Make a tax-exempt donation now.