Analysis: At This Time of School Closures and Remote Learning, How to Keep Students Engaged and Tend to Their Social-Emotional Health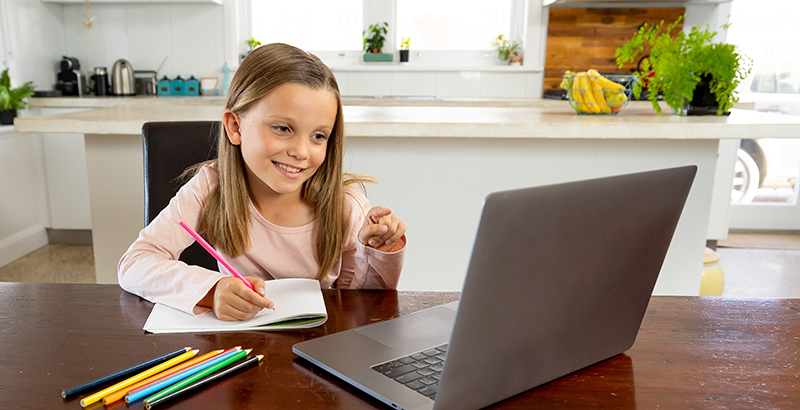 As schools across the country close, many are looking to online models for sustaining instruction. Parents, policymakers and others have numerous concerns about the resulting effects on academic learning, child care, food security and the financial implications for staff whose positions become unnecessary during closures.
One additional concern that educators should consider as the crisis continues is the likely effect of these changes on students' social and emotional well-being.
Students are losing access to trusted adults, close friends and mental health care services. School closures and the broader concerns around COVID-19 are stress-inducing, and many students are entering this phase with underlying mental health challenges. As schools convert from in-person to online instruction, the need remains for continued personal connection and attention to the well-being of students and staff.
This will be influenced by much more than the quality of teaching, and the effects of these disruptions on their future success are likely to extend beyond academics. Educators across the U.S. increasingly recognize the value of supporting students' social and emotional development in addition to their proficiency in academic subjects. These include skills such as teamwork, social awareness, resilience and self-regulation. Teachers' support of such skills is important not only for students' academic success but also for their ability to deal with stressful situations. That commitment to whole-child instruction should continue even as the format of instruction changes.
Research demonstrates the value of developing these skills for short- and long-term academic achievement and other outcomes such as college enrollment and health. Moreover, research strongly indicates the need for students to feel safe and supported in order to learn. High-quality relationships — between staff and students, among students and among staff — are crucial for this development.
None of this may be front of mind for district leaders who are developing plans to deliver instruction online. And the opportunities to provide these supports will depend to a large degree on the specific platforms and approaches to online learning — for example, whether students log in at the same time with a teacher or access the material on their own anytime they choose.
RAND's work on personalized learning offers insights for educators supporting students' social and emotional development in technology-rich environments. One core aspect is to elevate the importance of one-on-one interactions between teachers and students.
Here are some recommendations for school staff and leadership to consider, depending on student age or grade level:
Don't rush to adopt something new. Plan for the bulk of student learning to use textbook and online resources already available in your district. Seek out novel materials only where the current ones are clearly inadequate for distance learning. By retaining materials that are familiar to students and staff, the stress and disruption associated with the shift to remote instruction can be mitigated.
Keep remote sessions meaningful by keeping groups small. Small group or individual sessions with students, by videoconference, chat, email or telephone, can provide the kinds of attention and support that benefit students' academic, social and emotional needs. It may not be possible to meet with each student daily, but session lengths should be adjusted to accommodate contact with each student at last once or twice per week.
Encourage peer collaboration. Peer collaboration can provide both academic and social benefits when school is closed just as it does when in session. Teachers may be able to capitalize on social platforms students are already using and suggest group study or other ways to leverage the peer interactions already taking place.
Take care of one another. School leaders, teachers and staff have social and emotional needs of their own. Their ability to effectively support students depends on their own well-being. Provide a platform for everyone to share ideas and concerns with one another and to simply connect as colleagues and friends.
Involve families and caregivers if possible. Educators can enlist the help of other adults in students' lives by encouraging them to talk with children about their online experiences and sharing strategies for how to address their social and emotional needs.
Mind the most vulnerable. Some students might lack access to the resources they need to learn and to participate fully in supportive networks. Support may include providing devices and internet access to homes that don't have them and making sure other resources such as textbooks or other materials are accessible.
Educators and parents are receiving a lot of guidance on how to continue instruction while schools are closed. But children's needs extend beyond the purely academic, and it is important that their social and emotional well-being is supported as instruction moves online. A whole-child view of what students need could benefit them now more than ever. It could also help ensure that schools have in place the tools and practices they will need the next time schools close, even if it's just for a snow day.
Laura Hamilton is a senior behavioral scientist and distinguished chair in learning and assessment at the nonprofit, nonpartisan RAND Corporation. She directs the RAND Center for Social and Emotional Learning Research, co-directs the American Educator Panels and is a faculty member at the Pardee RAND Graduate School. John F. Pane is a senior scientist at RAND studying technology innovations in education. Elizabeth D. Steiner is an associate policy researcher at RAND, with expertise in education policy, policy analysis, program evaluation and qualitative methods and analysis. She is a member of the Pardee RAND Graduate School faculty.
Support The 74's year-end campaign. Make a tax-exempt donation now.