Analysis: Yes, Teachers Need More Pay. But They Also Need Strong Leaders to Support Them. The Candidates Need to Talk About Both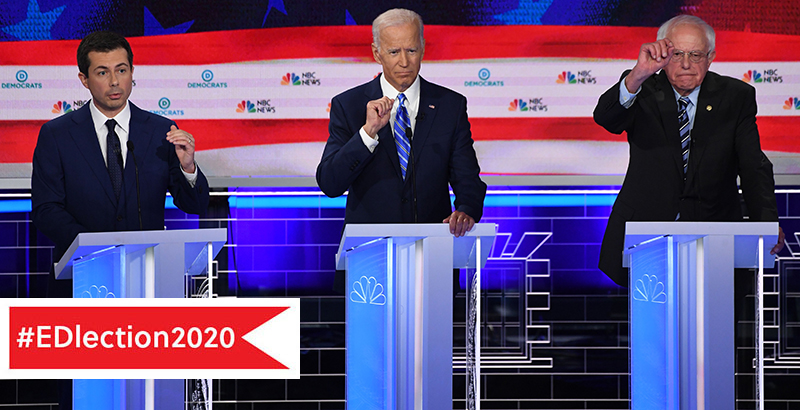 Months after most Democratic presidential candidates unveiled their education plans, they are finally going to focus on the state of our K-12 schools Saturday at a forum in Pittsburgh. No doubt some, if not all, will mention boosting teacher pay. But hiking salaries, especially without targeting those dollars to teachers in high-needs schools, isn't enough to address long-standing inequities. Low-income schools, which often have large numbers of first-year and uncertified teachers, have long struggled to recruit and keep educators, particularly in areas like special education and middle and high school science. Research shows that financial incentives may help schools retain strong teachers, but if the incentives stop, teachers don't stay. And incentives may be less effective for recruitment.
Clearly, money isn't enough. To attract strong teachers into the classroom — and keep them there — we need to ensure that they get the support they need to be successful. Doing so means investing in strong school leaders who can foster collaborative climates where strong teachers want to work and want to stay.
Strong school leadership is especially important in high-needs schools. Nationally, teachers are almost twice as likely to leave a high-poverty school as a low-poverty school. But when educators in high-poverty schools are satisfied with the leadership and staff cohesion in their building, they are about as likely to stay in their position as their colleagues in wealthier schools. The cliché that "people don't leave bad jobs, they leave bad bosses" is as true in teaching as in any other profession.
School leadership is also incredibly important for black and Latino teachers, who often face particular challenges in their classrooms and schools and tend to leave the profession at higher rates than white teachers. Strong principals can empower and invest in teachers and help create culturally affirming school environments where teachers of color feel that they can be their authentic selves and belong to a schoolwide family. Those conditions are undoubtedly important in all schools, but since teachers of color are more likely to work in the schools with the most students of color — which also tend to have more students from low-income backgrounds — having school leaders with those abilities is even more critical in these schools.
Unfortunately, research suggests that high-poverty schools are less likely to have strong leaders, are more likely to employ inexperienced principals than the lowest-poverty schools, and are more likely to have their teachers rate their principals lower than in wealthier schools.
Given these gaps, presidential candidates, as well as candidates for state and local offices, who are concerned about the state of teaching should not stop at talking about pay. They must also make strong school leadership in high-needs schools central to their education platforms and, should they win, to their education policy agendas.
At the national level, leaders could invest (through the Higher Education Act) in principal reparation programs with curriculum aligned to equity-focused standards.
State leaders could set professional standards for education leaders that explicitly include the ability to support teachers who are working with historically underserved students. Under the Every Student Succeeds Act, states can use some of their Title II funds for activities related to school leaders, either directly or by supporting districts.
District leaders could create principal pipelines, and national and state leaders could provide grants to support those initiatives. A recent RAND report on the Wallace Foundation's Principal Pipeline Initiative, which helped six large, high-needs districts strategically prepare, hire, develop and support school leaders, showed that pipeline principals were more likely to stay in their schools for at least three years, providing stability that's important for both teachers and principals. In five of the six districts, their schools significantly outperformed similar schools.
To be clear, attention to principals should be in addition to, not instead of, attention to teacher pay in high-needs schools. Even the best leaders and school culture aren't substitutes for reasonable wages that, at a minimum, allow teachers to sustain themselves and their families.
For college students of color, who because of the history of systemic racism are likely to have more student loans than their white peers, compensation can be even more important. But focusing on teacher pay without addressing the school leaders who make or break teachers' experience in a school will get us only so far. And doing so without recognizing the insidious patterns in which underserved students are most likely to get an inexperienced or uncertified teacher is a missed opportunity for addressing historic inequities.
Rachel Metz is a teacher quality data and policy analyst at The Education Trust.
Get stories like these delivered straight to your inbox. Sign up for The 74 Newsletter