Analysis: Why the Media's Pendulum Swing Against Charter Schools Has Consequences — and Why Journalists Must Keep Their Spotlight on the Trajectory of Students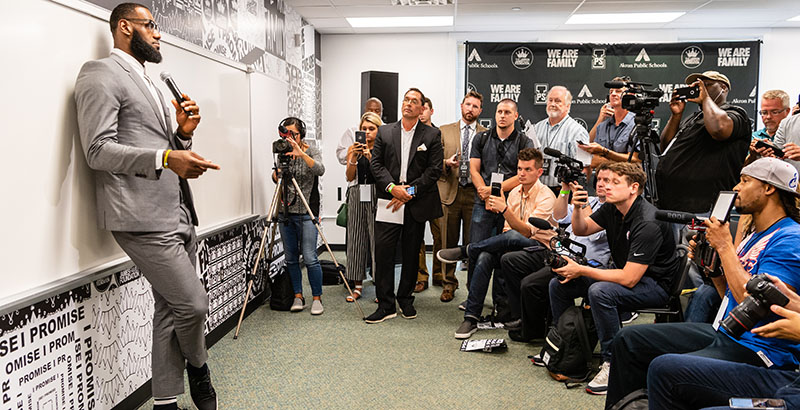 The last time I had this queasy feeling about where education is headed, it was 2010 and I was midway through a book about Michelle Rhee's turn as superintendent of D.C. Public Schools. When I started the book, she was flying high in the press; before I was done, her media stock had plummeted.
That's how quickly the press pendulum swings, and it's swinging just as quickly now — this time against charter schools.
The evidence is pretty much everywhere. In years past, USA Today, my former employer, might have written a balanced national roundup about charter schools — the good, bad and ugly. Just recently, however, it was nothing but a sum-up of the bad and ugly.
Another harbinger: The prestigious New York Times just last week blew a big wet kiss at LeBron James's new school in Akron, I Promise School, citing quick score jumps among its third- and fourth-graders. I mean, good for those kids, and good for James. But one-year data from a relative handful of students?
Compare that to the coverage the Times gave its New York-based Success Academy charter schools, which have been producing stellar test results from low-income students at scale for years. Success was treated to a scathing series worthy of a criminal enterprise.
The obvious difference between Success and I Promise? Success is a (non-union) charter school network, while LeBron's school is a (unionized) district school (a school that negotiated freedom from the district and union to adopt lessons learned from the charters, something that the Times profile skated over).
In California, progressive publications smell blood in the water, and they're not wrong. Charters there face real political turbulence.
Across California, the local press coverage has adopted the verbal framework of charter opponents, first pioneered in Massachusetts during a successful attempt to limit charter growth: What matters is whether charters are under-submitting paperwork, or whether their students impact district enrollment. Actual student outcomes, not so much. And the far-left press there is frothing.
Why the national turnaround? Did charter schools go corrupt and incompetent overnight?
Sure, charter schools have always had their bad actors, especially among the online ones. But the important data, the big networks that serve low-income minorities, don't seem to show problems. In cities such as Los Angeles, New York, Boston and Washington, D.C., the academic outcomes for charter students look quite promising.
And my own research into successful college completion shows that alumni from the big nonprofit networks, the ones serving low-income minorities, are producing college graduates at rates that range from two to four times better than expected.
What has changed are the political attitudes, fueled partly by President Donald Trump's embrace of charter schools and his highly unpopular Secretary of Education Betsy DeVos that get reflected in the press. I was hardly the only education writer to shout loudly from the beginning about the inevitable beating charters would take from this embrace, and it gives me no comfort to watch it all play out as forecast.
At times, the backlash is as extreme as any Trumpist action. In Washington state, a state Democratic senator was censured by his own party for daring to support charter school funding. Pointing out that charters there are designed to help low-income, minority students got him nowhere.
He shouldn't be baffled. The press are merely following their most loyal readers — the progressive left, which has turned against charter schools in a hurry. How quickly? Fast enough to demonstrate collective amnesia. Wait, weren't President Barack Obama and his secretary of education Arne Duncan all in for charters?
That was so yesterday. Today, Beto O'Rourke, a past supporter of charters whose wife launched a charter school, now toes the union line: Charters? They need more accountability.
Already, charter schools are held accountable to their authorizers. In this case, "accountability" translates as tying up charter staff with multiple reports, which has the effect of reducing resources. Poor kids learn less, charter opponents win. That's how crazy Donald Trump has made progressives.
I find myself in an interesting position to observe this. For years, I was a traditional education reporter, relying on the teacher unions to find story anecdotes and quotable experts. That phase lasted a good decade, during which time I became president of the Education Writers Association. Then, after watching one promising high-poverty school district after another give up its gains, I realized that something systemic was wrong, and I should take a look at the potential of charters held for low-income students, especially minorities.
At first, charter schools got the benefit of the press's doubt, with the emphasis on whether children were learning more. But that has now flipped quickly in the media, to the new emphasis on whether districts are harmed.
There are a couple ways of weighing this. The first: It's inevitable; go with the flow. That's what we reporters do. Pendulums swing.
The second: It's actually tragic and needs rethinking. In states like California, where the pendulum is swinging the fastest, low-income parents are about to lose options that can get their children to and through college.
Here's what a charter school moratorium — looking likely — would mean in the high-poverty Pico-Union neighborhood of Los Angeles: The 1,000 children poised to enroll in Equitas Academy charters as part of its expansion would likely end up in neighborhood schools instead.
The problem with that: There are five district elementary schools within a mile of Equitas Academy, and their state math and reading scores average from two to three times lower than Equitas students.
And the Pico-Union students who don't get tracked into the Equitas K-8 system, which now has high school charters as partners, end up at Belmont High School, where only 61 percent of students even graduate. Among those, only 36 percent are deemed ready for college or a career.
So yes, there's too much at stake here to just sit back and watch that swing. Reporters should stop and ask themselves: Is that what we're actually seeing in our hometowns — charters offering less, not more, to parents who can't afford to move to the suburbs for better schools?
Let your reporter's notebook, and student outcome data, be your guide — not the pendulum.
Richard Whitmire is the author of several books, most recently "The B.A. Breakthrough: How Ending Diploma Disparities Can Change the Face of America." Whitmire is a member of the Journalism Advisory Board of The 74.
Get stories like these delivered straight to your inbox. Sign up for The 74 Newsletter