Analysis: Why Charlottesville Is a Wakeup Call for Educators Who Believe in Equal Promise for All Students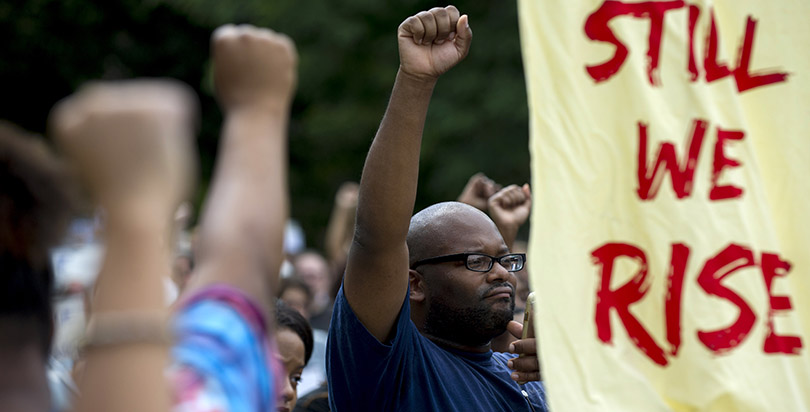 As students across the San Francisco Bay area prepare for their first week of school, recent events in Charlottesville are a devastating reminder of how much work we must do to build a more equitable and inclusive world.
The hard work of educating our children doesn't happen in a vacuum — students, teachers, principals, and families carry into our schools and classrooms the images of what happened in Virginia, along with the harsh reality that we are far from living in the world so many of us want.
Students of color living in poverty already face a steady stream of messages that reinforce the narrative that they are "not as smart" and should temper their expectations and dreams. This destructive and unjust storyline is not new. What is new is that these messages are being amplified, fueled by a polarized nation.
If we truly believe all individuals are equal, we must accept that all kids have equal promise.
That roughly 40 percent of Bay area low-income kids of color do not graduate high school (twice the rate of other American kids), and when dropouts are twice as likely to live in poverty as are college graduates, we are failing both our students and our ideals.
Real and enduring change across this country cannot happen until we embrace our most historically marginalized students as equally deserving of opportunity. Starting in the classroom and extending to our justice system and to housing and healthcare, we must demand that all children have the opportunity to unleash their full potential.
Strong public schools are society's most potent force in achieving a stronger and more united country. Strong schools help strengthen communities and enable children to grow as individuals and, in turn, help us grow as a nation.
Anyone proximate to the problem of educational inequity knows the solution will also require addressing empathy gaps, economic gaps, and legal gaps — all of which hold back our students our communities, and our country. While we do not have all the answers, many more exist today, thanks to the hard work of countless educators.
As individuals, we are imperfect leaders. Collectively, we are much stronger. As we start this school year, my call to action to all educators is:
1. How do we elevate the voices of our students and families in all we do?
2. How do we seek out opportunities to collaborate across lines of difference while recognizing what we have in common?
3. How do we consistently live up to the educational values of excellence and equity?
We have an opportunity to write a different narrative. Twenty years from now, our own kids, nieces, and nephews will ask us about this moment in history. I am determined to be able to share how we were part of the solution.
Support The 74's year-end campaign. Make a tax-exempt donation now.