Analysis: What Should Schools Do to Help 'Flatten the Curve' in Fighting Coronavirus? A Lot of What They're Already Doing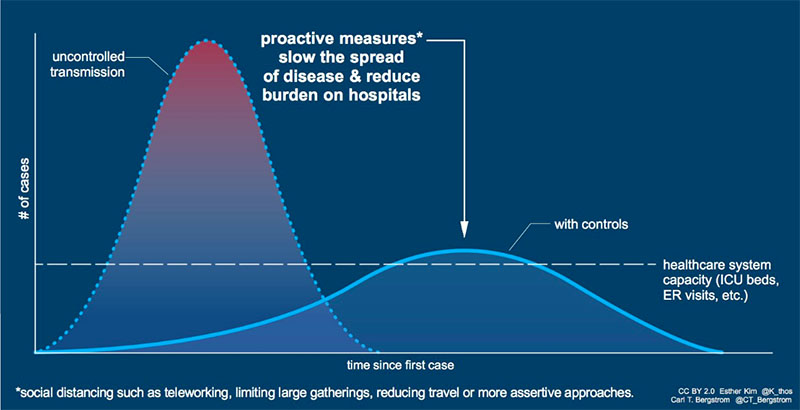 The past week brought an unprecedented set of actions designed to "flatten the curve" in the fight against the novel coronavirus COVID-19.
Understanding the urgency requires understanding the natural trajectory of the spread of any infectious disease. There is typically a sharp increase in the number of cases that rise to a peak followed by a decrease. If the increase happens too fast, hospitals and health care providers can become overwhelmed and unable to provide the necessary care.
It is easy to see how the U.S. hospital system could quickly become overwhelmed with coronavirus cases. The U.S. has only 2.8 hospital beds per 1,000 people, and those beds are disproportionately concentrated in prosperous zip codes, while there has been a decline in rural and distressed communities. There are also only 160,000 available ventilators, which may not be enough based on the estimated need.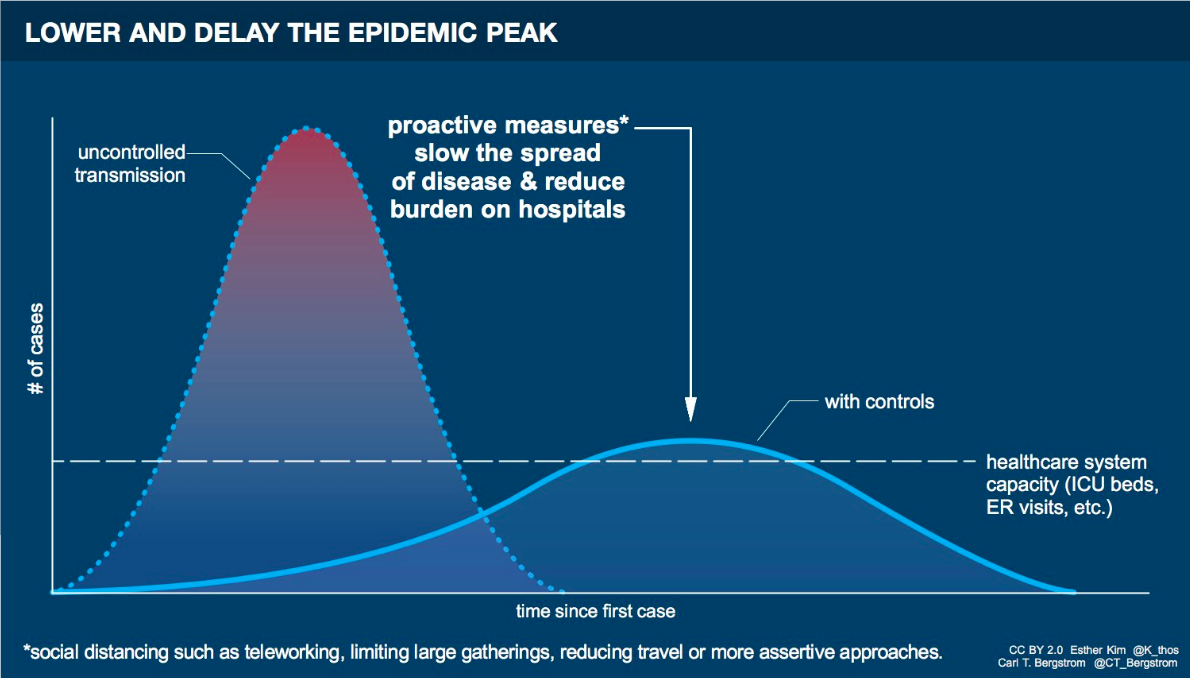 Preventing deadly shortages requires flattening the curve, which does two important things during a pandemic. It spreads out the cases over time to give the medical system the chance to provide care. But it also buys precious time to develop, test and deploy a vaccine. The National Pandemic Strategy estimated in 2006 that it takes six months to develop a flu vaccine; in the case of COVID-19, estimates Dr. Anthony Fauci, director of the National Institute of Allergy and Infectious Diseases, it will take at least a year to 18 months.
A number of strategies can be deployed to flatten the curve: washing hands, canceling mass gatherings, working from home, self-quarantining, avoiding crowds — and closing schools. No one single action is enough. They must be combined to provide a comprehensive approach to slowing the spread.
The challenge is that there is no way to know the characteristics of a virus before it emerges, and so previous assumptions for the best strategies might be incorrect. As a result, COVID-19 presents a unique challenge for health officials with the use of school closures. The traditional pandemic playbook is to use school closures to both protect children and flatten the curve. That view was shaped by a number of studies, including an analysis of the 1918-19 Spanish flu that showed that the earlier a city closed its schools, the lower its death rates. And an analysis of 65 studies of shutdowns during pandemics concluded that "the available data suggest that school closures can potentially reduce transmission during an influenza outbreak, even in the absence of other interventions."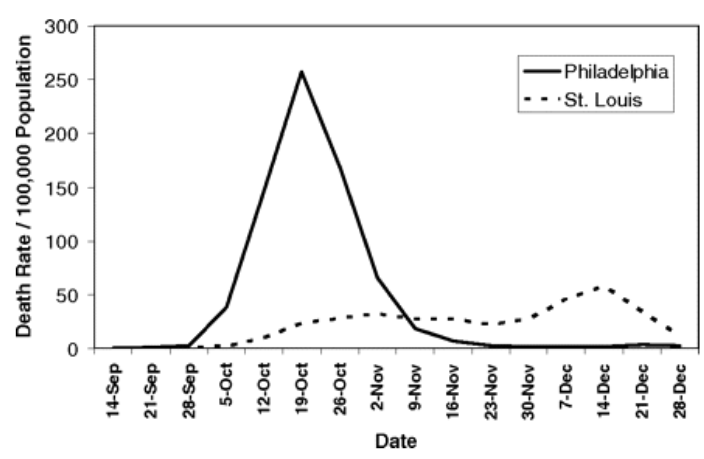 Data released March 20 show these same patterns in Italy, where the entire country is on lockdown because of the virus. The outbreak started in Lodi with quick containment measures put in place, including closing schools and halting cultural and sporting events. The Bergamo region did not introduce those social distancing measures. What resulted was a sharp peak of cases in Bergamo and a flattened curve in Lodi.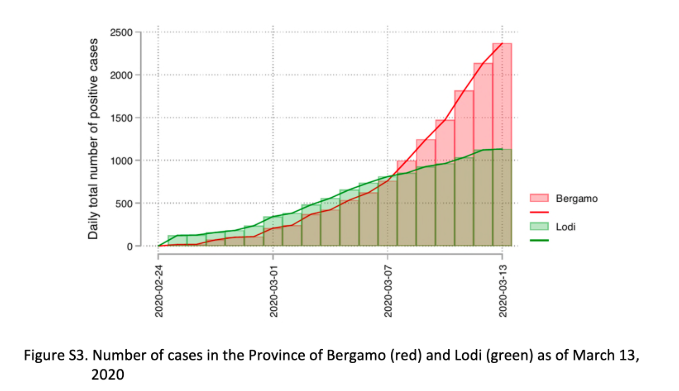 This is why many officials began urgently calling for closures in the United States. Tom Bossert, who served as homeland security adviser to President Donald Trump, wrote: "School closings can be the single most effective intervention. Amid an influenza pandemic, schools would be closed to protect the students themselves. Because children are not among the groups most vulnerable to coronavirus, schools should be closed in an effort to reduce community transmission and to protect the children's parents and grandparents. How long? Epidemiologists suggest eight weeks might be needed to arrest this outbreak. Administrators, students, teachers and parents need to get busy figuring out how to continue the education of our children while contributing to this community-wide public health effort."
However, the rapidly evolving science shaping our understanding of COVID-19 complicates that picture. On March 13, the Centers for Disease Control and Prevention released updated guidance related to school closures, expressing doubts that short-term shutdowns are effective: "Available modeling data indicate that early, short to medium closures do not impact the epi curve of COVID-19 or available health care measures (e.g., hospitalizations). There may be some impact of much longer closures (eight weeks, 20 weeks) further into community spread, but that modeling also shows that other mitigation efforts (e.g., handwashing, home isolation) have more impact on both spread of disease and health care measures."
Besides the economic hardships this would impose on parents, the CDC added, there are concerns that school closures might inadvertently expose more at-risk adults to infection, as an estimated 40 percent of U.S. grandparents provide childcare for grandchildren. School closures will likely increase this percentage, thus potentially exposing them to risks for infection.
Several former Obama administration officials are arguing against closures, while other experts take a middle-of-the-road position, suggesting that schools be closed only "in jurisdictions with community spread — when the source of at least one new infection is unknown." In other words, closing schools reactively to an outbreak, versus proactively.
So what should state and local leaders do, given the lack of a consensus among medical officials and conflicting recommendations? The answer came late last week when, over the course of two days, 16 states preemptively closed all their schools, erring on the side of taking more aggressive action.
No one should second-guess these decisions. They are the best leaders could do based on the available information made even more difficult by the "fog of war" that happens during any crisis.
"For a lot of folks who are worried about a school district closing down too early. … When it feels wrong is exactly the right moment. If you wait until when it feels right, it's too late," said Los Angeles Mayor Eric Garcetti. Darrin Peppard, superintendent of Colorado's West Grand School District, echoed that sentiment: "In the end, it will be impossible to know if we overreacted or did too much, but it will be quite apparent if we underreacted or did too little."
The executive director of the World Health Organization's Health Emergencies Programme, Dr. Michael Ryan, put it this way: "Be fast and have no regrets. The problem we have in society at the moment is that everyone is afraid of making a mistake. Everyone is afraid of the consequence of error. But the greatest error is not to move."
So what now? Schools will need to quickly prepare and implement plans to maintain some level of continuity of learning while supporting critical services for students. The CDC has several resources to help schools:
Generally speaking, school leaders need to think about four broad categories of work:
Coordination: Reaching out to city and county as well as state health officials to coordinate closures. This is particularly true in the states that do not have statewide closures, as the CDC still recommends closing only after local health officials recommend it.
Communication: Updating an emergency communication plan to provide ways of engaging parents and maintaining communication with staff during the disruption. Sharing plans with staff, parents and students through websites and other channels including social media and platforms such as Facebook and NextDoor.
Continuing Education: Identifying strategies to continue educating students if schools close. This could include sending print materials home with students, providing lessons or learning activities online, and making self-paced courses available. Schools should also survey parents to get a better sense of home connectivity and other needs.
Continuing Critical Services: Planning ways to continue critical student services such as providing school meals, including coordinating with mayors around meal distribution sites.
School readiness will vary. Those in hurricane-prone areas have the rough contours of plans already in place, Miami-Dade being one good example. Other districts are using their snow day and blizzard plans as the basis for their response. Many schools are implementing their summer school meal plans, which activate a number of locations throughout a city where meals can be picked up. Other schools are using their bus systems to deliver meals throughout the day.
Communities will rally, nonprofits will organize, and the business community will come together to help with these difficult transitions. We're already seeing new heroes in these early days of a new normal, with companies donating educational resources, teachers preparing activities for their students and dedicated school staff preparing and delivering meals. Americans are never better than during a crisis.
John Bailey is an advisor to the Walton Family Foundation and a visiting fellow at the American Enterprise Institute. He previously served in the White House and U.S. Department of Education. He worked on pandemic preparedness at the U.S. Department of Commerce in 2006.
Support The 74's year-end campaign. Make a tax-exempt donation now.