Analysis: What COVID-Era Learning Looks Like in 144 Innovative Schools Around the Country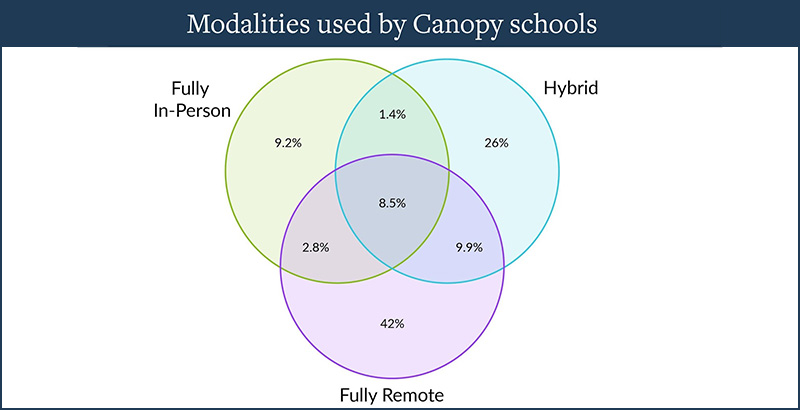 Correction appended Dec. 8
Across the country, COVID-19 has made redefining the status quo an imperative for K-12 schools. But with little to no state and federal guidance about high-quality options for learning during a pandemic, school leaders urgently need ways to learn from the struggles and triumphs of their peers. As a result, it's critical to lift the hood on how some schools are innovating in a way that's distinctly student-centered.
The Canopy project, a collaborative initiative led by the Christensen Institute and the education nonprofit Transcend, is taking up that challenge by making available new data from 144 schools in 41 states that are prioritizing student-centered learning. After being nominated for their exceptionally innovative strategies by education organizations around the country, each school's leader used an online survey to share the practices that are being implemented at the school this fall.
The data makes it possible to get a grasp on what schools are actually doing, and thus what students might be experiencing, in a way that's more tangible and specific than in a district-level remote learning plan. Additionally, since the school leaders featured in the data have a track record of thinking outside the box, they're prime candidates to help their peers imagine what's possible under the unique constraints of this academic year.
It's important to note that Canopy schools aren't nationally representative, and their leaders' self-reported data hasn't been validated by a third party. With these limitations in mind, here are some of the biggest early takeaways about schools' COVID-era learning models:
Modalities: Remote, hybrid and in person
Among Canopy schools, in-person options for learning are the least common: it is offered at 22 percent of schools, and only 9 percent are in-person only.
But that doesn't mean that remote learning is the only alternative: just under half of Canopy schools report offering a hybrid option where students learn partially in-person and partially at home. All in all, though, the vast majority of schools in the dataset — 90 percent — are offering some form of remote learning, whether fully remote or hybrid.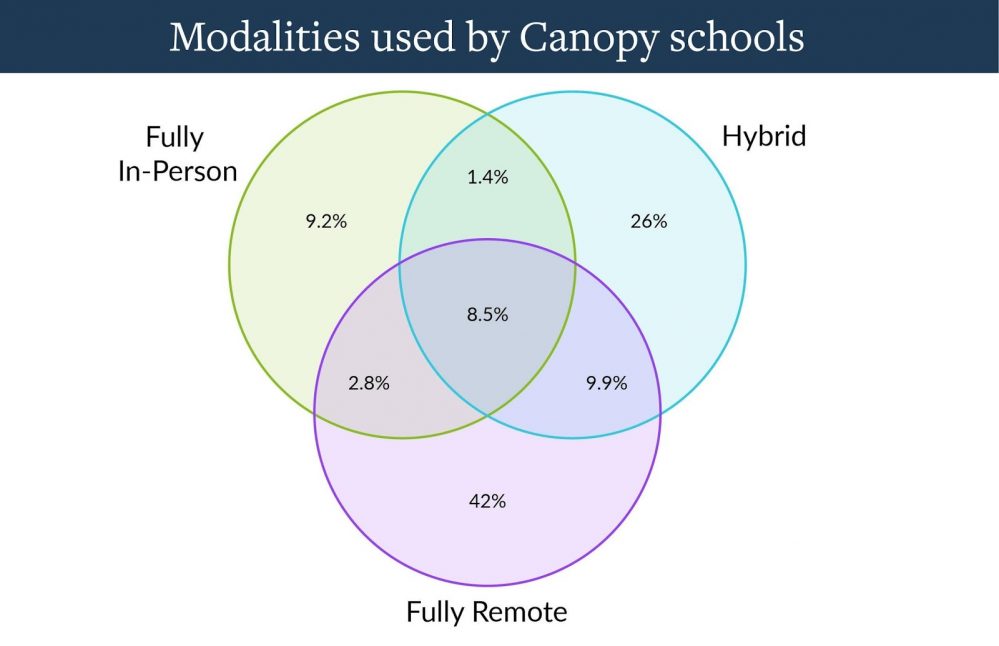 Although most schools offer only one learning modality, 22 percent of school leaders reported that their schools offer more, and almost all of them allow families to choose. For example, at Sojourner Truth Montessori in Washington, D.C., school leaders determined they could accommodate 20 of the school's 92 students for in-person learning, and just about 20 opted in. At Clarendon Public Schools in rural Arkansas, the high school —named an Innovation School by the State Board of Education in 2017 — offers all three learning modalities as options for families. Both schools also report allowing teachers to choose their preference, a practice reported among about a third of schools offering multiple modalities.
Options for families: schools versus districts
Even though the Canopy data comes from a limited and atypical sample of schools, a few worthwhile questions arise from differences between it and other sources that focus on districts.
For example, based on district-level plans, EdSurge's district tracker finds that it's extremely rare for districts to offer only hybrid or in-person instruction. In a similar vein, both the EdSurge tracker and the Center on Reinventing Public Education's data suggest that the vast majority of districts offer a fully remote option if families choose it.
But the Canopy school-level data suggests it's more common for individual schools to offer one option exclusively. Case in point: Compared with the vast majority of district plans that report offering a fully remote option, only a modest majority of Canopy schools (62 percent) provide that choice. This suggests a nuance worth investigating in the COVID era: In districts offering a fully remote learning option, to what extent does it take the form of a virtual school that's separate from the school students would normally attend? Such a setup would contrast with schools where teachers are required to juggle mixed groups of fully remote and fully in-person learners simultaneously, which some have called a nightmare.
As a concrete example, Stilwell High School in Oklahoma opened for fully in-person classes at the start of the school year. If needed due to rising COVID cases, the school planned to transition to periods of remote learning, which it recently did for the week before Thanksgiving break. But districtwide, families were also given an option to choose "Stilwell Virtual Learning Academy" or "Stilwell Early Childhood Virtual Learning" as separate, semester-long remote learning options. Students enrolled in the virtual academies can still access the district's normal athletic and extracurricular options, affording some connection to their peers who are learning in person.
Demographics: High-poverty, Hispanic and Black students
We undertook demographic analysis of Canopy data cautiously, recognizing that the project's sample of schools is not nationally representative. Nevertheless, we wondered to what extent these innovative schools would reflect the same trends that other research has surfaced.
For example, CRPE's data shows that districts with the highest poverty levels were more likely than others to open remotely this fall. Canopy schools differed in this regard: Schools with higher proportions of students eligible for free or reduced-price lunch, an imperfect but common proxy for poverty, were about twice as likely to report offering a fully in-person option when controlling for other factors (e.g., school type, level and size, geography). Leaders wanting to learn from examples of in-person models in high-poverty contexts can check out examples such as 5280 High School, Matchbook Learning, Shawnee High School and Stilwell High School in the Canopy interactive data portal.
Chalkbeat also recently reported that Hispanic and Black students are more likely than white students to start the school year remotely. The Canopy data didn't offer a resounding affirmation of this, but neither did it offer opposing evidence. Although fully remote instruction didn't appear notably more likely in schools with greater proportions of Black or Hispanic students, our analysis did show that schools with mostly Hispanic students were about 10 times more likely than others to practice synchronous online learning, in which students log on to online lessons at the same time. Schools with mostly Black students were almost twice as likely as others to do so (again, while controlling for other factors). Although those trends might not hold with a different sample of schools, it's worth investigating whether Hispanic and Black students, on the whole, are more likely than white students to be expected to join synchronous online classes, as well as the impacts of this pattern on their experiences and learning outcomes.
School levels: Elementary, middle and high 
High schools in the Canopy dataset had the highest odds of reporting a hybrid model during COVID-19. This trend is complemented by the fact that the vast majority of the 40 percent of Canopy schools using rotating or staggered schedules are high schools. Staggered schedules have come under the spotlight during COVID-19 as schools attempt to reduce the number of students in the building at a time by having different cohorts attend school on alternating days, alternating weeks or half-days. The use of staggered schedules in hybrid models, where students learn partly in person and partly remotely, makes sense. As for their prevalence in high schools, it's worth investigating if schools are finding hybrid models and staggered schedules to be better suited to older students, or if the trend is caused by other factors.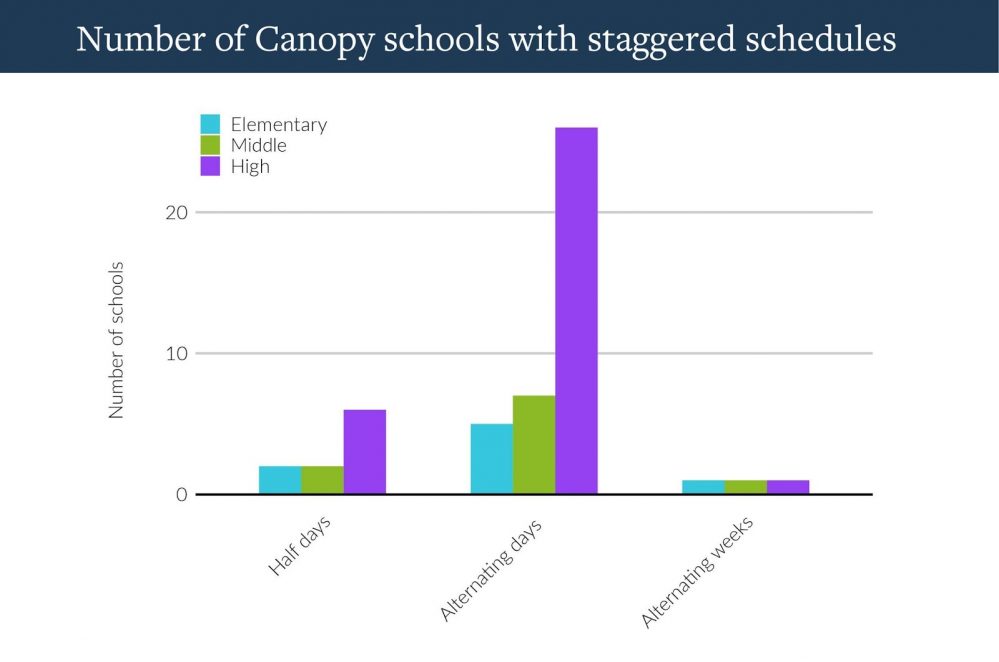 School system leaders looking to learn from high school hybrid models might check out NYC iSchool, whose leader reported staggered schedules as a core practice in place for over five years. A wide range of other high schools with hybrid models also report staggered schedules, such as Farmington High School in Utah, Liberal High School in Kansas and Nawayee Center School in Minnesota.
Another trend jumped out strongly for elementary schools, which reported a much higher likelihood of offering guidance and training for parents and families to support students' learning at home, and of providing printed materials for learning at home. Given the need for adult supervision of younger students with less developed self-directed learning skills, as well as concerns about screen time for young children, these patterns make sense. Further research into the nature of guidance and training for parents might investigate whether families are being coached to help their children develop key skills, versus basic instructions on how to log on to a platform or how to create a daily schedule.
The Canopy project will continue to investigate trends in its data on innovative schools, including patterns among the full set of 91 practices identified in the schools. And for those who want to get beyond overarching trends, the Canopy project data portal has information about the unique approach underway in 144 schools.
Correction: The Canopy project is co-led by the Christensen Institute and the education nonprofit Transcend. 
Chelsea Waite is an education research fellow at the Clayton Christensen Institute.

Get stories like these delivered straight to your inbox. Sign up for The 74 Newsletter