Analysis: U-Turn — Survey of 477 Districts Shows Surge in COVID-19 Cases Is Reversing Reopening Progress In America's Schools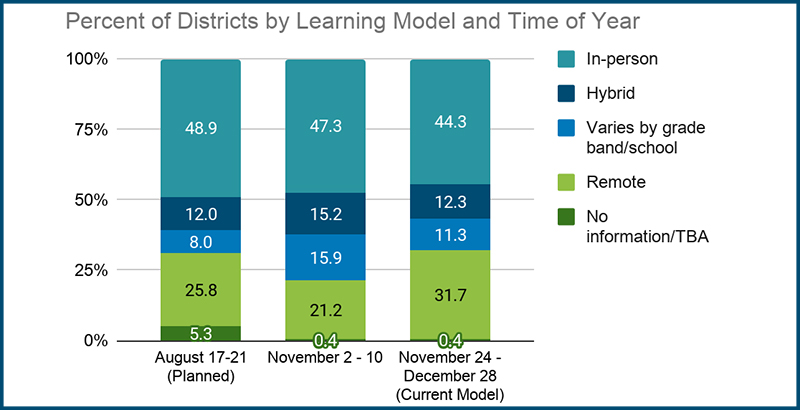 The incoming Biden-Harris administration laid out the goal of reopening most schools within the first 100 days of their term. Unfortunately, as of last month, the nation's school districts are moving in the opposite direction.
We analyzed a statistically representative sample of 477 districts in December and found 31 percent are operating in fully remote learning — a larger percentage than at any other point during the fall semester.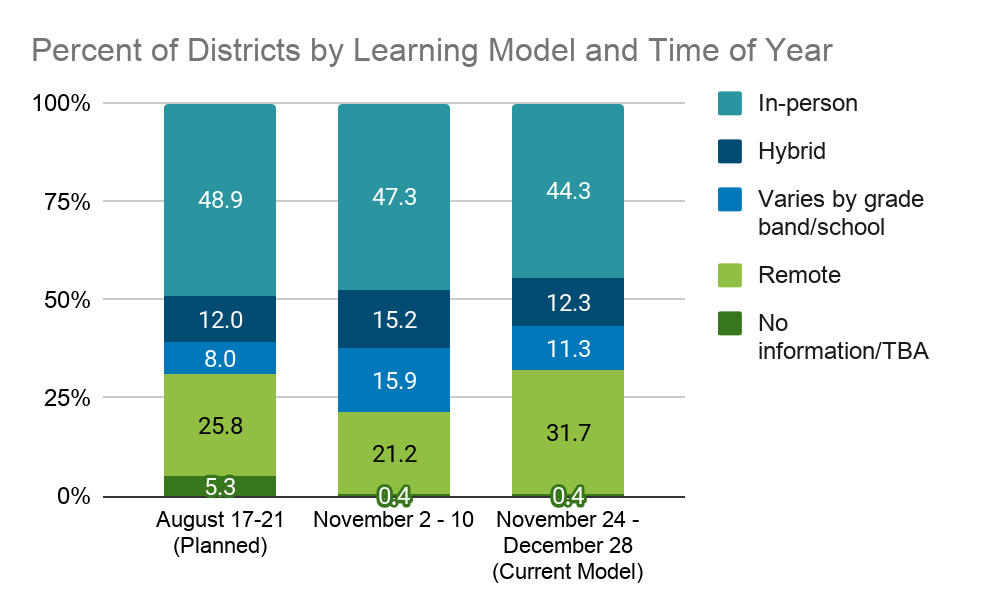 This trend was most pronounced in urban districts. Many that had made incremental steps back toward in-person learning in some grade levels or through a hybrid model had reverted to fully remote learning. But rural and suburban districts are shifting toward more remote learning too.
High COVID-19 case rates, parent and teacher concern, the rise of a new, more contagious variant of the virus and a slower-than-expected vaccine rollout threaten the return to in-person learning in the short term. But school districts can continue to push to provide more intensive support to students wherever learning happens.
Districts take two steps back after incremental movement toward in-person learning earlier this fall
Almost three-quarters of urban school districts are operating fully remote. Another 11 percent vary across grade bands, typically offering in-person learning for the youngest elementary school students while older students remain in remote learning.
Suburban districts were more evenly distributed across in-person, remote and hybrid instruction. Most rural school districts are still operating primarily in person, but almost one-third are operating remotely — again, more than at any point during this school year.
Less than half of districts describe systematic assessment plans
School systems face chaos and disruption even now, heading into the 10th month of the pandemic. It is critical to assess students' progress and provide families with the support they need for their children to engage in learning.
We looked for signs that districts were using assessments like MAP, iReady or DIBELS to systematically identify students' need for support.
We found a little over one-third of districts' remote learning plans indicate they will use assessments to understand student learning at the start of the year. Fewer — just 20 percent total — describe plans to use these assessments on an ongoing basis as part of their COVID-19 response plan.
While assessments are not a panacea, this suggests many school districts are under-using an important tool for understanding student learning needs and providing responsive, targeted assistance to students.
Families with children at home receive limited support
We found 30 percent of the school districts that do not offer fully in-person instruction (those using remote, hybrid or varied models) share information on their websites or social media accounts about family access to child care or learning hubs led or sponsored by the district.
While no doubt many families are supplementing district offerings with self-organized learning pods or hubs led by community-based organizations such as the YMCA or Boys and Girls Clubs, the closure of school buildings continues to place burdens on families and community groups to fill the gaps and take on health risks during the pandemic.
Districts must continue to create opportunities to support students where they are now
The pressure to open schools is mounting. The incoming administration has called for it. Early reports on slow academic progress and the sharp uptick in failing grades issued last fall are showing just how costly the closure of school buildings has been for students and families, especially those who lack access to child care or reliable internet connections.
While some states initially adopted stringent public health benchmarks that made reopening school buildings difficult, several, including Washington, Oregon and California, have recently revised their metrics to make it more likely schools can reopen at some point this school year. Still, the wave of new infections means that even under revised guidelines, reopening will not be possible until these states reduce the number of COVID cases. There is simply no school reopening policy more powerful than reducing community case rates.
In the meantime, school systems need to do their best to support educators and families any way they can.
Measuring learning and providing opportunities for supervised instruction to students most in need are two essential efforts.
Our data suggest many school systems need to expand these supports. As Congress and states continue to contemplate new financial resources to assist school systems through and out of the pandemic, resources to support quality assessment and provide students with safe supervision and meaningful support — wherever their learning happens for the rest of this school year — need to be high on the priority list.
Betheny Gross is associate director of the Center on Reinventing Public Education at the University of Washington Bothell. Alice Opalka is a research analyst and Padma Gundapaneni is a junior research analyst at CRPE.
Get stories like these delivered straight to your inbox. Sign up for The 74 Newsletter