Analysis: To Make Up for Lost Learning, Students Need Strong Networks. Our New Playbook Offers Help in Building Relationships & Addressing this Looming Social Crisis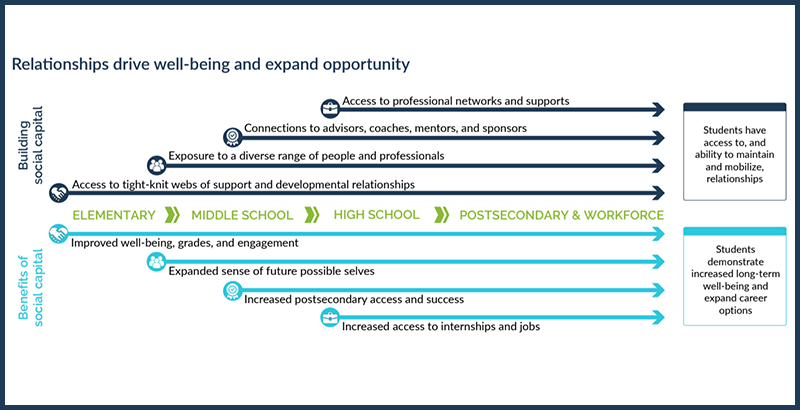 Get essential education news and commentary delivered straight to your inbox. Sign up here for The 74's daily newsletter.
School leaders nationwide are confronting the stark reality that students aren't facing just an academic crisis, but a social one. While there's no shortage of solutions to tackle unfinished learning, these initiatives are often missing a critical strategy cited by decades of youth development research: building students' relationships. As schools plan for the summer and upcoming school year, a road to reconnection must be paved in order to ensure student engagement and empowerment.
Equitable access to diverse relationships to help students get by and get ahead has always been a crucial but often overlooked element of school design. Slim but troubling data suggests that students' access to relationships is not equally distributed and that not all relationships support development and opportunity at an equal rate. Ensuring that no student gets left behind will require schools to scale social support as a foundational prerequisite for addressing unfinished learning.
In "5 Steps to Building and Strengthening Students' Networks," our new playbook out this month, my colleague Julia Freeland Fisher and I highlight innovations from the field and real-world K-12 examples to help K-12 and postsecondary leaders and nonprofits implement and adapt strategies, tools and metrics to build and support their students' relationships. The playbook summarizes relevant research and provides a guided worksheet to help customize a plan toward scaling social supports for the upcoming school year.
The first step is to move beyond the familiar slogan of "relationships matter" in making students' networks a strategic priority. Research demonstrates the value of relationships in enabling students to build confidence, identity and agency. Further, these networks drive healthy development, long-term well-being, improved grades and access to opportunity. But these benefits rarely come from a single adult in students' lives. Rather, students more often benefit from a web of close, supportive connections. One reason is that different relationships can provide different types of support, depending on a student's needs and circumstances in a given moment. Within this web, however, young people should have at least one anchor — someone they feel they could go to for anything — who provides unconditional support and can help them navigate different contexts and relationships. These are examples of research findings that help to illuminate the power of students' relationships.
The second step is to begin to shape mindset around how school, district and program leaders and staff perceive the opportunities and challenges associated with building students' networks, as well as how strategies can be customized. The following questions can help inform thinking around how to more deliberately integrate students' relationships within school- and districtwide initiatives for the upcoming year:
Which members of your staff, team or broader community can be called upon to support students?
How can these individuals communicate and share information with students and with one another?
Can all students identify at least one person they trust to turn to inside your school or program?
Have you built opportunities for students to practice skills in seeking help into your approach to social-emotional learning and well-being?
Finally, what gets measured gets improved. Strengthening social networks in school is often well-intentioned, but it can backfire if these investments occur absent clear diagnostics identifying whom students are turning to for emotional and/or academic support within and beyond school. Some examples of what we call "meaningful metrics":
The number of peers and adults a student turns to for different supports
The sources of students' networks (whether a student met someone through an existing relationship or a specific mentor) and how those individuals are connected to each other and the student
A student's level of comfort in seeking and obtaining support from individuals in their network
The playbook also includes some examples of schools and programs that are implementing specific measurements, and highlights their data collection strategies. For example, Beyond 12 is a nonprofit that offers virtual coaching to low-income, first-generation and historically underrepresented students. As a measurement strategy, its coaches use a checklist to identify the extent to which students are growing their on-campus networks. Items include metrics like: "Identify a campus advocate or mentor," "Identify three peers who can serve as references" and "Create at least one study group with high-performing peers."
Once clear goals are defined, educators can build agency in their students by empowering them to lead conversations with their support networks around these goals. For example, Achievement First's Greenfield school model has implemented a structure called Dream Teams, also referred to as a "community of champions," composed of students' parents, caregivers, extended family members or neighbors. Dream Teams meet quarterly with students and their teachers. The approach specifically focuses on building student agency; the students lead these sessions to update their web of support on their goals and progress.
School leaders can't ensure student well-being, engagement and empowerment this upcoming year without a focus on social support. Getting deliberate in design to systematically implement and scale these supports can enable all students, not just some, to access the opportunities needed to get by and get ahead. A playbook can help as the first step.
Mahnaz Charania, Ph.D., is a senior research fellow at the Clayton Christensen Institute, where she studies disruptive innovations that amplify equitable access to educational opportunities for underserved students.
Disclosure: The Bill & Melinda Gates Foundation and the Walton Family Foundation provide financial support for the student network playbook and The 74.
Support The 74's year-end campaign. Make a tax-exempt donation now.