Analysis: Time to View a First Language Not as a Barrier but as an Asset for English Learners & Celebrate Their Bilingual Successes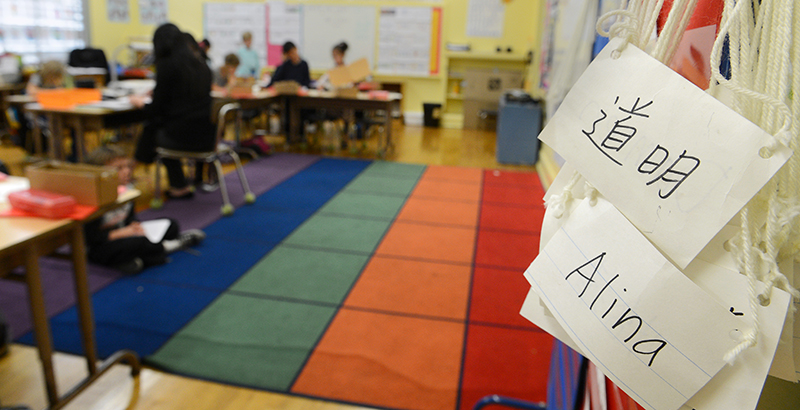 In the United States, bilingual education in schools has been an afterthought for decades. But demographic changes in the student population, and new research out of Chicago, demand that it occupy a more meaningful role in how we measure success in serving these students, as well as other groups of learners. Today, as a policy analyst with decades of experience, I am encouraging a new approach to accountability that places a value on bilingual skills.
The catalyst was a 2019 study published by the University of Chicago Consortium on School Research. The study followed 18,000 English learners from kindergarten through eighth grade and found that they outperformed native English speakers on various benchmarks when given the proper resources. From higher attendance rates to better performance on eighth-grade English Language Arts PARCC exams, the study suggests that using longitudinal data not only is a more accurate way to capture the academic success of English learners but could also apply to other groups of students as well.
For me, the data are validating. As a child living in Mexico City and attending foreign schools, I spoke English as my first language but began taking Spanish in preschool. Although I never imagined myself entering the field of education, my early days with Mexican culture and language became a cornerstone of my future career as a teacher and school leader. I learned to communicate with different groups of people, to ask questions and to better understand their values and traditions.
As a college student working with low-income migrant workers in Michigan in the 1980s, I came to appreciate the importance of bilingual education as a lifeline for marginalized communities. Most of my students' parents had less than a high school education and spoke Spanish at home. In those days, bilingual education was a new concept in the United States, and the goal back then was simply to help these students learn English. But part of me wondered if bilingualism, itself, should be the goal.
I had a chance to test out my theory years later as an educator in urban and suburban school districts and while working at the state level to develop dual language programs. In 1998, as the director of English learner programs for West Chicago School District 33, I served in an elementary district with six schools and a growing Latino population. The district had gone through a civil rights audit that highlighted tensions within the community and the need to come together to better serve Latino students.
After a contentious debate, the local school board voted to implement a dual language program at one magnet school. Under the program, students were taught in English and Spanish beginning in kindergarten and continuing through eighth grade. This year marks the 20th anniversary of the program, which is now available in all district schools and has become a model for other districts.
Woodstock, Illinois, is another example; it's a community on the northern border of the state, close to Wisconsin, with similar demographics to West Chicago. The local program director studied the West Chicago program and created dual language schools, starting in preschool and continuing through high school. The goal was to embrace bilingualism and biliteracy as well as to raise academic achievement for Latinos.
Today, the district reports a 96 percent four-year high school graduation rate for Latinos, a measure that many more affluent communities have been unable to achieve. Many of the high school students at these dual language schools go on to earn the State Seal of Biliteracy, a designation on their high school transcript that demonstrates their multi-language proficiency and college readiness to the world of work and postsecondary education. Students earn college credit by obtaining this credential.
In 2014, I led the Office of Language and Cultural Education for Chicago Public Schools, the third-largest district in the country. At the time, there were more than 600 neighborhood and charter schools, the student enrollment was 46 percent Latino, and 1 out of every 3 students was either an active or a former English learner. Nevertheless, just 12 schools offered dual language programs. Today, more than 40 do.
During this period, the number of students graduating from high school with the Illinois State Seal of Biliteracy has risen from fewer than 200 students per year to more than 2,000. For them, earning the state seal acknowledges their culture and affirms their goals to advance in education beyond high school.
For me, as a lifelong educator of color, there is a prevailing truth in the culmination of this long, personal journey. As states and districts develop and modify accountability plans at this pivotal juncture in the nation's learning landscape, they should consider including longitudinal data of English learners after they are reclassified as English proficient and no longer receive language services. Their first language should no longer be viewed as a barrier, but rather as an asset. More important, their culture should be recognized and valued, and their success should be acknowledged in the programming and credentialing of our school systems. It all must start in the classroom.
Karen Garibay-Mulattieri is senior education analyst for the Illinois-based Latino Policy Forum and former chief officer for language and cultural education for Chicago Public Schools. 
Support The 74's year-end campaign. Make a tax-exempt donation now.