Analysis: The Real Reason Teachers Unions Pump Millions of Dollars Into School Board Races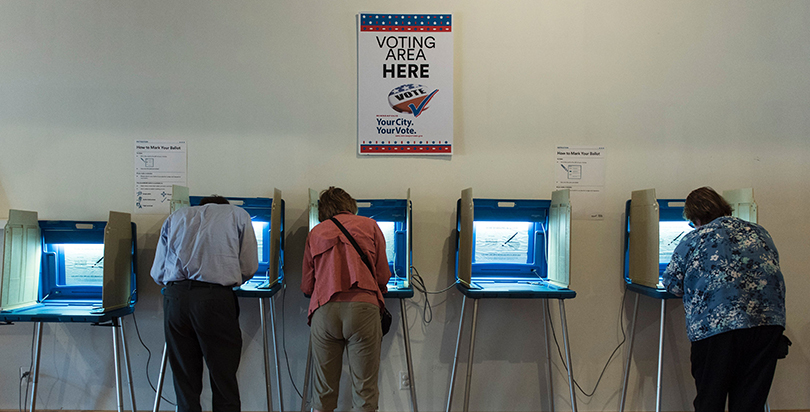 This piece originally appeared at LA School Report; see LASR's profiles of all 2017 LAUSD school board candidates.
Electoral politics are front and center as Los Angeles voters prepare to cast their ballots for three school board seats on March 7. Not surprisingly,
the races have heated up — and gotten expensive. Independent expenditure committees funded by teachers unions have forked over
$1.2 million
to support incumbent board president Steve Zimmer while also backing community organizer Imelda Padilla in an open-seat race. (The incumbent in the third race appears to be unopposed by the unions.)
This contribution is surely just the down payment; hundreds of thousands more can be expected before the race is over. But why spend so much on races that many voters will ignore? The answer boils down to the unions' self-interest.
In most districts, including the Los Angeles Unified School District (LAUSD), elected boards negotiate teachers' contracts with the local union. The more union-friendly the board — and campaign contributions don't hurt — the more likely those contracts will favor the union. Negotiations often address a host of items that the unions and their members are apt to care a great deal about, including compensation and benefits, paid time off, grievance procedures, evaluation protocols, work hours and conditions (like class-size restrictions or duty-free lunch periods), preparation time, dismissal procedures, and a whole lot more.
It's no surprise then that unions work hard to get friendly folks elected to school boards — sometimes including former teachers or their relatives — as well as to state legislatures and other key decision-making bodies. As the recent fracas over Betsy DeVos reminds us, they also strive mightily to get rid of those whom they view as inimical to their interests.
Teachers certainly deserve fair compensation and benefits, vacation days, and lunch breaks just like rest of the workforce. Yet excessively union-friendly contracts can lock schools into HR policies and practices that allow adult interests to prevail over students'.
Consider, for example, the hoops that school leaders must jump through to dismiss ineffectual teachers. In a recent report, Undue Process, my Fordham Institute colleagues examined the contracts of LAUSD and 24 other large school districts. Their conclusion: "It is more difficult to dismiss an ineffective teacher in LAUSD than almost anywhere else in the country." The report notes that LAUSD's dismissal procedure for an ineffective veteran teacher takes three to six years — often even longer, as its labor agreement allows for multiple appeals. This swaddling of red tape, and the high cost of untangling it, protects teachers from losing their jobs. But it also fails to safeguard pupils from ineffective instruction — an injustice, for as countless studies show, the single most important variable in a child's education is the quality of his or her teacher.
Teachers unions often engage in board politics, including spending big on elections, because it is manifestly in their self-interest to capture the board. In turn, they can win concessions when the time comes to negotiate a contract. The optimal situation for them is one in which the union, in effect, negotiates with itself, an arrangement that can make their members' lives easier. But it also drives up taxpayer costs and damages the very students the district is obligated to educate, most often including the neediest among them.
Former Los Angeles mayor Richard Riordan has already kicked in more than $1 million to oppose the union-backed candidates. Good for him. Someone has to fight for the hundreds of thousands of LA students in need of an excellent education.
Aaron Churchill is Ohio research director for the Thomas B. Fordham Institute, one of the nation's leading conservative education policy think tanks.
Support The 74's year-end campaign. Make a tax-exempt donation now.