Analysis: Teachers Unions Want a Seat at the Table When It Comes to Reopening Schools — But They Don't Want It to Be the Hot Seat. That's Why They Keep Moving the Goalposts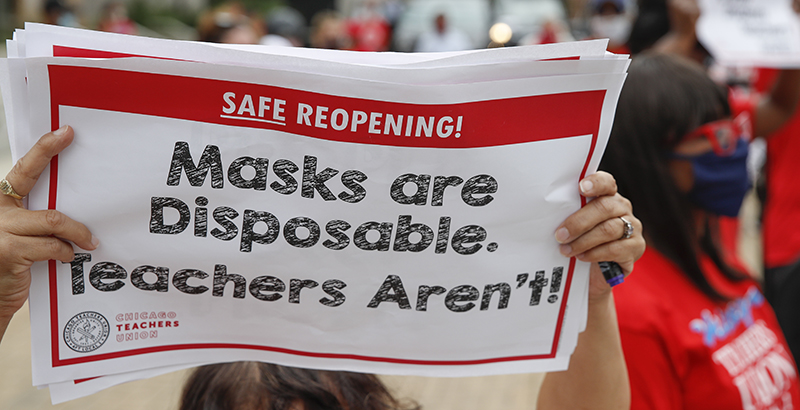 Mike Antonucci's Union Report appears most Wednesdays; see the full archive.
"No one wants to reopen schools more than educators." — National Education Association, July 7, 2020.
"No one wants to return to in-person learning more than the educators who dedicate their lives to helping their students succeed." — National Education Association, Jan. 14, 2021.
There's a good chance we will see this quote from NEA again in September.
But for something that they say they want more than anyone, unions seem very committed to stalling for as long as possible. Their explanation is simple enough.
"Of course I would disagree with the argument that teachers unions are preventing schools from being open. What's happening is that unsafe conditions in some cases are preventing schools from being open," said Scott DiMauro, president of the Ohio Education Association.
"Do we want to be back with our students? Of course we do, but not until it's safe," said Bernie Burnham, vice president of Education Minnesota, at a recent rally against reopening.
"Not until it's safe" makes a good hashtag, but what do the unions consider to be safe? That's where things get complicated and vague.
Almost everywhere there is agreement on the standard precautions, such as masks, social distancing, handwashing, proper ventilation and screenings for symptoms. But schools with all those things in place are still closed.
Will vaccines do the trick? Teachers unions across the country are lobbying hard to get their members moved up the priority list, but they still have conditions and caveats.
"Educators should be prioritized as soon as possible," said Larry Delaney, president of the Washington Education Association, but he insists all teachers be vaccinated together, not be separated into age groups.
Melissa Cropper, president of the Ohio Federation of Teachers, said vaccines will help, but districts should consider the school's ability to do proper social distancing, what percentage of school employees get vaccinated, community spread in the local area and testing capacity.
Cooperation from teachers themselves is an issue in Ohio and elsewhere. The Findlay Courier reported that districts in northwestern Ohio are finding only 70 percent to 80 percent of school employees are choosing to get the vaccine.
Some union officers just punted on the question. "I don't see us getting back to any more of a normal schedule any sooner than this fall," said Zeph Capo, the president of the Texas American Federation of Teachers.
What's behind this decision to commit to an indefinite hiatus? We got a clue from Ohio, where the Columbus Education Association already negotiated the terms of reopening but is still hedging on the whole idea.
"The union's always going to say that we're safer remote," said President John Coneglio. "Our teachers are safer and our students are safer when we're in remote learning. The decision to go back to in person learning is not CEA's, it is the district's."
There's the rub. Unions want a seat at the table, but they don't want it to be the hot seat. Despite the growing criticism of teachers unions for keeping schools closed, they can defend their position by citing the health and safety of their members and students. Once they commit to a specific and objective set of protections, they are declaring schools "safe" if those protections are put in place.
But what if those protections don't make schools safe? Students will still be unvaccinated, and it looks like a considerable percentage of school employees will be unvaccinated, whether due to pregnancy, allergy or choice. If the vaccine is 95 percent effective, that still leaves 5 percent who may contract the virus.
Some school employees will get sick. Some might even die. What union wants any accountability for the conditions under which such tragedies could happen?
Unions will continue to make vague or unachievable reopening demands until rescued by circumstances, such as COVID infections falling to normal influenza levels, or the death toll dropping to that of automobile accidents. In places like Columbus, where they have agreed to reopening protocols, unions will distance themselves from the actual decision to reopen, or will blame districts for failing to follow those protocols.
Districts may overcome all obstacles to reopen schools, but they alone will bear the brunt of responsibility for what happens afterward.
Support The 74's year-end campaign. Make a tax-exempt donation now.