Analysis: Science Matters Now More Than Ever. The Time to Start Teaching It Is in Elementary School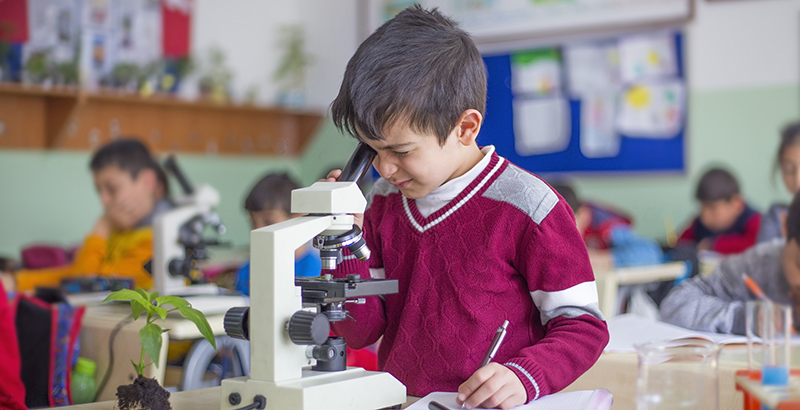 Science has never mattered more than it does today. From the devastating realities of COVID-19 in our communities to a climate crisis that now spans the globe to the paucity of scientifically based public policy, one thing is certain: Society benefits when scientific literacy informs civil discourse. For the adults of tomorrow, that literacy begins today, with high-quality, equitable science education for all students.
As the United States welcomes a new administration into the White House — with a first lady who is herself an educator — and the government has the opportunity to reauthorize important legislation like the America COMPETES Act, we also have an opportunity to reset the national education agenda. There is no better place to start than science education.
Giving students the opportunity to learn science in elementary school, as with mathematics, provides a solid foundation for later learning. Middle and high school students are expected to learn complex scientific ideas, and in order to do that, they need exposure to high-quality science instruction in their elementary classrooms. Students learn to think critically about the world around them, noticing details and patterns, gathering data and forming sound explanations based on evidence.
Even before COVID, the trend line for average minutes of science instruction in elementary school per week was going in the wrong direction. According to the 2018 National Survey of Science and Mathematics, teachers in grades K-3 reported spending an average of 18 minutes per week on science, a 22 percent decrease since 2000. Grade 4-6 teachers reported spending an average of 27 minutes per week, a 13 percent decrease. Now, in the COVID remote learning era, there are fewer instructional minutes overall, and in many districts, science has completely fallen out of elementary curriculum. Alarm bells should be ringing.
Prioritizing elementary science education takes creativity, teamwork and long-term commitment — all of which can be challenging in normal times, let alone amid the new realities of a pandemic. But disruptions can also present opportunities to try something new. Groups like NextGenScience are already sharing successful strategies to adapt K-12 science lessons for distance learning, and that some approaches might enable more learning opportunities for students than pre-COVID methods.
In our work with hundreds of schools and districts across the United States, we have seen what can happen when educators committed to science standards work together to provide meaningful learning experiences for their youngest students. The following three examples from real schools and districts show how change is possible when prioritizing elementary science education.
Implementing slowly and steadily, with plenty of educator input
One small district in Rhode Island with three elementary schools adopted a new science program and took a phased approach. Teachers were required to present one unit during the first year, with a full implementation in year two. But throughout the second year, teachers struggled to fit everything in, because they were still presenting full English and math programs. At the start of the third year, teachers collaborated with school and district leaders to problem-solve. Looking closely at the science curriculum, they identified where students were already engaged in science-related activities that involved reading, writing, listening and speaking. Then they adjusted their instruction in other subjects that covered the same things, making more room for science.
Change did not happen overnight, but teachers created more consistent time for science instruction because they saw how much their students were learning with their new science curriculum. District administrators supported flexible thinking about learning goals, and together, they made changes over time that integrated science solidly into the district's elementary school curriculum.
Looking closely at scheduling and how to ensure equity
One small Midwestern city with 14 elementary schools considered increasing science instruction districtwide. During their research about how best to teach more science, district leaders put together a team that examined schedules across all elementary schools. The team noticed a serious equity problem: Science instruction frequently occurred at the same time that students were pulled out of class for various reasons. For science to be a priority, it needed to happen when all students were present. In response, the district eliminated pullout services and special classes during science time.
For this city, it took a cross-departmental team with a new perspective working together at the district level to notice and correct a pattern of inequity and ensure science time was protected.
Thinking creatively about staffing: Every teacher can be a science teacher
A large urban district on the East Coast had a long history of using science specialists, instead of multi-subject classroom teachers, to teach elementary science. During the pandemic, as classes began meeting remotely, all the science specialists became multi-subject teachers to help reduce class sizes.
District leaders are now rethinking their model, evaluating whether "every teacher a science teacher" is a better way to move forward, because it enables teachers to take better advantage of the common learning objectives and teaching approaches that exist across science, English Language Arts and math — something not possible in elementary grades when subjects are taught by specific teachers.
Our nation is facing one of the greatest public health crises in its history, and the world is confronting a climate crisis that generations to come will inherit. Students must be equipped to tackle these realities with a high-quality science education from the earliest grades. Let us leverage this extraordinary moment to catapult science to the core of the curriculum. It matters for our health, well-being and even our collective survival.
Jacqueline Barber is associate director of the Lawrence Hall of Science at the University of California, Berkeley. Matt Reed is vice president of science at Amplify where he oversees development, testing and support for the company's highly rated science curriculum.
Get stories like these delivered straight to your inbox. Sign up for The 74 Newsletter