Analysis: School Mental Health Professionals Are Key to Safety & Well-being of LGBTQ Students — but Need Training & Resources to Do the Job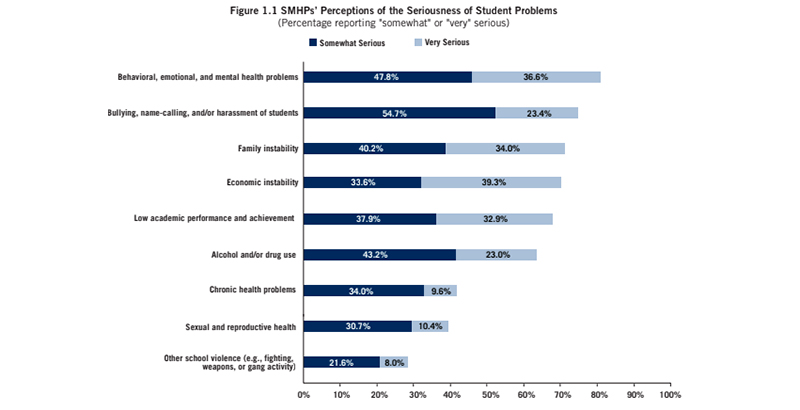 Tens of thousands of Los Angeles teachers went on strike several weeks ago calling for, among other issues, schools fully staffed with counselors, social workers, and psychologists. That demand for more support is a powerful expression of how important school-based mental health professionals are, and the value they add to the lives of students, teachers, and the whole school community.
Having been a school counselor, I understand the unique and important role that counselors, social workers, and psychologists play in their schools, from working with individual students to consulting with educators on classroom issues and engaging with families and community members. However, in the few decades since I filled that role, the educational landscape has changed tremendously. While there have always been lesbian, gay, bisexual, transgender, and queer students in our schools, issues regarding sexual orientation, gender identity, and gender expression are infinitely more prevalent today. School-based mental health professionals play a vital role in creating a climate of support and inclusion for these students and often provide the link among students, teachers, and families at a crucial time in young LGBTQ people's lives.
That's why a new report, Supporting Safe and Healthy Schools for Lesbian, Gay, Bisexual, Transgender, and Queer (LGBTQ) Students, released by GLSEN in partnership with the American Council for School Social Work, the American School Counselor Association, and the School Social Work Association of America, is so timely and relevant.
Examining data from a national online survey of school counselors, psychologists, and social workers in U.S. schools, grades 5 to 12, the report found that the majority hold positive attitudes regarding LGBTQ students and feel they have a pivotal role to play in supporting them. For example, 87 percent believe it is their responsibility to provide supportive counseling to LGBTQ students, and 80 percent said they should not avoid discussing students' sexual orientation and gender identity.
The report also documents that many school-based mental health providers actively work to create safe and welcoming environments for LGBTQ students as a part of their individual practice. Nearly half reported that they have a Safe Space sticker or other indicator visible in locations where they meet with students. These are signs of the times as much as they are signs of support: LGBTQ students deserve to feel safe and included at school, just as all students do.
However, the report is not all good news. It found that 70 percent of school-based mental health providers receive little to no competency training in their graduate programs related to working with lesbian, gay, and bisexual people, and over 80 percent receive little to no competency training related to working with transgender people. In terms of professional development, over a third reported having never received any formal education or training on LGBTQ-specific student issues during their professional careers.
Without LGBTQ-inclusive training at the graduate level and in ongoing professional development, even the most well-intentioned school-based mental health providers may be left without the critical skills they need to support and advocate for LGBTQ students.
But training is not the only thing that's missing. Most school-based mental health providers surveyed cited lack of time and resources as the most significant barriers to engaging in practices, like advocating for LGBTQ-inclusive curriculums or consulting with administrators about LGBTQ student safety and well-being, that are supportive of these students.
It is critical that we appreciate the support that school-based counselors, social workers, and psychologists give to all their students, including LGBTQ students, and provide the training and resources they need in order to best serve them.
Joseph G. Kosciw, Ph.D., is chief strategy and research officer for GLSEN, the leading education organization working to create safe and inclusive schools for LGBTQ students.
Get stories like these delivered straight to your inbox. Sign up for The 74 Newsletter