Analysis: Reopening Schools Will Be a Huge Challenge for Education Leaders. Here Is a Road Map to Help With Their Planning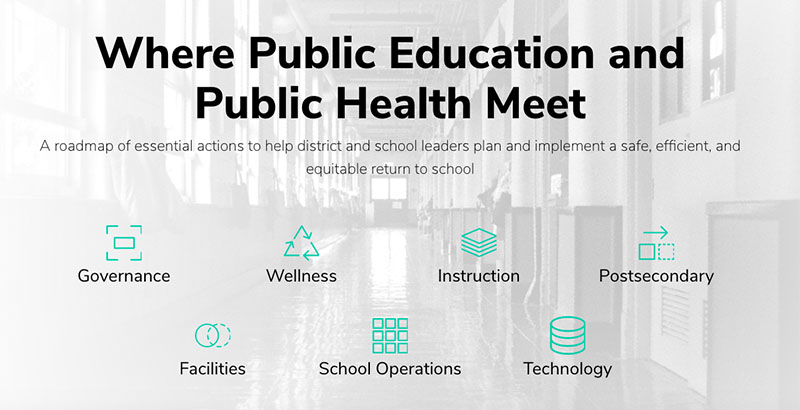 Last month, in response to confusing federal guidance on school closure, we published an open-source plan for education leaders to respond to COVID-19.
We received hundreds of questions from educators across the country, focused on the uniquely complicated public health and education challenges of returning to school when the time is right. For example:
How do we begin to assess students' academic, social and emotional health?
What protocols need to be in place to project enrollment, given the uncertainties of students returning to school?
How can we begin to create master schedules without understanding social distancing in a school context?
What can we do now to keep the classes of 2020 and 2021 on the path to postsecondary success?
What are the cleaning protocols for buses?
What key messages should we communicate to parents regarding what the school experience may be when classes restart?
What will the procedures be on the first day of school?
It was a long and intimidating list.
But every note we received was a reminder that educators across the country were pouring their hearts, minds and souls into their teams, teachers, students and families. That they were, in many instances, alone on an island, making decisions without clear direction from federal and state authorities.
Compelled by the heroic work of these educators, and in an attempt to provide a framework to answer their complex questions, we convened a team of public health and education experts. Guided by inputs from superintendents, school leaders, teachers, child psychologists, child infectious disease physicians and epidemiologists from around the country, we organized our work into what we hope will make the enormously complex task of returning to school a bit easier: the Return to School Roadmap.
The road map includes essential actions that district and school leaders should consider taking now and in the weeks and months ahead to organize a safe, effective and equitable return to school.
It provides a contextual structure for local education leaders to understand how public health guidelines can be applied to organize school operations in real time based on the latest COVID-19 pandemic developments, and it supplies a common language that local education leaders can utilize to coordinate return-to-school planning.
The road map focuses on actions across seven workflows: governance, wellness, instruction, postsecondary, facilities, school operations and technology. Representative recommendations across each workflow include:
Governance: Develop return-to-school and pandemic response committees at the district and school levels.
Wellness: Encourage schools to implement mental health screening for all students.
Instruction: Set the ambitious goal of ensuring that every student is on track for success academically and socio-emotionally by the end of the 2022 school year.
Postsecondary: For the class of 2020, consider focusing whatever time remains of the academic calendar on postsecondary planning rather than virtual academic instruction.
Facilities: Audit necessary materials and supply chain for cleaning, disinfecting and preventing spread of disease.
School Operations: Evaluate whether new food vendors need to be sourced if there is a change in requirements (e.g., individually packaged items) based on guidance from the federal Centers for Disease Control and Prevention.
Technology: Develop districtwide procedures for the return and inventory of district-owned devices, including sanitizing devices before a repair or replacement evaluation.
We recognize that the conditions in each community are different, from both a public health and an educational standpoint, but we believe the road map is a good place to start.
As with everything in education, the road map is a work in progress, given the uncertainty of the epidemic. There remains much to learn. In that spirit, we encourage educators to send ideas, share how they can help or highlight what additional information is needed so we can make future versions of the road map better than the first. This is especially critical in light of the fact that there are likely to be multiple cycles of school closures and reopenings over the next 18 months.
In addition to serving a resource for educators, the road map is intended to focus attention on the complexity of returning to school in the wake of COVID-19 in order to spark action and coordination at the state level. Governors are our best hope for creating the basic public health and education framework that will allow district superintendents and school leaders to plan and execute the work highlighted in the road map.
Reopening schools will be monumentally difficult. We hope this resource helps.
Dr. Mario Ramirez is an emergency medicine physician and managing director of Opportunity Labs. During the 2014-15 Ebola outbreak in West Africa, he served as the acting director for pandemic and emerging threats in the Office of Global Affairs at the U.S. Department of Health and Human Services. Andrew Buher is the founder and managing director of Opportunity Labs. He is a former chief operating officer of the New York City Department of Education, where he worked on large-scale disaster response, including Hurricane Sandy.
Get stories like these delivered straight to your inbox. Sign up for The 74 Newsletter