Analysis: Remote and Hybrid Learning Have Been Difficult for HS Students. 8 Steps They Say Teachers Can Take to Keep Them Motivated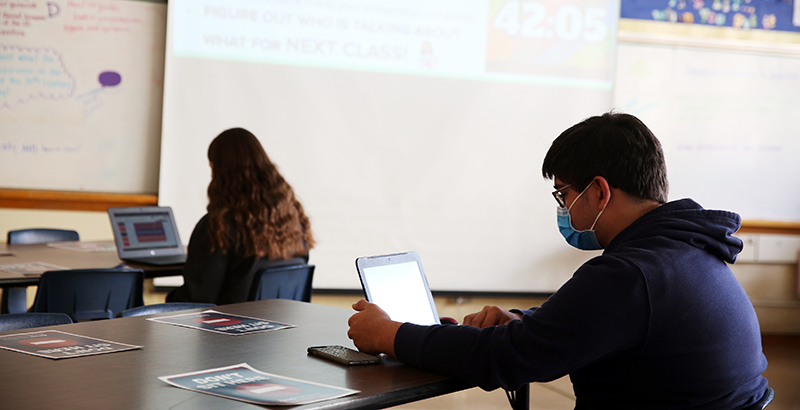 Get essential education news and commentary delivered straight to your inbox. Sign up here for The 74's daily newsletter.
Remote and hybrid learning exact a grave toll on high schoolers, especially in underserved communities. Although the extent of the pandemic's impact has yet to be fully understood, students believe they are learning less, are worried about their postgraduation plans and struggle to stay motivated.
High schoolers spoke at length about those challenges in focus groups we conducted in January and February to inform Together We Rise, Together We Thrive, a resource on navigating high school in the pandemic, as well as part of a broader study of public school innovation. The 42 interviewed students, most of whom are part of Minds Matter NYC or Student Voice, come from public schools in New York City and across the country.
In these conversations, the students spoke with appreciation and affection for teachers working hard to reach them despite difficult and unprecedented conditions. When asked to elaborate on their favorite classes and teachers, they consistently described a handful of simple things that standout teachers do to keep students motivated.
Here's what students said they want:
Ask us how we're doing. Students want personal connection. They appreciate teachers who look out for their well-being and care about them as individuals, who begin classes with a quick check-in, build in moments for light-hearted icebreakers and open one-on-one meetings by asking how students are faring. Using online discussion boards, anonymous polls and chat features can vary the structure and avoid "check-in fatigue." It's okay to let students pass if they do not offer a response.
Tell us how you're doing. Students want to see their teachers as people and to feel as much community as possible in the remote and hybrid environment. Teachers who let students know how they are managing connect because students know they are experiencing the same feelings. Sharing tidbits such as a favorite movie or what it's like to juggle family care and work humanizes the teacher-student relationship and gives visibility to the very real challenges everyone is facing.
Chat. Students want more ways to connect with and feel heard by their teachers and their peers, and say they are most engaged in classes that require, not just encourage, written and verbal participation. Teachers can invite students to converse in the chat feature, keeping it centered on the topic at hand. Especially when working in live hybrid settings with a mix of remote and in-person students, it is important to respond to remote students' chat commentary and bring it into the class conversation, making all students feel a part of the learning community.
Talk about current events. Students know they are living through unprecedented times and want to talk about it. Teachers should create opportunities to discuss current events and explore ways the pandemic and the country's racial reckoning and political upheavals are affecting students, their families and communities, the nation's institutions, society at large — and themselves.
Use humor. Students need moments of levity. It helps to insert jokes and funny anecdotes into lessons. When appropriate, make light of mishaps — including snafus in struggles with technology.
Be transparent about extension policies. Students appreciate transparent policies that let them know what flexibilities they have. It is important to go beyond saying that students can ask for an extension and make clear if, when and for whom extensions are available, so students know if and when they qualify for one.
Hold office hours. Students want space outside of classes to check in with teachers about personal and academic needs. Weekly office hours allow students to drop by for conversation, and even if they don't, teachers should keep the office hours on the books. They might, down the road, and knowing it's an option signals caring.
Ask for feedback. Students know what works for them and why. Teachers should close each week by asking students how it went, what's working and what's not; celebrating the highlights; and taking steps to address the pain points. Students notice and appreciate this commitment to improving together.
For many high schoolers, the time until June feels endless. Taking these small steps can help students and teachers join together to end the year strong.
Elizabeth Chu is executive director of Columbia University's Center for Public Research and Leadership. Erika Halstead is executive director of Minds Matter NYC. Jenna Yuan is director of communications for Student Voice and a freshman at Columbia University.
Support The 74's year-end campaign. Make a tax-exempt donation now.