Analysis: Project-Based Learning or Lectures? Our Research Shows PBL Helps Low-Income Students Do Better in AP Classes, Earn College Credit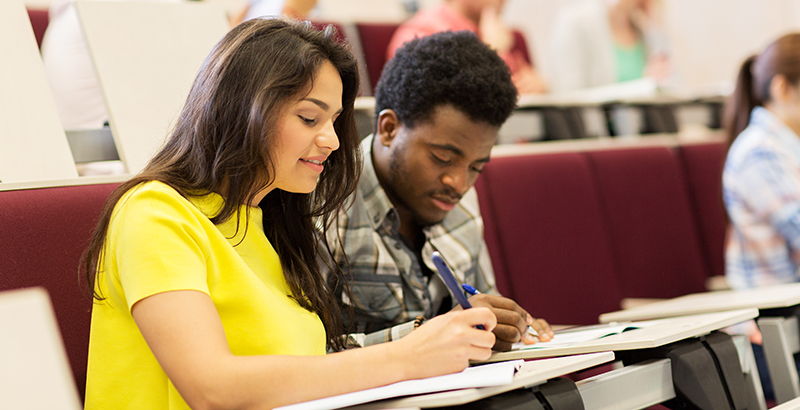 In most U.S. high schools, Advanced Placement courses are the only way to access accelerated material and early college credit. Over the past roughly 20 years, there has been considerable growth in AP participation among marginalized students. This is due to a concerted effort on the part of the College Board, which designs, administers and oversees scoring of the AP exam, and school districts nationwide to expand enrollment beyond already higher-performing and advantaged students — including relaxing prerequisites and encouraging more students to sign up. Between 2003 and 2018 the number of AP exam takers nearly doubled, to close to 40 percent of high school students, with participation tripling among those from lower-income households.
Because scores of 3 or higher out of 5 on AP exams can translate into college credit, teachers and students often worry that without heavy reliance on lectures and textbooks, teachers won't be able to cover the breadth of the College Board's curriculum framework content and students won't be prepared for the high-stakes tests.
This approach to instruction is a missed opportunity. When students are passive recipients, they have limited opportunities to develop skills including teamwork, productive debate, problem-solving and creativity. In contrast, through a project-based learning (PBL) approach to AP, students might create a political action plan intended to move an agenda item they care about (e.g., voting rights) through the political system, or learn about their neighborhood's environmental footprint. These types of long-term projects provide students with opportunities to develop the experience, confidence and skills necessary to productively engage in U.S. democracy, as well as for success in college and career.
But can a student-centered approach featuring group work, simulations and oral presentations provide preparation for AP exams as good or even better than lectures? If so, can students from lower-income households, who may not have had the same level of preparation for the coursework as their wealthier peers, benefit?
Our recent study suggests they can.
With funding from the George Lucas Educational Foundation, our USC-based research team led the first-ever randomized controlled trial evaluation of PBL — including curriculum, instructional materials and professional learning supports for teachers — in an AP setting compared to business-as-usual lectures. We evaluated the Knowledge in Action PBL AP curriculum, designed by University of Washington researchers and local teachers. As part of the study, teachers attended a four-day summer institute, received four full days of professional development during the school year and had access to on-demand virtual coaching, all provided by PBLWorks, a provider of ongoing, job-embedded professional learning.
We partnered with five of the largest, predominantly urban school districts, four of which have a majority of Black and Hispanic students and three of which serve a majority of students from low-income households. Each district offered open access to AP courses, meaning students did not have to meet any course or academic achievement benchmarks to enroll.
Our sample included 3,645 students in 74 AP U.S. Government and AP Environmental Science teachers across 68 schools. A higher proportion of students in our study (38 percent) than in a typical pool of AP exam takers (30 percent) were from low-income households.
We found that if all students in our sample had been in typical classrooms, an estimated 37 percent would have scored high enough on the AP exam to earn credit at most colleges. If all had been in PBL classrooms, an estimated 45 percent would have earned credit, 8 significant percentage points higher in favor of PBL. This positive and significant pattern of results held in each district and among subgroups of students, no matter their course or household income.
These results inform next steps for reducing pervasive equity gaps for lower-income households and students of color exacerbated by — and predating — the COVID-19 pandemic. Some educators and policymakers believe underserved students must first master content through teacher-driven lectures before attempting student-driven approaches like PBL. This could drive temptation to double down on lecture-based instruction as schools reopen on the heels of the pandemic, particularly in advanced courses with a broad curriculum and a high-stakes exam.
Our results challenge that notion, demonstrating success among students from lower-income households and within districts primarily serving that demographic.
Teachers in our study felt PBL expanded their instructional repertoire and was more engaging for students, offering them the opportunity to develop real-world skills. They also found the change from lecture-based to PBL teaching to be a major challenge, especially in helping students to work in groups and managing the timing of the curriculum through the school year. Despite the difficulties, 96 percent of surveyed teachers told us they planned to use the PBL approach in their other classes, 93 percent encouraged non-AP teachers to use PBL strategies in their courses and 89 percent encouraged their school to adopt PBL in all AP classes.
One AP Government teacher explained how PBL developed more than content knowledge: "I think [project-based learning] definitely helped prepare them for college. I think it's helped increase their collaboration skills. I think it's helped them increase their independence, because a lot of it is individualized reading. I also think it's helped them with agency in their own education because the (onus) is on them… I think that's important, owning their own education, being functional adults, and knowing how to self-advocate."
Students in our research voiced benefits related to civic engagement, group work, engagement with learning and exam preparation. As one AP Environmental Science student explained: "I take a couple of AP classes, and I think this is one of the easier ones for me to understand and grasp, because I am a hands-on learner. All the other ones, you sit in a class and take notes, and then you don't understand those notes, and then you fail the test and so on. So I think this class made us more involved in what we were learning, so it was easier to grasp."
In fact, based on our results, the College Board will offer a virtual PBL professional learning program for AP Government and Environmental Science teachers starting this summer, in collaboration with PBLWorks. With support for improving upon inequitable educational practices a top priority nationwide, PBL might be a key strategy post-pandemic, particularly for those students who have overcome the most.
Anna Rosefsky Saavedra is a research scientist at the University of Southern California Dornsife Center for Economic and Social Research. Amie Rapaport is the director of research at Gibson Consulting Group in Austin, Texas.
Get stories like these delivered straight to your inbox. Sign up for The 74 Newsletter