Analysis: New Research on Student Funding & Performance Shows New Orleans Charter Schools Get More Bang for the Buck — and Boost Kids' Earning Potential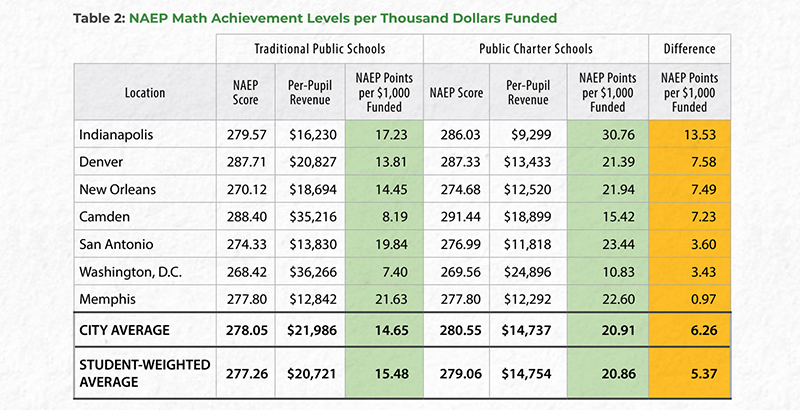 We've heard the claim many times: Charters are a specialized form of schooling that might not be able to cater to the needs of large segments of the population, some people say. These critics claim that while public charter schools might be able to deliver good results by serving a few highly motivated families, there is no way they can succeed at scale.
New Orleans has proven those skeptics wrong. The city has been the test case for scaling public education through the charter school model — and it has passed that test with flying colors.
Since Hurricane Katrina, every public school in the City of New Orleans has been a charter, and most of the public schools in Orleans Parish similarly have the independence of the charter model.
Two rigorous evaluations have concluded that charter schools in the Crescent City produce better educational outcomes than traditional public schools with similar student demographics. The Center for Research on Educational Outcomes (CREDO) at Stanford University concluded that, in the 2016-17 school year, a student attending a New Orleans public charter school gained the equivalent of an additional 54 days of learning in reading and 71 days of learning in math compared with a similar student in a traditional public school in the city, back when traditional schools existed.
The Education Research Alliance for New Orleans at Tulane University found that the charter-centered package of education reforms implemented after Katrina increased student achievement by 11 to 16 percentage points, boosted high school graduation rates by 3 to 9 points and improved college graduation rates by 3 to 5 points. Study authors Douglas Harris and Matthew Larsen state, "The reforms also improved all outcomes for disadvantaged students and reduced educational inequities for high school and college measures. It is very unusual to see programs and policies improve all of these outcomes."
New Orleans charter schools accomplish all this even while operating with less per-pupil funding than traditional public schools in Orleans Parish. Counting all revenue sources, New Orleans public charter schools received $12,520 per student in 2018. That amount was one-third less than the $18,694 in per-student revenue received by the traditional public schools that existed in Orleans Parish at that time. This disparity mirrors the overall result found in our latest study, published in November, of charter school funding inequities across 18 cities in the U.S. We found that public charter schools, on average, received about two-thirds of the per-student funding amount in traditional public schools in the same city.
Combining the rigorous achievement findings from the CREDO study with our comprehensive revenue data from the 2017-18 school year, we find that charter schools in New Orleans did more with less. Our latest study, released in February, finds that New Orleans charters made every dollar count, producing an estimated 21 reading points on the National Assessment of Education Progress (NAEP) for every $1,000 of funding. Similar students in traditional schools in Orleans Parish scored only an estimated 14 points on the NAEP per $1,000 of revenue. That amounts to New Orleans charters generating one-third more achievement at one-third less cost than traditional schools in 2018. Each $1,000 generates an average of 22 NAEP points in math in New Orleans charter schools, compared to a little over 14 NAEP math points per $1,000 for traditional schools at that time.
These results represent a 51- to 52-percent cost-effectiveness advantage in reading and math, respectively, for public charter schools in New Orleans relative to their district public school counterparts in 2018.
New Orleans charters also delivered a higher return on investment (ROI) compared to traditional schools in the area. Our ROI calculations totaled up the lifetime earnings that students are forecast to receive, based on the achievement levels produced by their schools, and then divided that by the cost of their education. Each dollar invested in a public charter school in the city generated a 66 percent higher ROI than a dollar invested in a traditional public school in 2018. Students who spent half of their education in New Orleans charters still produced a 26 percent higher ROI forecast than similar students who spent all 13 years in traditional public schools in Orleans Parish.
In New Orleans, the higher ROI in charter schools projects out to nearly $470,000 more in lifetime earnings per student than the ROI generated in district schools in our study.
The next time that someone tells you that public charter schools can't succeed at scale, tell them to visit New Orleans. They might stop by Café du Monde for a beignet while they are there, to celebrate the success at scale of New Orleans public charter schools.
Corey A. DeAngelis is director of school choice at Reason Foundation, executive director at Educational Freedom Institute and an adjunct scholar at Cato Institute.
Patrick J. Wolf is a distinguished professor of education policy and 21st Century Endowed Chair in School Choice in the Department of Education Reform at the University of Arkansas College of Education and Health Professions.
Support The 74's year-end campaign. Make a tax-exempt donation now.