Analysis: More Than Ever, Parents Need Data About Their Kids in a Form They Can Understand. Test Makers Are Starting to Get on Board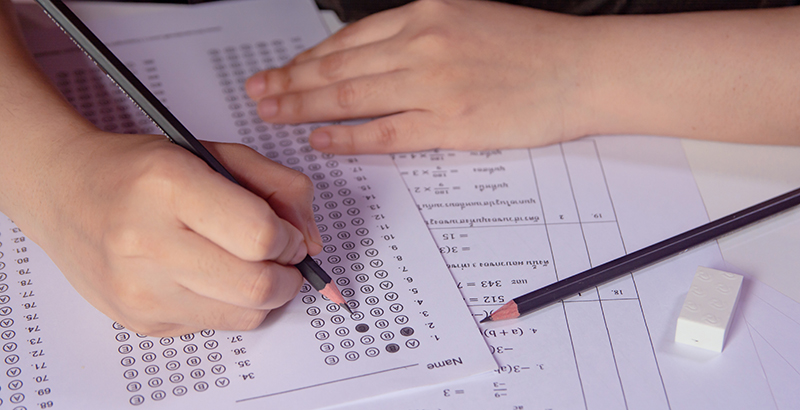 When my boys were younger, our family loved to watch a show called Man vs Food on the Travel Channel. There was so much suspense as Adam Richman stared down a gargantuan burrito or a whole deep-dish pizza, with fans cheering him on. The fun was that you could never predict the winner.
The same may be true this year for a lesser-known battle between parents and psychometricians.
In this tumultuous year, when virtually every segment of society has been called on to adapt — none more so than parents — the least we can do is give parents the results of their children's statewide assessments, and any other diagnostics available to them, in a format they can use and understand. This year, more than ever before, we need to create consumer-friendly reports, and we need to share them prior to the summer — so parents have the option of maximizing the summer months to address learning gaps.
Common sense, right? However, since the inception of the state test, the results have been designed not for the parent, but for the psychometricians. How else can you explain:
Lexile measures on a scale of BR to 1385L with overlapping ranges across grades?
The scale for fifth-grade English the Nebraska Student Centered Assessment System is 2280-2500, while for science, it's 0-200?
The scale for English Language Arts in grades 3-8 in New Jersey is 650-850. But the scale for the subset of skills in each subject is 10-90 in writing and 10-60 in reading?
The NAEP scores recently released for 2019 show that 34 percent of students are proficient in eighth-grade reading and math. However, according to Learning Heroes research, 90 percent of parents, irrespective of race or income or geography, believe their child is at or above grade level in English and math.
Why is this? With statewide assessment reports virtually undecipherable, parents are left to measure their children's learning primarily based on report card grades, which tend to be subjective and inflated.
This year has the potential to be a turning point. A public education system designed to be parent-proof has been turned on its head.
Superintendents across the U.S. are asking for help engaging families.
Teachers need parents to understand learning expectations so they can help from home.
And assessment vendors need to prove that the results of their exams are valuable to parents and teachers, to overcome considerable pushback in a year when states are announcing plans to pause accountability requirements.
In an unprecedented move at the EdPalooza virtual conference earlier this month, three of the largest assessment vendors pledged to be innovative and collaborative and potentially even parent-focused in their approach to the spring 2021 assessments. It may sound mundane, but it is a seismic shift in business as usual.
Several nonprofit and for-profit companies are already leading the way and can be role models for state assessment vendors. Last year, NWEA created and launched a MAP Growth family report. Amplify's mClass reading assessment provides reports for parents and teachers using green, yellow, and red icons to identify which skills a student has mastered and which need more practice. Zearn created a simple at-home learning tool that parents can use with their K-5 students that gives easy-to-understand feedback about how their child is performing. And, New Classrooms is providing personalized road maps of skills for parents.
At Learning Heroes, a national nonprofit focused on parents, our North Star is ensuring parents have an accurate picture of their child's academic progress. Never has that been more important. For parents to win, assessment vendors are going to have to turn their model upside down and create reports — for the first time — that are designed for the parent, not the psychometrician. A host of parent-serving organizations stand ready to help.
Cindi Williams is co-founder of Learning Heroes, a principal at HCM Strategists and a former senior official at the U.S. Department of Education, the White House and the Bill and Melinda Gates Foundation. She resides in the Seattle area with her husband and two boys.

Get stories like these delivered straight to your inbox. Sign up for The 74 Newsletter