Analysis: Minneapolis's Teachers Union Endorsed Josh Pauly for School Board in 2018. He Just Quit After Strikers Protested Outside His Home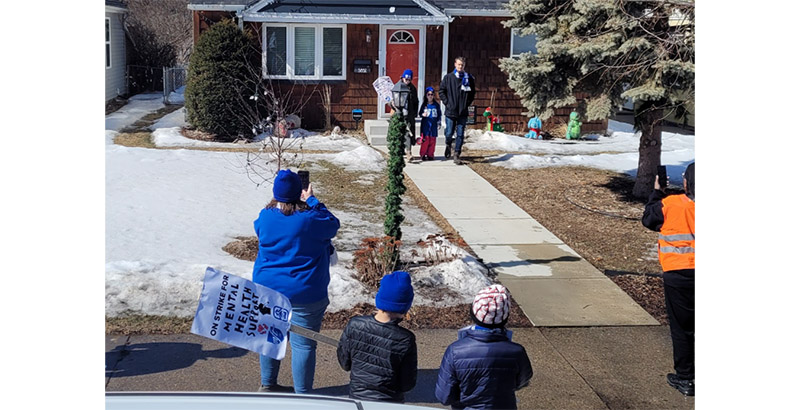 No paywall. No pop-up ads.
Mike Antonucci's Union Report appears most Wednesdays; see the full archive.
The Minneapolis teacher strike has extended into its third week, reportedly with some progress in negotiations. The district made what it described as its "last, best and final" offer to settle the question of pay for education support employees. There was no new information on just how far apart the two sides are on teacher issues.
While bargaining continued, the Minneapolis Federation of Teachers took direct action to pressure the school board to accede to their demands. On March 13, union activists marched on the homes of all nine school board members. One in particular, Josh Pauly, got special attention.
Marchers trailed behind a truck with two large speakers. They chanted, "Fee-fi-fo-fum. Look out, Pauly, here we come."
Fee-Fi-Fo-Fum, look out Pauly here we come! #MFT4Kids #SafeAndStableMPS pic.twitter.com/82AkC3o2XZ

— Heather Paulson (@Heather37727075) March 15, 2022
They posed for photos in front of his home …
… stapled flyers to telephone poles that read "Where is Josh Pauly?"
… and asked, "If you see him, share information online and tag @MNWorkersUnited."
Pauly resigned from the school board two days later.
The Freedom Road Socialist Organization of the Twin Cities noted the resignation and remarked, "This comes after community marched on his house on Sunday!"
One AFSCME organizer tweeted, "On Sunday I did a very loud and very annoying bit in front of Josh Pauly's house and today he resigned from the school board. Draw your own conclusions."
Pauly did not mention the protests in an interview with the Minneapolis Star Tribune, saying he resigned, in part, due to differences with district leaders.
"I don't feel like I am in a place where I can work towards rebuilding trust with the current MPS leadership," he said.
Pauly did not respond to Union Report's request for an interview.
Pauly had also caused some controversy by taking a job with a tutoring company that has a contract with the district. The district stated that Pauly's new job did not represent a conflict of interest.
The Minneapolis Federation of Teachers endorsed Pauly for school board when he ran in 2018, citing his three years as a teacher and the fact that he was "a proud MFT member and building leader." In fact, the union endorsed seven of the nine Minneapolis school board members. Those endorsements and friendly attitudes toward the district's unions, though, haven't shielded the board members from protesters appearing on their doorsteps.
Rallies and protests are standard items in the union toolkit. Showing up in force at a school board member's home is an attempt at intimidation, and it's patently unfair. If protesters were to line up in front of the homes of the union president and her executive board, I doubt they would accept it with grace and understanding.
Minneapolis school board members are paid $20,000 a year. They don't need such aggravation from people making more than three times as much.
Get stories like these delivered straight to your inbox. Sign up for The 74 Newsletter