Analysis — Making it Hard When the Stakes Are High: Inside an Increasingly Chaotic (and Divisive) Back-to-School Season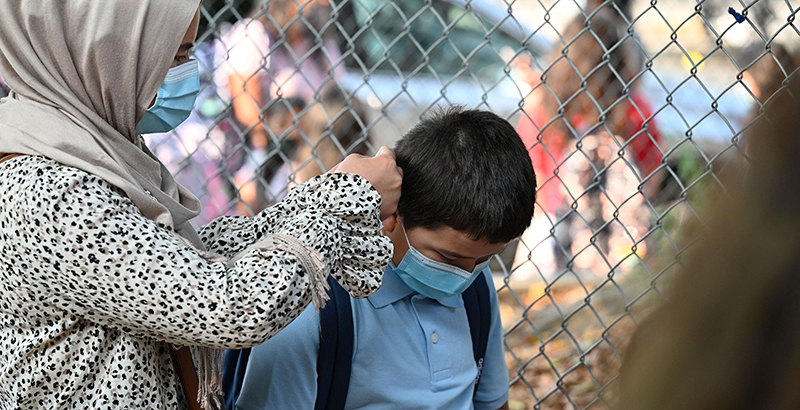 Support The 74's year-end campaign. Make a tax-exempt donation now.
A K-12 school system that is fully re-opened and safely operating would be the hallmark of America's return to social and economic health. In fact, nothing would better demonstrate that America has the upper hand on COVID, including the Delta variant, than sustainably offering in-person education for every school-aged child nationwide going forward. And we know Americans like winning. So why are so many adults rebelling against the basic necessities needed to accomplish what would be a major victory for the vast majority of the country?
Parents definitely want schools to open, and to remain open, for in-person learning. This week, RAND Education and Labor released a survey taken at the end of July, when the Delta variant was already surging. The substantial sample of thousands of parents found that 89% of them planned to send their children back to classrooms this fall, up from 84% in June. Even among minority parents who have historically shown greater hesitancy, a substantial majority — roughly 83% — said they'd opt for in-person learning.
Those numbers do not necessarily reflect parental home-schooling fatigue. Rather, 59% of parents say their child wants to go back to school, 60% said their child does better academically and 54% said their child does better socially in the classroom. Only 27% parents reported wanting schools to open in person to make it easier on the adults in the house.
Parents still have, of course, serious safety concerns. Two-thirds or more of Black, Hispanic and Asian parents who responded to the survey reported needing several risk-mitigation strategies in place to feel safe sending their children to school in person: good ventilation in classrooms; teacher vaccinations; enforced social distancing; mandatory masking; and regular COVID-19 testing.
Given that Congress and the Biden Administration have sent $122 billion in COVID relief to the nation's schools, these demands seem both reasonable and achievable.
But the juxtaposition of responsible parents and educators to politicians is jarring. School boards, superintendents and educators are working feverishly: developing contingency plans for keeping schools open when COVID outbreaks flare up; reconfiguring buildings and lesson plans; determining the smartest way to spend federal relief dollars; relentlessly recruiting to stave off teacher shortages; and a million other tasks to safely re-open schools in this very critical school year.
At the same time, conservative politicians, the misinformed, and the generally aggrieved are loudly rebelling against common sense public safety measures. No matter that these safety measures are exactly what the most minority parents and half to a third of white parents (depending on the safety measure) say they want. And no matter that they are proven to safely allow students, including younger, unvaccinated students and older vaccinated students at risk for breakthrough infections, to emerge from nearly two years of isolation and get back to learning, socializing, and developing into future contributing members of society.
Because most of schoolkids are too young for the vaccine, it's perhaps unsurprising that the fiercest battles have revolved around mask mandates. No one loves wearing a mask, but everyone should hate increased depression, school dropouts, drug overdoses, criminal activity, hunger, and academic failure for America's youth. We are far enough into this disease now to know that is the ugly choice. While America's most vulnerable children have borne the brunt of the collateral damage of school closures, no socioeconomic group has escaped unscathed.
And when you think of it, temporary universal masking is the single easiest logistical thing that schools can do to protect children. The governors or legislatures in the nine GOP-controlled states who have tried to take this tactic out of school districts' tool kits should be ashamed – not only for hamstringing administrators charged with students' day-to-day wellbeing, but also for creating political firestorms, literally in some cases: a Florida man doused a tray of masks with lighter fluid and set them ablaze at a recent Broward County school board meeting.
Like overgrown playground bullies, politicians have willfully divided school communities and distracted from the critical tasks of educators who already face the challenge of making up for the months of lost learning affecting student performance across the country. Kudos to President Biden for ordering the federal Department of Education to step in and for school board members and superintendents for standing up for safe, in-person instruction – even when it has landed them in court.
And, events continue to quickly evolve. This Thursday (Aug. 26), the Progressive Policy Institute's Reinventing America's Schools project, in partnership with The 74, will discuss many of these issues with leaders of two large urban school districts that have become ground zero in the bitter battle over mask rules, Dallas and Broward County, Florida. Joining the discussion will be a public health expert, an economist, and a parent advocate to examine the many angles of moving forward in what may be one of the most consequential school years in decades. The conversation kicks off at 1 p.m. ET, Aug. 26; you can register and get the Zoom link right here.
Tressa Pankovits is Co-Director of the Reinventing America's Schools project at Progressive Policy Institute.
Support The 74's year-end campaign. Make a tax-exempt donation now.