Analysis: Keeping Teachers at the Center of the Classroom — Physical or Virtual — Is Key to Learning, Especially for Low-Income Kids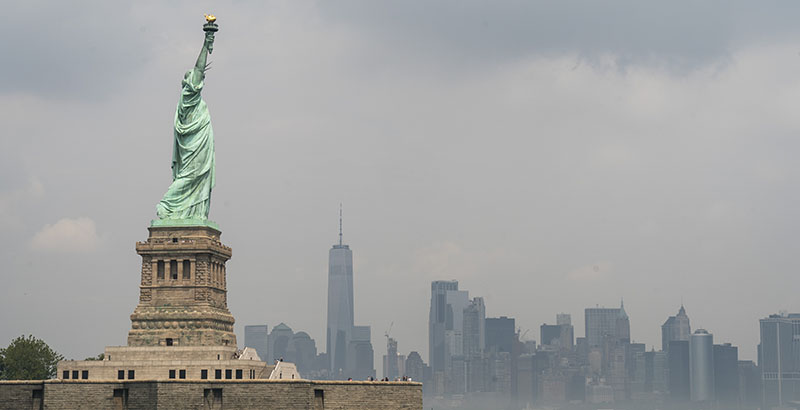 On March 25, two days after New York City shifted all 1.1 million public school students to online learning, a group of third-graders at Public School 86, a high-poverty school in the Bronx, met via Zoom to complete a lesson designed to build their computational thinking skills. The lesson, assigned through Google Classroom, was part of their regular school day. Students were asked to write an algorithm for how they drew a silly creature that would allow others to re-create the picture without seeing it: Draw a big triangle in the middle of the paper, two donut-shaped eyes on either side of the point of the triangle, then a squiggly line under the triangle. The task, which could be done on paper, not only helped students think about how to break a task into smaller parts and choose accurate adjectives, but also strengthened their understanding of practices that are foundational to asking questions and solving problems with computers.
Nationwide, more than 50 million students have seen their schools close as a result of COVID-19. And as we've seen in many parts of our society, COVID-19 is aggravating and highlighting long-standing systemic inequities, with children from lower-income communities even more likely to fall behind as a result of school disruptions and widespread lack of access to computers and internet.
It doesn't have to be this way. And, in fact, as is seen at P.S. 86, it sometimes isn't. Since 2015, the Robin Hood Learning + Technology Fund has supported New York City schools in leveraging technology to maximize learning outcomes for more than 130,000 students. The models we seeded have shown early signs of impact, but more important for this moment, where technology-influenced solutions have already been introduced, the transition to online instruction has been smoother for teachers and students.
Take, for example, Concourse Village Elementary School, Public School 359 in the Bronx, where 86 percent of students qualify for free or reduced-priced school lunch. In 2018, 77 percent of students were scoring proficient on state tests, better than 95 percent of the city's schools. But Principal Alexa Sorden wanted to see if technology could help close the opportunity gap for the remaining 23 percent of students still behind. Her goal was to give every teacher in the school, which had little technology, the skills and confidence to use high-tech tools in the service of learning — where it mattered the most. So she partnered with TNTP, a national education organization, and in March, when the city abruptly moved to virtual learning, her school was ready. The time spent building the skills and confidence of her teachers and students, Sorden said, meant they felt "well positioned for this moment."
The availability of digital high-quality curricula, online teacher training supports and interactive learning tools are essential for online learning. And the key is to keep the teacher at the center of the classroom, whether physical or virtual. We've drawn on the experience of our in-school partners to share three best practices for what every school can do to respond in this moment of crisis and start preparing for the future.
Empower teachers and students to collect data on student progress
This is much easier to do in an online learning environment, since many high-tech tools already track student progress and share it back with teachers in real time. In an ideal world, schools would adopt one of the many free, high-quality digital tools like CommonLit and Zearn that offer full curricula with embedded assessments and a dashboard with real-time feedback on student progress. But if adopting new products is not possible, putting in place habits and time for teachers to collect, analyze and use data to inform instruction can be a low-cost intervention with long-term learning benefits.
Maximize the potential of computers for learning
We've all become adept at using computers for information-sharing and test-taking, but what about for collaboration, critical thinking, creativity and creation? Children need these skills to succeed in today's digitally driven world. Today, students in under-resourced schools use computers for critical thinking and production at a significantly lower rate than their peers in better-resourced schools. Making these approaches universal is key to making sure the opportunity gap doesn't grow any wider. And we can do it. Programs like Cornell Tech offer daily computational thinking tasks that any school can use. What is required is a shift in how we think about the role of computers from devices students use to access information to devices students use to create knowledge.
Don't ask teachers to figure this out alone
Teachers have done an incredible amount of work in the past few weeks to develop remote learning curricula and pivot to a new learning environment almost instantaneously. Districts must invest in support, from universal access to technology to guidance on how to use tools to support pedagogy. Nearly all professional development providers have or are designing ways to train teachers from a distance. Organizations like Literacy Design Collaborative have built virtual coaching platforms that are empowering thousands of teachers across the nation. Let's leverage existing expertise to prepare our teachers to best support our students.
Together, we can use this moment as an opportunity to make the best of today and prepare for the moment when we can all safely return to our schools. How we respond now matters. The effects of COVID-19 will be felt on our communities for generations to come, and especially communities living in poverty. It is our responsibility to not only mitigate those effects but also harness opportunities for improving education in the future. Our children deserve nothing less.
Amber Oliver is manager director, Nirvani Budhram is senior program officer and Steve Azeka is program officer at the Robin Hood Learning + Technology Fund, a collaboration between Robin Hood, Overdeck Family Foundation and Siegel Family Endowment. The fund partners with organizations, school leaders, educators and researchers in New York City to leverage and model how technology can spark and deepen learning for high-poverty students, specifically around literacy and computing.
Get stories like these delivered straight to your inbox. Sign up for The 74 Newsletter