Analysis: How the NEA Came to Love Citizens United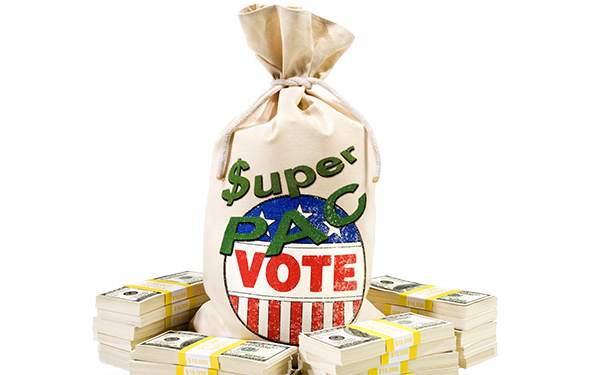 The outsize influence of the rich on American elections and politics dates to
the early days of the republic
. More recently, the U.S. Supreme Court's
Citizens United
decision in 2010 sharply elevated these fears by lifting many restrictions on political spending by corporations and nonprofit organizations.
Much of this new spending is now filtered through Super PACs — coalitions that can raise unlimited amounts to campaign for or against candidates but can't directly contribute to, or coordinate with, the candidates or political parties.
Almost $1 billion has been donated to Super PACs so far in the 2016 election cycle. USA Today recently identified the 156 individuals and organizations that have given $1 million or more. The list is populated by those you would expect to see: hedge-fund managers, financiers, and CEOs — donors who were just as likely to support Democrats as Republicans, according to the report.
The top five are all hedge-fund billionaires, but the number six "mega-donor" might come as a surprise: It's the National Education Association — the largest teachers union — with $14.2 million in contributions to Super PACs, primarily its own, the NEA Advocacy Fund.
The union has denounced the influence of big money for years without mentioning that it is one of the nation's largest political spenders. It stands alongside Wall Street profiteers in propping up the post–Citizens United funding system.
When asked, the union points to the difference between a single individual donating $14 million and a democratic organization of 3 million teachers donating $14 million.
There is a difference, but not as much as you might think.
Direct contributions to candidates from unions must be voluntarily contributed by willing members, but independent political expenditures — the $14 million–plus to Super PACs — come out of the NEA's general fund, a stockpile of members' dues that the union can spend without consulting the members.
The fund is an unclearly-arrived-at sum inside the union's budget, approved on a voice vote by however many of the NEA's 6,800 Representative Assembly delegates are still around late on the last night of a four-day convention that takes place once a year.
Ultimately, nine members of the union's executive committee — elected by delegates to handle day-to-day affairs — decide how much of the fund goes to the Super PAC and how it is spent.
That's the formal decision-making process: nine people allocating dues collected from 3 million.
It stands to reason that junior members of the executive committee have less influence over these large contributions than does the NEA president, who sits on the committee, or even the NEA executive director, who does not.
Typically, other spenders at the NEA's level seek to influence several public policy sectors, most of which are contested by opposing special-interest groups. The power of the teachers union is concentrated in a single field and isn't countered by any comparable opposing interests, let alone one with the ability to influence virtually every area of the country.
If you follow the rules, of course, it's perfectly legal to try to influence elections and laws using money.
It's also perfectly defensible to worry that a handful of wealthy individuals exercise too much influence over American campaign politics through massive spending.
High-ranking teachers union officers are part of that group.
Get stories like these delivered straight to your inbox. Sign up for The 74 Newsletter