Analysis: How OER Is Boosting School Performance and Equity From the Suburbs to the Arctic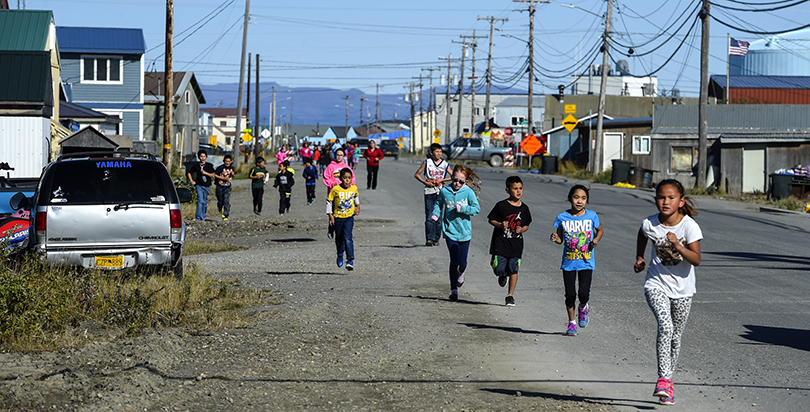 Kotzebue, a village in Northern Alaska, knows the meaning of "challenge" when it comes to education. The remote community is part of the Northwest Arctic Borough School District, which serves about 2,000 students who come from 11 villages of Inupiaq Eskimos spread across an area the size of Virginia. Schools in Kotz (as the locals call it) are "off the road system," which means everything is flown in or arrives by boat when the rivers melt.
Along with the geographic challenges, districts across the state face budget cuts to education because of decreasing oil prices. This means Alaskans need to think creatively about how to ensure the availability of top-tier instruction and access to high-quality materials, especially for students in the most remote areas like Kotz.
In my role at the Council of Chief State School Officers I have the opportunity to visit schools across the country — from isolated Kotz to bustling Washington, D.C. — and see how educators are sharing knowledge and working to help their students succeed. One practice that is gaining traction is the use of open educational resources (known as OER) — freely available, high-quality materials that can be downloaded, edited, and shared to support teaching and learning.
With OER, districts can adapt content to meet their local needs, maximize education budgets, and ensure access to resources and educational rigor. By being able to serve all students — whatever their race, gender, ethnicity, language, disability, family background, or family income — OER supports the goal of educational equity.
As OER has taken root, I've witnessed firsthand how innovative districts are using them to address many challenges — helping students learn with the most up-to-date materials, allowing teachers to do more with limited time, and adapting resources to meet the needs of diverse learners at varied levels, some whose first language is not English—all in the face of budget cuts.
For example, veteran science teacher John Coe and his colleagues at North Lake Middle School in Lake Stevens, Washington, saw an instructional need that was not being addressed by their traditional textbooks. In 2013, they began using OER. With OER, Coe says, "we can edit down the sections of text quickly. We can create leveled readings [that] help solve some of the differences in reading levels … and give relevance to the text." Now, student performance levels on eighth-grade state assessments are 10 percent to 15 percent higher than those in neighboring districts.
Another example is Career Path High School in Kaysville, Utah, where teachers have been integrating high-quality OER into their classrooms since 2009. School Director Robyn Bagley believes that "OER can absolutely have an impact on student learning [because] teachers have more and more free resources available to bring courses to life." OER can improve learning for all students: At Career Path, OER designed by specialists in educating students with disabilities has helped the school's teachers reach students on a deeper level.
Alaska is also exploring how OER can be a part of the solution for schools spread across the state. As Director of Educator and School Excellence and 2009 Alaska State Teacher of the Year Bob Williams told me, "As a teacher, I've always believed in the idea of OER, but I just didn't know where to start." It's our job to help schools, districts, and states find that starting line. This is what drives our OER work at the CCSSO. We work with more than 20 states on the adoption and implementation of high-quality OER, and we are excited to support Alaska on this journey. All students — even if they live 35 miles north of the Arctic Circle — need to be prepared for success.
Layla Bonnot is collaboratives manager at CCSSO.
Get stories like these delivered straight to your inbox. Sign up for The 74 Newsletter