Analysis: How Bloomberg's $1.8 Billion Gift to Johns Hopkins Will Elevate the National Conversation About Helping First-Generation Students Complete Their College Degrees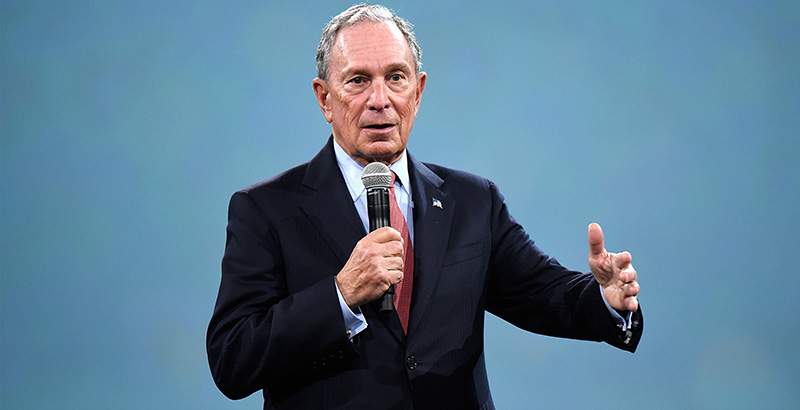 Most people will read the news about former New York mayor Michael Bloomberg donating $1.8 billion to Johns Hopkins University to make it "forever need-blind" and say to themselves: That's nice; another billionaire donating to his alma mater. What else is new?
Actually, there's a lot that's new here. What Bloomberg did is just one sliver of a barely noticed breakthrough playing out around boosting the college success rates for first-generation students. The goal is not just getting them into college, but making sure they emerge with degrees.
Here's what's unexpected about the breakthrough: It's on the cusp of actually happening — rare good news in the world of education.
Why unexpected? Because for decades nothing much worked to boost the college success rates for low-income and minority students. Although their rate of entering college rose impressively over the past decade, their actual degree-earning rates have been little better than flat. Instead of walking away with degrees, they walk away with disappointment, debt, or both.
But that grim story appears to be changing, a shift I lay out in a book due in early spring: The B.A. Breakthrough: How ending diploma disparities can change the face of America. Published by The 74, the book makes the case that three factors drive this breakthrough:
● The top charter school networks serving low-income students, which always promised parents they would find a way to ensure their children would earn college degrees, have carved out pathways to actually make that happen. Even the lowest-performing charter networks see college success rates (bachelor's degrees granted within six years) that are double what similar students experience in traditional schools. At the best networks, that figure rises as high as four or fives time that rate. The most promising part of this development: Charter networks are forming collaborations with traditional K-12 school districts to spread the lessons learned.
● Colleges and universities have redoubled efforts to both admit more first-generation students and make sure they succeed. One quick example: Every year, the prestigious University of California, Los Angeles, accepts about 4,000 community college transfer students, of whom roughly 3,000 enroll. That's a striking figure. Traditionally, even bright community college graduates get ignored by top universities. Reversing that prejudice against community college students can have a tremendous impact. Every year, 15,000 community college students graduate with a 3.7 or higher grade point average, according to The Aspen Institute.
● Smart college advising aimed at first-generation students has always been sparse, which means many promising students end up at universities where they are unlikely to earn degrees. But that's changing fast, thanks to an explosive growth in foundation-sponsored college advising programs. Most of America will focus on Bloomberg's current gift to Johns Hopkins University, but his College Point counseling program may have even more impact. Already, that organization has counseled 50,000 low- and middle-income students about their college options and helped them obtain financial aid.
Bloomberg may be one of the few philanthropists who grasps the entire picture. As he wrote: "And until recently, by some estimates, half of all high-achieving low- and middle-income students have not even been applying to top colleges — largely because they believe they can't afford it, doubt they'll be accepted, or aren't even aware of their options."
College Point is just one of many groups now offering smart college advising to students who have lacked it, and most of the groups, especially the charter networks, are focused on making college possible for all students, not just the ones with profiles that match the entrance requirements for elite universities such as Hopkins. Advisers from the College Advising Corps now work in 670 schools around the country.
This breakthrough is real and likely to expand. One sure sign: In September, U.S. News & World Report announced it was changing its college ratings formula to reward colleges that support the success of their low-income students. Where all-important college ratings head, colleges will follow.
Bloomberg's gift was indeed unprecedented, but perhaps not as unprecedented as the breakthrough in college success unfolding around us.
Get stories like these delivered straight to your inbox. Sign up for The 74 Newsletter