Analysis: From Virtual Picket Lines to Remote-Only Walkouts, What Would a COVID-19 Teacher Strike Look Like? Would It Make Any Difference?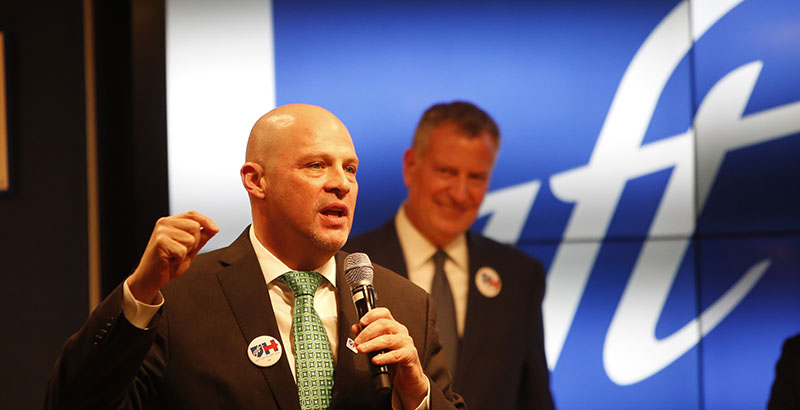 Mike Antonucci's Union Report appears most Wednesdays; see the full archive.
Late last month, the United Federation of Teachers, representing employees of the nation's largest school district, threatened to hold a strike authorization vote if certain safety measures related to the coronavirus weren't put into place in New York City.
In the nation's second-largest school district, United Teachers Los Angeles provided a long list of necessary conditions before its members would return to in-person instruction.
In the nation's third-largest school district, the Chicago Teachers Union threatened a strike authorization vote before the city decided on remote-only instruction.
Elsewhere, the Detroit Federation of Teachers actually authorized a strike before reaching agreement with the district on reopening protocols.
Strikes and threatened strikes are part of the landscape now, as districts, unions and the public try to determine what's safe, what isn't and how much risk they're comfortable with. Reporters have been diligently covering all the ins-and-outs of policies, negotiations and effects on various groups.
But what would a COVID-19 teacher strike look like? What effect would it have? How would it be resolved, and would it make any difference?
I am not aware of any instances where teachers opposed remote-only work, so we can assume any strike would involve refusal to physically return to school. Most unions would easily obtain authorization for strikes or work stoppages, legal or otherwise. "We won't return until it's safe" is a legitimate and powerful stance.
But what's "safe"? If a strike is considered, then the district's definition must be inadequate. Therefore, the union must have a different definition. The problem is that even if we had a vaccine, there would be no 100 percent safety. Everyone has a different risk tolerance. A substantial number of teachers won't find the union's definition of "safe" all that appealing, and we saw evidence of pushback by UFT members in New York City.
In response, President Michael Mulgrew is complaining about the execution of the protocols he agreed to two weeks ago. Noting that 22 positive COVID-19 cases were found among the city's education employees, Mulgrew said, "You would think that with the challenge we are facing, the city would've brought its 'A' game this week. But they didn't."
Those 22 positives were out of 15,000 tests — a ratio that would lead to cheering in a lot of places across the country. No one should be criticized for extreme caution in a pandemic, but Mulgrew and the city are making decisions for hundreds of thousands of others. That's where the safety argument breaks down. Safety is relative to the individual.
Unions have been making an appeal to authority. Teachers will return when scientists, not politicians, say it's safe. This also falls apart when scientists, in many places, say it is safe.
Schools are reopening all across Europe without additional outbreaks. Some never closed. Finland reopened schools over the objections of its teachers union, with no ill effects. The research indicates that young children are much less likely to get the virus and pass it on.
New York City's plan is like most districts' in that it includes in-person instruction, remote-only instruction and a hybrid of the two. If a strike takes place, what happens next? In-person instruction shuts down, and I presume remote-only shuts down as well. Everyone works or no one does.
Then what? Does the union form socially distant picket lines outside schools? Do teachers, fearful of returning to work because of the virus, ride public transportation and congregate to show up at picket lines and protests?
That's the easy part. How do you form a virtual picket line? Will the union monitor remote-only teachers to ensure they are upholding the strike? What if they discover teachers crossing the virtual line? Do they Zoom bomb a class of third-graders?
And don't forget that teachers can work online, but bus drivers, custodians and a vast army of school support personnel — all of whom are union members — cannot. For them, it's work or no work. There is no remote-only option.
Let's assume a successful strike with solid employee support. What happens to the kids? They'll be out of school and receiving no instruction. But evidence from the spring semester tells us that for many students, remote-only instruction was no instruction. Some had no computers. Some had no internet access. Some had both but simply never showed up for online classes.
The whole point of a strike is to withhold labor to pressure an employer to give in to demands or negotiate a fair settlement. But you can't withhold what you haven't been providing. Faced with a teacher strike, parents will have only two choices: seek schooling elsewhere or give up on schooling at all. The effect of either decision on public education would be harmful.
The effect on teachers won't be much better. Fed-up parents, particularly those whose own livelihoods depend on their kids going to school during the day, won't be sympathetic to the teachers' plight.
Suppose the district gives in and the union gets what it wants. Two weeks later, a cohort of teachers tests positive. Are schools now unsafe? Is another walkout warranted? Or will the union work with the district to keep schools open? Will teachers go along?
Labor relations between public school districts and teachers unions are predicated on volumes of rules and regulations, collective bargaining agreements and memoranda of understanding. Disputes over the interpretations of these documents have their own sets of rules. This is not a system that easily adapts to momentous decisions made with inadequate information in fluid environments.
Blunt-force instruments like strikes won't result in a victory for one side or the other. Protocols and procedures can mitigate the risks but not eliminate them. Ultimately, individual teachers and parents will have to decide for themselves whether school is safe. They will have to make that decision either now or soon, regardless of the choices of districts and unions.
Get stories like these delivered straight to your inbox. Sign up for The 74 Newsletter