Analysis: For Decades, Homeschool Families Have Come Out for Republican Presidential Candidates. So Where Are 'Homeschoolers for Trump'?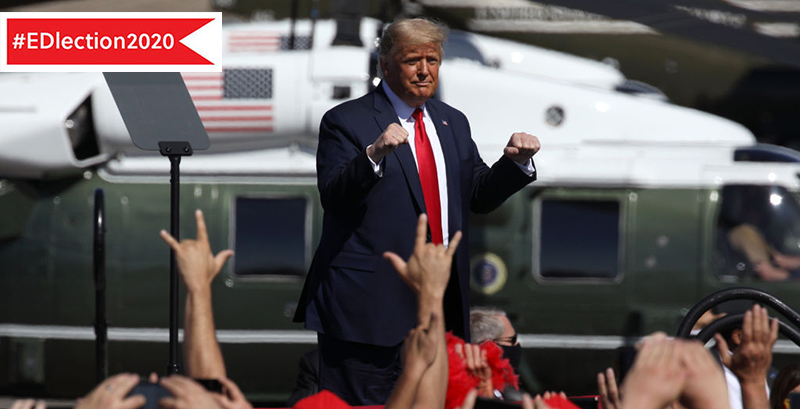 Millions of families are homeschooling their children this fall for the first time. During an election, this could have been a boon for President Donald Trump's campaign, since conservative homeschool families have been an eager source of campaign volunteers for Republicans for decades. Not so in 2020, as "Homeschoolers for Trump" hasn't turned out the type of force the GOP has counted on in the past — a lost opportunity limiting the president's chances on Nov. 3.
This is not because all homeschool parents will vote for Joe Biden.
In research for my upcoming book about homeschooling, I estimate, based on data from the American National Election Survey, that 62 percent of self-identified homeschool parents voted for Trump in 2016, slightly more than voted for Republican candidate Mitt Romney in 2012 (61 percent) but fewer than supported John McCain in 2008 (66 percent). I believe this is the case because 70 percent of homeschool families identified as conservative in 2016, and many back conservative policies like loosened gun laws and restrictions on LGBTQ rights.
But even with the number of homeschoolers on the rise, nearing 2 million last year, this remains a small voting bloc, representing just a fraction of all parents with school-aged children. The real power of the homeschooling movement hasn't been numeric; rather, it derives from the willingness of parents and students to volunteer on campaigns, knock on doors and incorporate political activism into their curriculum at home.
The first time this happened dramatically was in 2000, when a homeschool leader from Illinois, Fran Eaton, created a civics curriculum with projects focused on the presidential campaign, taking advantage of the fact that homeschool parents have few restrictions on what they are allowed to teach. By 2004, thousands of families adopted Eaton's "Homeschoolers for Bush" lesson plans, including a point system for students who completed specific activities. Visiting the local Republican headquarters, 200 points. Volunteering on the campaign, 200 points for each hour's work. The 2004 curriculum explained, "there are a few projects that have been assigned a higher point value due to their importance in getting President Bush reelected."
Ever since, Republican candidates have turned to homeschool organizations for volunteers. Founded in 2003, Generation Joshua has trained 25,000 homeschool teenagers who, in 2010 alone, participated in 155 campaigns across dozens of states. In 2012, homeschool families backing Romney organized a video competition and painted 5,000 signs for the Republican convention in Tampa. And, when he ran for the Republican presidential nomination in 2016, Sen. Ted Cruz based much of his outreach plan on 6,000 families he had organized into "Homeschoolers for Cruz."
Yet, when Cruz conceded the nomination to Trump, homeschool organizations didn't flock to the Republican Party's candidate. Michael Farris, the country's most powerful homeschool advocate since the early 1980s, lambasted Trump in the Washington Post, calling him arrogant and a salesman of weak character. Farris articulated what many homeschool families likely believed: Trump tested their faith beyond what they could endorse.
Nevertheless, Trump has delivered on much of the agenda of homeschool advocates, despite their tepid support. Secretary Betsy DeVos has been the most outspoken champion for homeschooling in the history of the U.S. Department of Education and backed federal tax credits with none of the restrictions the homeschool movement deplores. Even Farris has come around to the president.
Trump has done little to harm the interests of homeschoolers, but the movement hasn't responded with enthusiasm. There's only minimal social media activity: A "Homeschoolers for Trump" Facebook page hasn't seen a new post in a year, and a Twitter account only has a couple hundred followers. Homeschoolers haven't coalesced into a powerful force for Trump, as in past elections, costing the president a constituency typically ready to help the Republican candidate.
The recent growth in homeschooling related to the pandemic may be a clue to why this is. Homeschooling is growing, but also changing, becoming more diverse racially and ethnically. With a rise in Black and Hispanic families choosing to educate at home, and many more families compelled to homeschool because of COVID-19, the community of homeschoolers now looks much more like the country overall. As a result, we should expect political support to be spread much more evenly across the two parties.
"Homeschoolers for Trump" are as absent from this election as "Homeschoolers for Biden." But in the polls, it's the president who will feel the loss the most.
Heath Brown is associate professor of public policy at the City University of New York, John Jay College and the Grad Center, and the author of "Homeschooling the Right: How Conservative Education Activism Erodes the State," due out in January.
Get stories like these delivered straight to your inbox. Sign up for The 74 Newsletter