Analysis: Finding Purpose, Empowering Action, Disrupting Oppression — Why Teachers Should Help Students Develop Strong, Positive Identities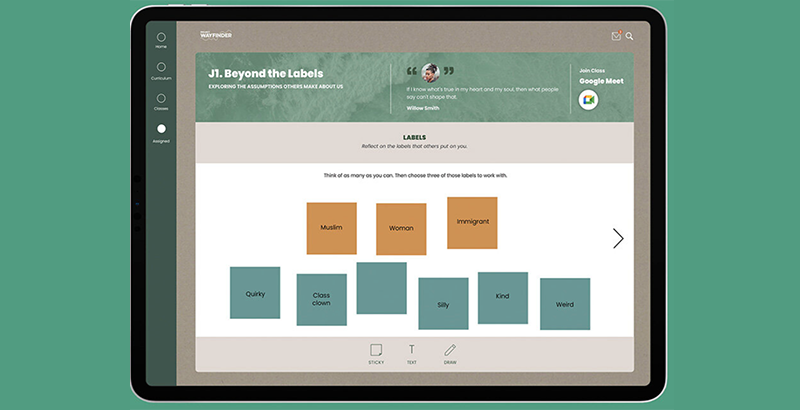 Get essential education news and commentary delivered straight to your inbox. Sign up here for The 74's daily newsletter.
No matter the subject they teach, all educators share a common cause: supporting students to build agency and purpose.
To accomplish this goal, they must give students the opportunity to holistically develop their identities. With a strong sense of identity, young people are better able to focus on what matters to them and better prepared for personal and academic growth. What's more, identity work is a powerful way to address historic inequities in education and support students in finding a sense of belonging.
Identity formation and exploration is a key component of the Project Wayfinder curriculum, as it is foundational to understanding one's place in the world. In my role as director of school success and training, I help middle and high school educators support students in a process of positive identity formation, world exploration and personally meaningful action. Here are four reasons why identity work should be a part of every teacher's efforts in the classroom:
1. Students must feel fully seen to thrive.
Historical approaches that embrace only certain parts of students' identities contribute to the oppression of already marginalized students. In a 2017 study of racial inequality in K-12 schools, researchers named colorblindness as one of the most pervasive forms of ongoing systemic racism in American education. Ignoring race as a part of a person's identity allows white individuals to remain unaware of how race affects nonwhite people. It also contributes to the ongoing racial inequalities perpetuated by common practices, including tracking by perceived academic ability, traditional curricula and classroom behavior policies. Ignoring students' sexual orientation and gender identity — in particular, sex education that minimizes, ignores or presents negative views — has damaging effects on their mental and physical health. On the other hand, acknowledging LGBTQ+ students and providing safe spaces for them has been shown to produce a more positive school climate and improved student well-being.
2. Creating identity-safe classrooms supports belonging.
To understand how they want to make an impact on the world, young people must first believe they have a place within it. A strong sense of belonging is crucial to providing the support needed to live a purposeful, fulfilling life. Students who feel they belong enjoy benefits to their physical health, as well as positive effects on self-esteem, self-efficacy and overall life satisfaction. Creating classrooms in which students feel they can be their full, authentic selves promotes greater motivation and higher academic achievement. Educators can do this by learning more about their students' various identities and ensuring they see themselves represented in class materials, helping students build trusting peer relationships and empowering them to speak up for themselves and their communities.
3. Positive identity formation mitigates stereotype threat.
When people are put in situations in which they feel they risk confirming stereotypes about one or more groups to which they belong, they face stereotype threat. Initial studies on stereotype threat showed that Black students performed more poorly on standardized tests than their white peers when race was emphasized, but that their performance met or exceeded that of their white peers when it wasn't. Further studies have since demonstrated similar effects based on stereotypes around other social groups, including girls and women in math and socioeconomically disadvantaged students in overall academics. To help mitigate this, in addition to taking measures to ensure a welcoming, equitable environment for all, teachers can start students on their journeys to developing complex senses of self through classroom practices that encourage personal awareness and growth.
In my previous role as program manager at the West Michigan Center for Arts and Technology, I used Project Wayfinder's Purpose Toolkit to teach Step Year, a college and career exploration program for recent high school graduates. Activities from the toolkit helped my students reflect on how they perceived different aspects of their identity, how society viewed those aspects and how those perceptions could be at odds. This was especially empowering, as these students who were Black and Latino often felt labeled and defined by a single story that had been created for them. By taking an asset-framing approach that celebrated their achievements and countered negative labels assigned to them, they felt more confident in their ability to succeed in school and their lives beyond it.
4. Developing connection to identity supports students in crafting purposeful lives.
In high schools today, most teens associate their academic work with feelings of boredom and exhaustion, which highlights an alarming lack of purpose. In contrast, a strong sense of purpose has been associated with self-esteem, achievement and behaviors that benefit others.
Students who feel a sense of purpose in their work also tend to have stronger academic engagement and stronger self-regulation, leading to higher academic achievement overall.
Positive identity formation is especially important for marginalized students who have experienced oppression and inequity. Encouraging students to develop their ethnic identities helps improve both academic and psychological outcomes. Students who experience increased connectedness to their ethnic identity or group may feel motivated to work for the betterment of their community, giving them a stronger sense of meaning. This can also have a ripple effect into other areas of their lives, such as academic and career success.
By fostering critical consciousness through work that encourages positive identity formation, teachers can empower historically marginalized students to notice, name and take personally meaningful action to challenge inequitable systems and structures. Young people who have been marginalized but also developed higher levels of critical consciousness are more likely than those who haven't to have better mental health, greater academic engagement and achievement, higher levels of college enrollment and more successful career development.
By encouraging students to explore who they are and what matters most to them, educators can help interrupt systems of oppression, guide students in finding belonging and purpose, and empower them to act in ways that aren't just personally meaningful, but potentially beneficial to the wider world.
Patrick Cook-Deegan is founder and CEO of Project Wayfinder, a culturally responsive social-emotional learning and mental health curriculum designed to help students find meaning in today's world. Brandy Arnold is Project Wayfinder's chief learning officer.
Support The 74's year-end campaign. Make a tax-exempt donation now.