Analysis: ESSA, Like NCLB, Encourages Schools to Fudge Graduation Rates. Here's How to Make the Numbers Really Count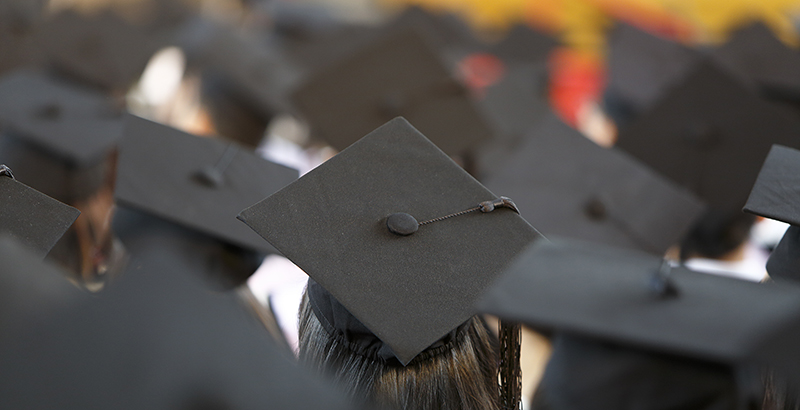 According to a recent investigation by WAMU radio in Washington, D.C., and National Public Radio, Ballou High School officials graduated dozens of students in the Class of 2017 who should have failed their courses, had poor attendance, or didn't meet other graduation requirements. On the surface, this seems like an embarrassment unique to Ballou. But this scandal is a symptom of a much bigger problem across the country: Improving high school graduation rates seems to mean more to some school and district leaders than the quality of education that students receive.
Holding schools accountable for graduation rates began in the No Child Left Behind era, when high schools got sanctioned for missing their goals. But states often used single-year rates, rather than counting the number of graduates against the entering freshman class four years earlier. Such a rate failed to catch transfers and dropouts who left prior to their senior year.
Our country's first attempt to capture more authentic graduation rates came in 2008, when Education Department regulations required that each state calculate these rates in the same way. Starting with the graduating class of 2011, all states were required to use a cohort rate, to compare the number of graduates in a school to the number of freshmen who started there four years before.
Since that time, national graduation rates rose each year — from 79 percent in 2011 to 83 percent in 2015.
But while this has been cause for celebration among policymakers, advocates, and the media, the Ballou scandal — and others — suggest that we might have been too quick to praise these increases.
Recent investigations of graduation rates in Chicago, Florida, Los Angeles, Prince George's County in Maryland, and Texas all point to a much more widespread pattern of fudging numbers, dumbing down courses, transferring high-risk students to alternative schools, or graduating students who aren't ready — all in the service of increasing high school graduation rates. But to what ends?
These cases likely all have the same root cause: the omnipresence of a still-lingering "gotcha" accountability system. NCLB labeled high schools as failing when they missed their graduation rate goals, and then published the results and restricted their federal funding. Districts checked schools to ensure they followed NCLB rules, but they often lacked enough resources to help schools improve. And, in some of these cases, districts could have abdicated their responsibility to check these numbers — easy to do when good stats meant keeping control of funding.
What's more, NCLB's replacement, the Every Student Succeeds Act, now requires districts to report college enrollment rates in addition to graduation rates. High schools should be preparing students for the next step, but without critical support systems to get graduates ready for college, fudging numbers will likely continue. The ESSA mandate also provides an incentive to lower the bar for receiving a diploma and to push students to noncompetitive colleges.
Underprepared college students spend about $1.3 billion each year to catch up and usually drop out.
To be sure, holding schools accountable for their performance and being transparent about results helps improve student outcomes. But performance results must be authentic, and schools need support.
It is in addressing school accountability and support systems that we can move forward in a way that improves graduation rates without undermining student outcomes.
We must begin investing in systems that provide an early warning that students are falling behind and provide enough resources for the right supports to get them back on track. Also, we need to continue investing in long-term data by increasing usability, training staff, validating the information, and reporting statistics in a way that is easy to read and access. These data should be linked to outcomes that occur later in life, like college enrollment, persistence, graduation, and, eventually, employment in a high-demand, high-wage career.
Celebrating college acceptance alone creates incentive and opportunity to game the system in ways that are unlikely to improve lifelong outcomes for students.
The most important, and perhaps hardest, fix to accomplish, however, is to build a relationship of trust and support between district and school officials. Districts have a responsibility to monitor school performance, a process that can improve student outcomes only if schools share authentic information.
Meanwhile, the D.C. schools chancellor promises to investigate. We absolutely must get to the bottom of the situation and understand what happened. But beyond Ballou, what is needed is an entirely new way to manage and support schools, so these types of scandals are a thing of the past.
Our students need more than business as usual.
Laura Jimenez is the director of standards and accountability at the Center for American Progress.
Support The 74's year-end campaign. Make a tax-exempt donation now.