Analysis: Call to Action — the Data Moment Has Arrived. Education Advocates Must Seize It to Improve Learning for the Students of Today and Tomorrow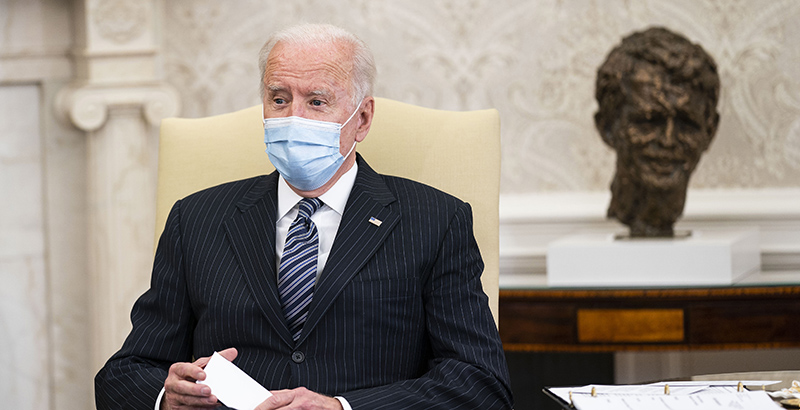 Get essential education news and commentary delivered straight to your inbox. Sign up here for The 74's daily newsletter.
It's still early in the Biden administration, and already a spate of memos and executive orders has made one thing clear: The data moment has arrived. As education advocates, it's time for us to act like it.
We've seen the Biden administration commit both vocally and substantively to using data to help solve our country's biggest challenges: from an executive order on advancing racial equity to a memo on restoring trust in government to guidance on using data to recover from the COVID-19 crisis. Taken with efforts by the Institute of Education Sciences to understand learning opportunities offered by schools during the pandemic and legislation introduced that would direct schools and districts to measure the significant unfinished learning that many students are facing, it's clear that data is priority for our nation's leaders.
For years, advocates like the Data Quality Campaign have shared a vision of how data-based decisionmaking could help schools and students. Now, it's a brand new day, and it's time to pivot from tinkering around the margins on data to thinking big about how to begin to use new information and tools to solve the nation's most complex and vexing problems.
The stakes couldn't be higher — there are challenges to teaching students and operating schools not seen in generations, as well as the widening of inequities that have always plagued our education system. Yes, recovering from all the challenges brought by COVID-19 is top priority for educators and policymakers, and leaders at all levels need data to answer critical questions about the state of student learning today. But the opportunity to improve data policy and practices in the wake of the pandemic is rich with possibilities for change that could benefit learners indefinitely, not just in this time-limited crisis.
Robust data systems that truly support students, educators and communities take time to build: to create infrastructure, set up proper governance, create a culture in which people get the information they need to make decisions. And the time to start is now. It's time for advocates and state and local policymakers to think big: What do we want our data system to be able to do not just in a year, but in a decade?
For example, President Joe Biden's Executive Order on reopening schools directs the Department of Education to collect data to "fully understand" the impact of the pandemic on students and educators. This bold charge poses many short-term questions about students' experiences this year: Are they performing on grade level right now, and what remediation is required if not? Which students were engaged in online learning this year, and which attended hybrid or in-person school? Which had access to appropriate technology and connectivity, and what was the impact of having it — or not?
But the impact of the pandemic will be felt for decades, so federal and state leaders must also use data to answer long-term questions: Will educators and school leaders be able to provide today's students with the support they need to catch up on missed learning over time? Will these students make different decisions about postsecondary education and careers? How will the educator workforce change in the years to come? These future-looking concerns must be kept in mind as data systems are developed and upgraded.
Past federal investments and state leadership have supported creation of data systems in all 50 states. Now, these systems must be modernized to address problems not only about pandemic recovery, but about longstanding issues such inequities in discipline and access to rigorous coursework.
With this long view in mind, advocates at every level should push Congress and the Biden administration to invest in states, to help them modernize their data systems with strong linkages among early childhood, K-12, postsecondary education and the workforce. These updated systems should provide information broken down by student group and ensure that individuals at all levels can find the information they need to answer their most pressing questions. State and district leaders must be able to understand how to support students through the P–20W (early childhood through the workforce) pipeline, identify which students are getting lost along the way and re-engage them. States should build out tools and analytics so people at all levels — including students and families — can access the assistance they need to recover from the pandemic and find success. And federal money should support states' research capacity so leaders can pinpoint best practices and better answer questions critical to addressing both short- and long-term challenges.
For a start, states can weave together existing federal funding streams to support their P-20W data priorities. Many of the major federal laws that support education and workforce policy include funds that are flexible, specify data as an allowable activity or are allocated specifically for data:
The Every Student Succeeds Act permits states to use funding to collect and report data, design state report cards and target supports.
The Strengthening Career and Technical Education for the 21st Century Act (Perkins V) allows states to use funds to improve data systems as needed to implement the program.
Workforce Innovation and Opportunity Act funds can be used to coordinate and align data systems.
All of the education emergency relief funds are flexible and can be used for investments in data systems.
States can look to these sources for a significant start, but these funding streams alone are not designed for the level of investment needed for data system modernization. What is missing is dedicated funding to upgrade systems designed to solve the problems of 2010 and build out tools and analytics to serve the demands of 2021.
One way to move forward would be for Congress to provide targeted funds to get these data systems up to date. This is what DQC and 25 partner organizations urged Congress to do in a letter earlier this year. During the Great Recession of 2008, Congress responded by making data systems an anchor investment in the American Recovery and Reinvestment Act's education strategy, which had an immediate and long-term impact on students and the economic recovery. More than a decade later, these investments not only worked, but led to greater state investment in data. Congress must renew its commitment to using data and evidence to help students prosper.
It's no longer the time for advocates to simply beat the drum that "data is good." The stakes are high because we need to act now: There's no guarantee that the federal government will remain amenable to data- and evidence-based policymaking. Advocates and leaders must seize this opportunity to push for federally supported improvements to their data systems that will address the challenges of today and the future, and seek out the funding to accomplish this work. The data moment has arrived — let's seize it to improve learning for the students of today and tomorrow.
Jennifer Bell-Ellwanger is president and CEO of the Data Quality Campaign.
Get stories like these delivered straight to your inbox. Sign up for The 74 Newsletter