Analysis: By the Numbers — How Teachers Union Membership Dropped During a Year of Pandemic School Closures and Other Upheavals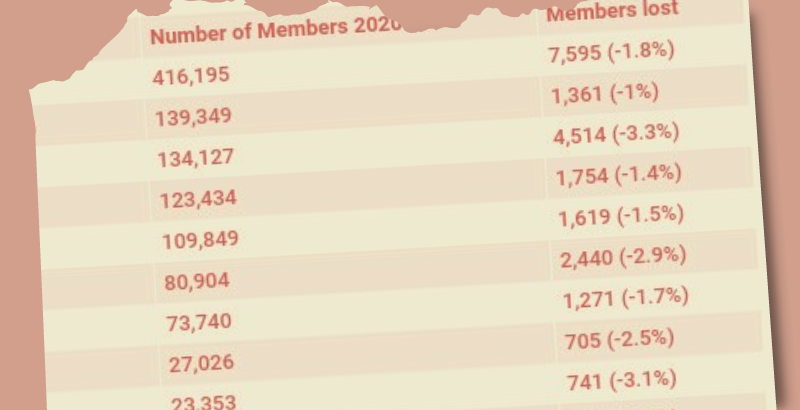 Get stories like these delivered straight to your inbox. Sign up for The 74 Newsletter
Parents are angry. Students are behind. Teachers are stressed.
The COVID-19 pandemic, school closures and ongoing mitigation procedures such as quarantines, masking and vaccine mandates are wreaking havoc on America's public schools. Things haven't worked out too well for America's teachers unions, either, at least according to their recent membership numbers.
The federal Landrum-Griffin Act requires any union with at least one member working in the private sector to file a detailed annual financial disclosure report with the U.S. Department of Labor. Most teachers unions are exempt, but the National Education Association, the American Federation of Teachers and a handful of their affiliates are subject to the act's provisions.
The latest disclosures, covering the 2020-21 school year, show dramatic membership losses in virtually every teachers union. I compiled the numbers for all working, dues-paying members, omitting retirees, students and miscellaneous categories.

Two percent might not seem like a lot, but it is the equivalent of losing the entire working membership of union affiliates in Los Angeles, Chicago, Miami and Philadelphia — combined — in a single year.
The picture was similar across most of the United States.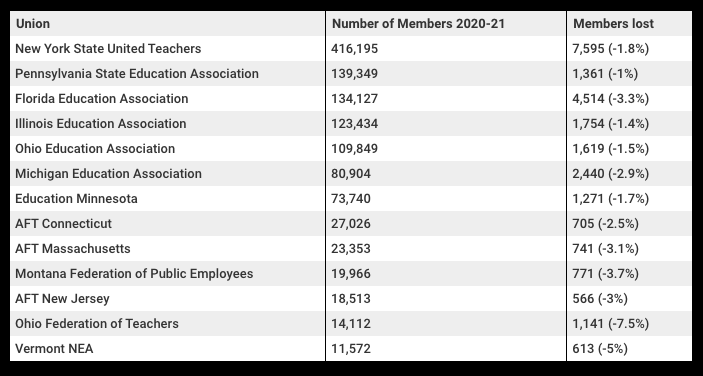 Some managed to buck the trend.

Despite the widespread membership losses, there is no reason to fret for union finances. NEA collected an additional $2.4 million in dues in 2021, bringing its total from that revenue stream to $377.4 million. AFT had an even larger windfall, receiving almost $11 million more in dues than in 2020, bringing its total to $196.7 million.
The officers running the two national unions also had a good year financially. NEA President Becky Pringle received more than $426,000 in salary and taxable allowances. AFT President Randi Weingarten inched past her, at $427,000. When AFT Secretary-Treasurer Lorretta Johnson retired in July, the union gave her a new car, with a book value of almost $45,000.
Those toiling at union headquarters did similarly well. The NEA payroll was $68.3 million, divided among 510 employees for an average salary of almost $134,000.
The AFT payroll was $42.1 million, divided among 335 employees for an average salary of $125,750.
I expect union membership numbers to rebound over the next couple of years, but falling K-12 enrollment will ensure that they will never again reach previous heights. Dues increases, however, will keep the unions financially stable.
Get stories like these delivered straight to your inbox. Sign up for The 74 Newsletter