Analysis: Behind the Denver Teacher Strike, the Union Cites a 'Crisis' in Staff Turnover. But the Numbers Tell a Much Different Story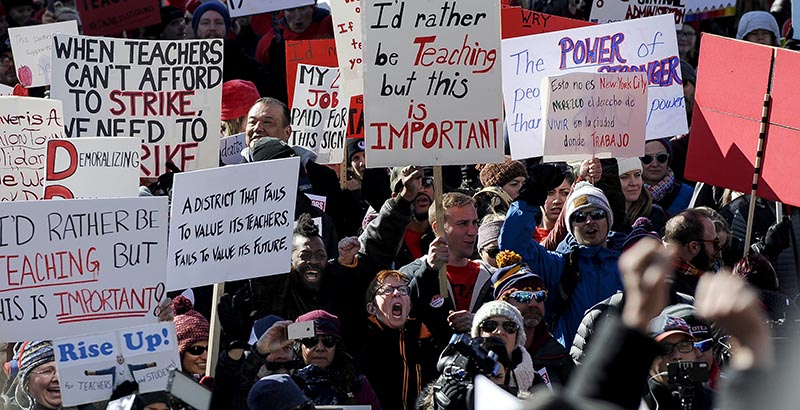 Mike Antonucci's Union Report appears Wednesdays; see the full archive.
Denver teachers went on strike Monday. As an explanation, the Denver Classroom Teachers Association had previously posted on its website "5 Reasons Denver Teachers Are Considering a Strike." The union listed only three, and all three centered on pay, but the gist is that "Good teachers are leaving our communities because the district does not pay fair, competitive, professional wages," and "Teacher turnover is a crisis for students and families."
The union wants less reliance on the district's ProComp pay system, which adds performance-based bonuses to a base salary schedule. Here's a district video that explains how it works:
For our purposes, let's put aside the question of how Denver teachers are paid and focus on what they are paid, how many are leaving their jobs and why, and how Denver compares with other public school districts in Colorado. Fortunately for this analysis, Colorado is much better at collecting that information than most states.
The Colorado Center for Rural Education has a table that uses 2015-16 data on teacher salaries, turnover, and cost of living for 179 public school districts in the state. An average teacher salary of $50,247 ranked Denver 19th.
However, the table also lists the cost of living in each local area, and that salary puts teachers 11 percent behind the state average. How that was computed involves digging into a 77-page analysis by Pacey Economics Inc. I won't subject you to that here but will mention that the formula includes the cost of taxes. If you live in an area with high property taxes, local income taxes, and additional sales taxes, the computed cost of living is higher.
Denver teachers live with a penalty on that basis, but they rank 49th out of 179 in the state in terms of salary versus the cost of living. Teachers in Aspen, by contrast, rank near the bottom, with a salary that is 37.5 percent below the cost of living. Aspen has some of the most expensive real estate in the nation.
The table also lists teachers and turnover rates for 2015-16, but the Colorado Department of Education has more recent statistics. It includes all employees, but I culled the information for teachers alone.
For the school year 2017-18, the average teacher turnover rate in Colorado was 15.99 percent. In Denver, it was 20.25 percent. That ranked Denver 133rd out of 200 public school districts and agencies that employ teachers in the state.
As always, turnover statistics have to be handled with care. These rates include everyone who left a teaching job in that particular district, for whatever reason. The Denver strike has produced a lot of anecdotes about why teachers leave, but if we adhere to the national data, we can conclude that about 10 percent were dismissed or not renewed and 37 percent retired. Of the remainder, the most frequent reason given was "personal life circumstances such as pregnancy or child care."
Turnover may be worse in Denver than in many other Colorado districts, but administrators were able to replace all 1,208 departing teachers and add 349 more. The rest of the state's school districts combined added only 301 more teachers.
If Denver is having trouble keeping teachers, it is certainly not having any difficulty attracting new ones.
Over the previous seven years, enrollment in the Denver Public Schools increased by 17.2 percent, but the number of teachers increased 34.1 percent. In 2017-18, Denver added 349 more teachers for 662 more students.
These numbers will have zero effect on the strike's outcome. No one marches in the street carrying a sign with workforce statistics or retirement benefit accruals, so you won't find them in the press. But they still exist, and they drive the economic realities we hope that school districts someday face, instead of relying on "a leap of faith" that money will magically appear.
Get stories like these delivered straight to your inbox. Sign up for The 74 Newsletter