Analysis: Backlash Against Pension Reform Drives Kentucky #RedforEd Group to Join American Federation of Teachers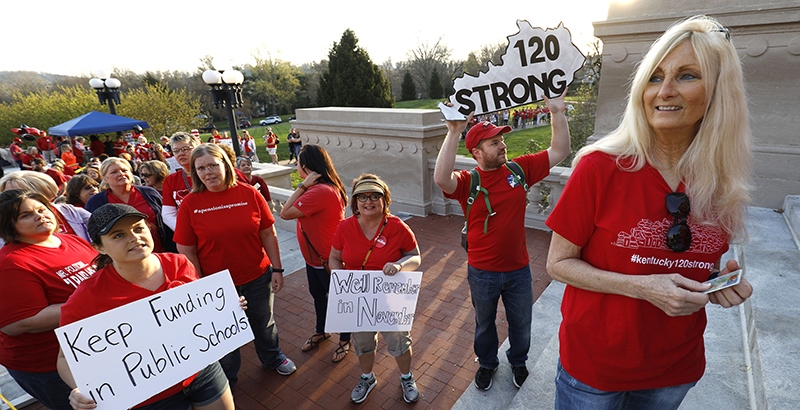 Mike Antonucci's Union Report appears most Wednesdays; see the full archive.
Three years ago, teachers in Kentucky joined the burgeoning #RedforEd movement by staging a protest against a pension reform bill that legislators rammed through in less than 24 hours. They followed up with a sickout that shut down some two dozen school districts.
Those labor actions were not organized by the Kentucky Education Association, the state National Education Association affiliate that represents about 27,500 working K-12 public school employees. A Facebook group calling itself KY 120 United was responsible.
The state Supreme Court later struck down the bill, but KY 120 United continued its activism, organizing protests in 2019 and lobbying the legislature. It sometimes acted in concert with the state union, and other times alone. This unstable relationship came to an abrupt end last week, when the leaders of KY 120 United announced that the group would become an affiliate of the American Federation of Teachers.
The move was prompted by the passage of a different pension reform bill, one that is supposed to save the state $3.57 billion over the next 30 years. The state union and its largest local, the Jefferson County Teachers Association, helped craft the bill. The unions remained neutral on the final version, which was vetoed by Democratic Gov. Andy Beshear but overridden by the Republican-controlled legislature.
KY 120 United strongly opposed the bill and viewed the unions' position as a failure of courage. They hooked up with AFT, which previously had no teacher presence in Kentucky.
"We're not trying to hurt KEA, but what we're saying is we just want something a little more substantial, something with a union backing," said KY 120 United co-founder Nema Brewer.
"Associations are full of words, and unions are full of action," Jeni Bolander, one of the group's leaders, told the Courier Journal.
The group has been emphasizing that it will be a union, while the state union is merely an association. This is because it is designated by the IRS as a business league or trade association, similar to a chamber of commerce. But it's a distinction without a difference. Every member of KEA belongs to NEA, which is a labor union. Its members pay dues to a labor union, and receive benefits and services from a labor union. They elect representatives to a labor union, who vote on a labor union's positions and policies.
The state union has remained low key about its new competitor, except for a Facebook post that cautioned teachers to "beware of people who take credit for things they had no part in. There's no telling what else they might say that isn't true."
It should also be mentioned that there is no money in running a Facebook group, but the potential for quite a bit as a union affiliate. KY 120 United will initially charge new members $132 annually. KEA's total dues are $618 a year.
There may be confusion among Kentucky's teachers about which group is doing what, something we got a glimpse of during a series of walkouts in 2019. At one point, KEA opposed a walkout and KY 120 United supported it, but when KY 120 United agreed to return to work, a splinter group rejected the idea.
This led to an unprecedented press conference by the leaders of Kentucky's unions, in which they denounced the wildcat actions, sent cease-and-desist letters to various Facebook groups and characterized them as "a rogue group from the outside that has their own agenda."
The situation in Kentucky may lead to tensions between the two national teachers unions. Public school employees have the right to join, or not join, either union. Both unions will have to compete for members. Additionally, it would be strange if AFT had no aspirations to become the exclusive bargaining agent in at least some of the state's 171 school districts.
Interunion representation battles between NEA and AFT have become a rarity. If problems should arise in Kentucky, it could lead to a wave of union raiding there and elsewhere. I suspect NEA is unhappy with the creation of KY 120 United AFT but will try to avoid a wider conflict.
Support The 74's year-end campaign. Make a tax-exempt donation now.