Analysis: As the Pandemic and Police Brutality Bring Inequities Into Sharp Relief, Black Girls Find Themselves Forced to Confront Both Racial and Gender Bias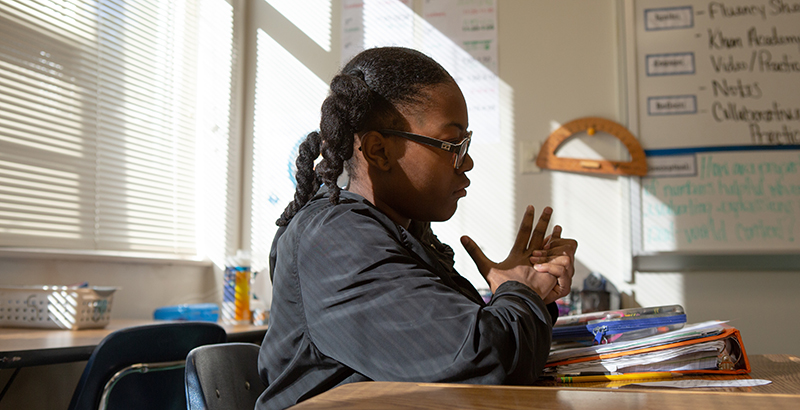 Support The 74's year-end campaign. Make a tax-exempt donation now.
As schools grapple with longstanding racial inequities brought into sharp focus by recent cases of police brutality and the coronavirus pandemic, one problem stands out: Black girls often face both racial and gender bias in the nation's classrooms.
An analysis of national U.S. Department of Education 2015-16 civil rights data by the National Women's Law Center (NWLC) and The Education Trust found that Black girls are five times more likely than White girls to be suspended at least once and four times as likely as White girls to be arrested at school.
The consequences of these disciplinary disparities are substantial. A 2018 study by researchers from Mathematica Policy Research and the University of Pennsylvania found that students who lose class time from suspensions have lower math and reading scores. And students at schools with higher suspension rates are less likely to attend a four-year college and are 15 to 20 percent more likely to be arrested and incarcerated as adults, researchers from Harvard University and the University of Colorado-Boulder reported in a 2019 paper published by the National Bureau of Economic Research (NBER).
The New York Times reported in a recent story that Black boys are more likely to be suspended than Black girls, but the racial disparities are often greater for girls. And girls experience an additional layer of bias based on their gender.
A 2015 NBER study on the short- and long-term consequences of teachers' stereotypical biases compared boys' and girls' grades on classroom exams with "blind" national exams marked anonymously in Israel. They found that teacher bias positively affects boys' math test scores while negatively affecting girls' scores.
Some school policies exist at the intersection of these two biases. Take school dress codes.
The NWLC released a 2018 report titled "Dress Coded: Black Girls, Bodies, and Bias in D.C. Schools" that detailed their findings from interviews with Black girls in D.C. public middle or high schools and summarized reviews of schools' publicly available dress code policies. They found that many of the schools banned traditionally Black hairstyles or head coverings and had specific dress code requirements based on gender despite this being formally prohibited by D.C. public schools.
As a result, Black girls are often either suspended for violating dress code policies or pulled out of the classroom to change their clothes. Black girls are also disproportionately pulled out of class for being too loud, too assertive, too sexually provocative, too defiant, and too adult-like, according to the NWLC and Education Trust report, titled "And They Cared: How to Create Better, Safer Learning Environments for Girls of Color."
Researchers at Georgetown Law's Center on Poverty and Inequality in 2019 conducted focus groups across the country with Black women and girls ages 12 to over 60 to learn about "adultification bias," the notion that Black girls are more mature than White girls, leading them to be held to higher standards and disciplined more frequently.
Participants often mentioned that school police officers or other adults would tell them they "should have known better" or should attempt to modify the behavior of girls of color to follow more traditional White views of gender and sexuality, often suggesting that they should be more "ladylike."
Some states have begun to address the dress code problem. Virginia Gov. Ralph Northam signed a Dress Code Equity Act earlier this year. It restricts schools from disproportionately imposing dress codes on one gender and prohibits schools from restricting religiously or ethnically specific head covering or hairstyles. That includes hijabs, headwraps, braids and cornrows.
And last month, the U.S. House of Representatives passed the "Creating a Respectful and Open World for Natural Hair" or CROWN Act. The bill prohibits discrimination based on a person's hair texture or style if it is commonly associated with a particular race or national origin, including in schools.
Some districts have adopted policies based on the Oregon chapter of the National Organization for Women's model student dress code. It allows for hats and other headwear, leggings, midriff baring shorts, ripped jeans, and tank tops.
Both the NOW model policy and the NWLC and Education Trust report emphasize the importance of using discipline practices that do not pull students out of school, including peer mediation and counseling. They also urge the disaggregation of discipline data by gender, race, and type of offense.
Many schools are planning anti-racist trainings in the wake of recent protests. But the nonprofit organization Girls Leadership found that more than half of the 600 teachers they interviewed recently in part of a national study on personal, societal, and structural factors that impact Black and Latinx girls' leadership aspirations and skill development have never had training on gender equity in education.
The organization recommends that schools help teachers create curricula, learning activities and assignments that respect and build on students' gender and their cultural backgrounds, approaches that show promise.
For instance, an ethnic studies curriculum in San Francisco public high schools increased attendance by 21 percentage points, GPAs by 1.4 grade points, and credits earned by 23 for students involved, according to a 2017 study by Thomas Dee of Stanford University and Emily Penner of the University of California-Irvine.
Another San Francisco Unified School District initiative, Perspectives Experience Program, aimed to address the unconscious bias of teachers. The program uses videos and written exercises to shift beliefs about minority learners and mitigate more punitive approaches to classroom discipline. Teachers who completed the program suspended students at half the rate of colleagues who hadn't, according to a 2016 assessment by Stanford University researchers Jason A. Okonofua, David Paunesku, and Gregory M. Walton.
Establishing more inclusive educational climates that respect who students are would strengthen students' sense of belonging and, ultimately, help keep them in the classroom.
This analysis originally appeared at Future-Ed.org.
Support The 74's year-end campaign. Make a tax-exempt donation now.