Analysis: As Rhode Island and Districts Struggle With ESSA Rule, Social Workers Are Ferrying Foster Kids to School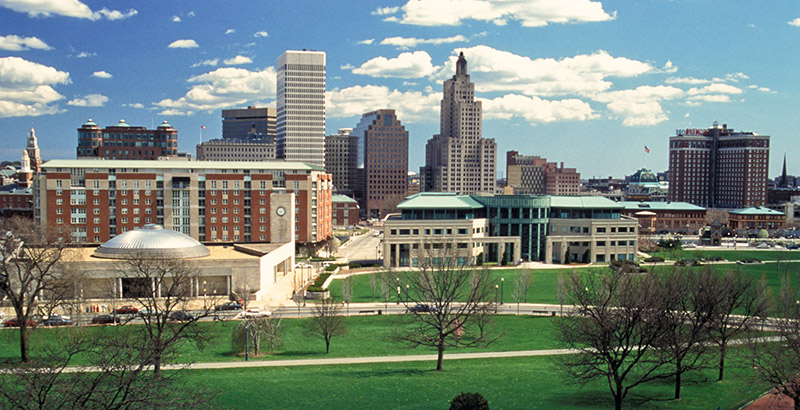 Rhode Island's foster care system is using social workers — already strained by a devastating opioid epidemic — to give foster kids rides to school.
Patricia Hessler, chief of staff for the Department of Children, Youth and Families, pointed to two social workers in the southern part of the state who each spend four hours a day driving foster kids to school.
"That doesn't leave a whole lot of time to do the really critical work with children and families they need to do," Hessler said. "Even more than the dollar amount, the strain and wear and tear on social workers who already have high caseloads and now have to drive four hours a day is absurd."
Transporting students isn't their responsibility, and it isn't the responsibility of the state foster care agency to pay for that transportation, according to a recent decision by the state Department of Education. It's a stopgap measure, a byproduct of Rhode Island's fitful efforts to implement a federal education law that requires school districts to make sure foster youth are transported to school. In many districts, this isn't happening, and in some, social workers have stepped up to temporarily fill the gap.
But if a new bill in the Rhode Island state Senate becomes law, their department's involvement in student transportation may become permanent.
This is the latest development in the Ocean State's struggles to live up to foster care requirements written into the Every Student Succeeds Act. The law states that those mandates, aimed at improving foster children's educational stability, had to be fully implemented by Dec. 10, 2016.
At least 10 states, including Rhode Island, either have outright failed or are struggling in their implementation of ESSA's foster care transportation provision. Although many states claim to be complying with the law on this front, it remains unclear how many have done so fully.
ESSA made it school districts' responsibility to ensure that foster kids have a ride to their so-called school of origin, the school they were attending before entering foster care or before a placement change while in care. This is an invariably costly proposition, given that foster youth often bounce from home to home and across district lines.
Although ESSA didn't specify whether the foster care system or districts must pay for the transportation, the Department of Education's first-of-its-kind decision in January made clear that a child's home district should bear the full cost.
The district that would likely feel this the most in Rhode Island is the Woonsocket School Department, which Assistant Superintendent Jenny Chan-Remka says has the highest rates of child abuse in the state and, unlike many districts in the state, a homeless shelter.
"We are a poverty district, and we have a huge number of children we have to transport, and these foster care cases are putting a huge need on us," she said.
According to Chan-Remka, the district has 34 foster youth who need to be transported across district lines, with no funds set aside to pay for that transportation.
But Chan-Remka has a powerful employee in school social worker Roger Picard, who moonlights as a state senator in Rhode Island's part-time legislature. After discussing her concerns with Picard, he quickly authored a bill, introduced February 15, that would compel the state's foster care agency to split the cost of transporting foster youth to school with the education system.
Put in a national context, Picard's bill takes an important step toward tying up one of ESSA's loose ends that has proved a nagging stumbling block for states across the country. But locally, it causes some new problems. To help close an $87 million state budget deficit, Gov. Gina Raimondo has proposed a $5 million cut to the state's child welfare system this year.
Foster Forward CEO Lisa Guillette, whose advocacy group represents roughly 1,000 Rhode Island foster parents, said the looming cuts will make it very hard for service providers and foster parents who often give foster kids rides to far-off schools — and already have trouble getting reimbursed by the department — to get behind Picard's bill.
"Philosophically, all the providers believe educational stability is the right thing for kids," Guillette said. But, she continued, "putting the burden on the child welfare agency will only exacerbate the woes we are feeling" about the proposed cuts.
In a telling sign, the Rhode Island Coalition for Children and Families, which represents the state's foster care providers, isn't ready to support Picard's legislation.
"The coalition hasn't yet taken a position on the bill," Tanja Kubas-Meyer, the association's executive director, said in an email.
Hessler said she sees the bill as an opportunity to put a spotlight on the issue — but that districts need to start transporting the children now.
In terms of who should pay, the state Department of Education pointed to the wording of the decision that went into effect in January.
"Recent commissioner's decisions from our office make clear that the district that is educating the child is responsible for transportation," Meg Geoghegan, a communications official with the department, said in an email. "If legislation is passed to the contrary, we would encourage and advocate for the state to designate additional funding specifically for this purpose."
For his part, Picard wants to move forward with the bill and is interested in input, including the idea of asking that the state reserve funds to pay for foster students' school transportation.
"I am open to discussions regarding this in regards to how it can be funded," he said. "I am open to work with any ideas. I am very determined to try and get this remedied ASAP."
Daniel Heimpel is the president of Fostering Media Connections and publisher of The Chronicle of Social Change, a national news outlet that covers issues affecting vulnerable children, youth, and their families.
Support The 74's year-end campaign. Make a tax-exempt donation now.