Analysis: A Looming Legislative Backlash Against Teacher Strikes? Why Walkouts Could Become Illegal in Some States, With Strikers Facing Fines, Jail, or Loss of Their License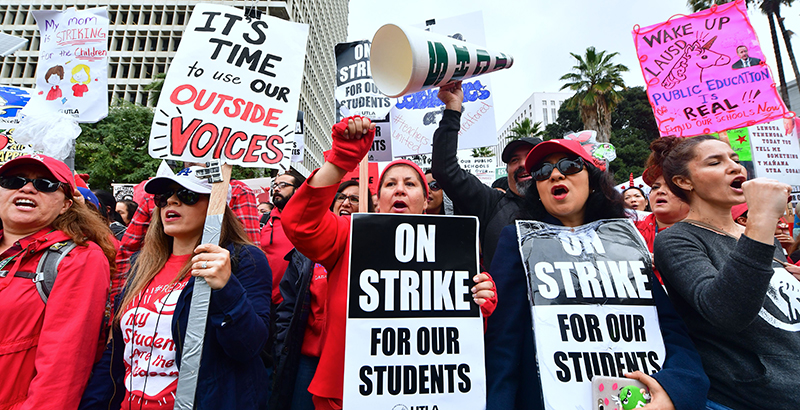 In 2018 and 2019, after a decade of disinvestment in education that led to stagnant teacher salaries, policymakers have introduced proposals in states across the country to begin reinvesting, spurred in part by teacher walkouts and activism nationwide.
While it is wonderful to finally see broad support for raising teacher salaries and investing in public schools, a predictable backlash has also emerged. Legislators in some states that were hotbeds of teacher activism are introducing bills to explicitly prohibit walkouts or punish teachers who participate, often with a sprinkling of additional anti-union provisions. Weakening unions and refusing to invest in education are long-standing conservative tenets, and these bills are evidence that we should expect conservative policymakers to return to them as soon as they believe them to be politically viable.
The consequences of a decade of education funding cuts came into sharp relief last spring, after teachers staged walkouts in half a dozen states. The decade of disinvestment in education had its roots in the Great Recession, when many states were forced to drastically cut their K-12 education funding. But as the recovery got underway, many governors — particularly in red states — made intentional policy choices to cut taxes for wealthy residents and corporations rather than allow education funding to rebound to pre-recession levels as revenue increased.
As a result, teacher wages stagnated, school budgets were strapped, and expenses such as building repairs and learning materials were deferred year after year. By 2018, reports of crumbling schools, students learning from decades-old textbooks, high teacher turnover, and staff shortages in these states became common. Teachers had reached their boiling point.
The teacher walkouts have been very effective. Though they were a last resort, they finally got lawmakers' attention in states that had seen the most chronic and severe cuts to education. In the states where teachers walked out, governors who hadn't historically supported education funding agreed to enact significant pay raises and increases in education funding. For example, in Arizona, Republican Gov. Doug Ducey was forced to sign off on a teacher pay bill he had previously opposed that provided a 20 percent raise to the state's teachers — some of the lowest-paid in the nation — and invested an additional $100 million in schools in the state.
And now, in several states with low teacher pay that have so far avoided major protests, some governors have proposed salary increases. Remarkably, much of this movement is happening in deep-red states with historically low education spending. In South Carolina, Gov. Henry McMaster wants to give teachers a 5 percent pay raise; in Texas, Lt. Gov. Dan Patrick has proposed a $5,000 increase; and in Georgia, Gov. Brian Kemp has proposed a $3,000 increase. In all three of these states, teachers are paid less than the national average. It's likely that last year's walkouts nudged these governors to consider teacher pay in a way that they wouldn't have otherwise.
Though it goes against traditional conservative principles, supporting these raises is smart politics for these governors. There is widespread public support for increasing teacher pay, particularly in the states where walkouts occurred.
But even as some conservative policymakers agree to raise teacher salaries, as the 2019 legislative sessions have begun, others in Arizona, Oklahoma, and West Virginia have introduced bills that would make walkouts illegal and penalize teachers with fines, loss of their teaching licenses, or even jail time. Some of the bills also contain provisions designed specifically to weaken teachers unions, such as a requirement that teachers must opt in to dues each year, which sponsors hope will reduce membership by adding an extra step to the process. Legislators in walkout states have also introduced stand-alone proposals designed to make union membership more difficult and, therefore, less likely, such as a prohibition on districts withholding union dues from teachers' paychecks.
These backlash bills hint at a much more familiar conservative education agenda of slashing funding and working to weaken teachers unions. After all, it is this agenda that led to stagnant teacher salaries, deplorable conditions in many school buildings, and consequences for students whose schools were chronically underfunded in the first place.
Supporting increases to teacher pay and greater investment in schools is the right thing to do for America's students. Unfortunately, this wave of backlash makes clear that for some policymakers, it's all about politics — and as soon as they have the chance, they'll once again slash education funding and attack hardworking teachers.
Lisette Partelow is director of K-12 strategic initiatives at the Center for American Progress.
Get stories like these delivered straight to your inbox. Sign up for The 74 Newsletter