Analysis: 6 Upsides of a Tough Election for Teachers' Unions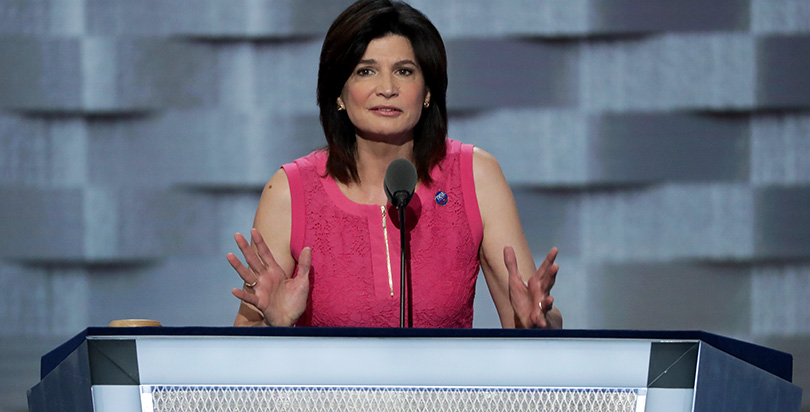 Mike Antonucci's Union Report appears Wednesdays; see the full archive
Leaders of the two national teachers unions were among those most surprised by the election of Donald Trump last week.
The Twitter timelines of Lily Eskelsen-Garcí​​a, president of the National Education Association, and American Federation of Teachers President Randi Weingarten were filled on Election Day with encouraging messages to get out the vote and early cheers for victories in ballot-initiative and congressional campaigns.
Then they went silent.
It's understandable. They had large hopes for a Clinton administration, having endured criticism from some of their members for early endorsements of Clinton when there was still a viable alternative. Now what do they have?
Actually, quite a bit, if they read the results correctly. Consider the following issues:
U.S. Senate. The GOP will likely hold 52 Senate seats in the next Congress. That's bad news for the unions, but filibuster rules still require 60 votes for cloture. There is a possibility that the Republican majority might want to change those rules, but they won't necessarily win the support of their entire caucus. If Senate Democrats unite, there are enough Trump opponents in the GOP to deflect his more radical ideas.
Education as an issue. While outspent in Massachusetts, the unions made a major financial commitment to keep the state's charter school cap in place and won easily.
One takeaway is that on issues directly concerning education, the teachers unions have a tremendous advantage over any other lobby. Particularly if the unions are on the "no" side: "No" votes usually affirm the union's status quo; "yes" votes require a higher level of dissatisfaction.
The flip side is that unions spent an awful lot of money and gained nothing more than they already had. That may be the cost of doing business in a de-unionizing country, however.
The fact that education is rarely a prominent issue in national elections works to the disadvantage of teachers unions, however. Their influence on policy issues apart from education doesn't radiate far beyond their members. Members who vote the union line on education ballot items go their own way on immigration, national security and other flashpoint issues.
Tax hikes for education. The unions were victorious in initiative campaigns to raise taxes in support of education, winning by a substantial margin in California and in a squeaker in Maine. Those are traditionally friendly states; they lost a similar tax campaign in Oregon, probably because the proposal was to tax business gross revenue rather than profits, putting businesses in the position of paying taxes on money they didn't have. This indicates that if teachers unions don't overreach when working on tax measures, they can be successful — absent an unusually hostile local mood.
Exit polls. Much has been made of exit polls showing that Clinton won union households by only 8 points, well short of traditional Democratic margins. Even worse, Trump actually won the union household vote in Ohio by an astonishing 12 points.
That's not good, but it might not be as bad as it looks; the unions may not have delivered a Clinton win, especially in battleground states, but they may have delivered their share.
First, exit polls reflecting the Republican-leaning votes of union households may be as unreliable as the pre-election polls that predicted a Clinton victory. They may be accurate, but polling seems less pinpoint than ever, and future results will probably be handled with more caution by interest groups, at least for a while.
Second, past experience suggests that polls of union households don't yield the same results as polls of union members — the target audience for much of union campaigning. Households may not be homogenous in their political beliefs; some union households include family members who hold anti-union views. In short, these polls don't tell us if the unions successfully connected with members.
Third, I'm guessing, but Trump's union support was probably much higher among private-sector unions. Public employee unions surely went for Clinton in a big way. She promised teachers unions "a seat at the table" while Trump directed his labor pitch to those in manufacturing and industrial jobs. It would behoove unions to learn whether this split existed, and to work to heal any divides between public and private sectors.
Finally, the key number isn't the percentage of the union vote; it's the union turnout. Did Bernie Sanders supporters stay home? And what was the effect of right-to-work laws in Wisconsin and Michigan?
The laws may have motivated union voters to turn out, but it's also possible they artificially affected polling of union households: Republican members who would have been counted in that category in previous years may have left the union since the laws were passed. Those who remained are probably more Democratic and more likely to vote for Clinton. The exit polls say Clinton won union households by 10 points in Wisconsin and 13 points in Michigan.
Federalism. The conventional wisdom says the Every Student Succeeds Act returns power over public education to the states and local school districts. Who is better situated to build a broad agenda in that environment, and dominate local decision-making, than the teachers unions?
New blood. With Hillary Clinton defeated, it may be time for the Democrats to commit to a generational change in leadership. Obama was a young president. The party — and, by extension, the teachers unions — could appeal to the young by being young. Fresh faces might create a contrast with the GOP, whose younger candidates had trouble gaining traction against Trump in the Republican presidential primaries.
So the 2016 elections were on balance a defeat for the teachers unions but far from crippling. With some changes in methods and focus, they can still accomplish many of their broadest goals even with Trump in the White House.
Next week: Why the teachers unions won't change their methods and focus.
Email tips to mike@the74million.org
Get stories like these delivered straight to your inbox. Sign up for The 74 Newsletter