An Unlikely #Blizzard2017 Facebook Star: The New York Music Teacher Turned Amateur Weatherman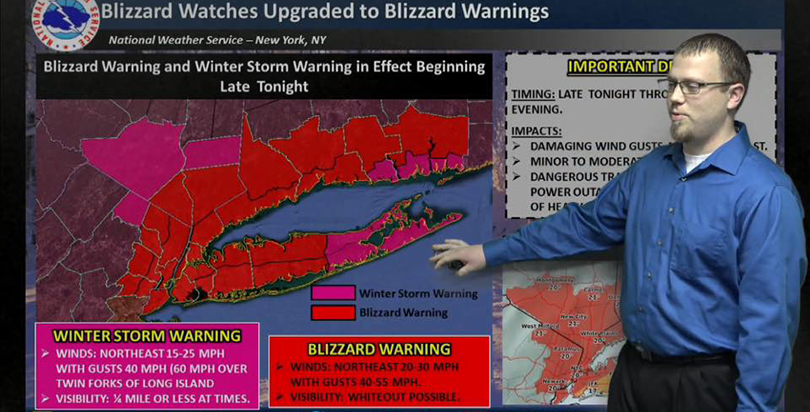 With a huge winter storm quickly approaching states across the Northeast, students from Maryland to Maine are checking forecasts in anticipation of at least one snow day. But for students in Malverne Union Free School District, located 25 miles east of Manhattan, the weather outlook came during the morning announcements from music teacher Glen Johnson, or "Weatherman Glen,"
as he's affectionately called in the hallways
of Malverne High School.
---
---
The teacher of nine years is the founding member of
Islandwide Weather
, a meteorically growing Facebook page dedicated to projecting meteorological conditions for more than 7.5 million residents of Long Island.
"It started as my own page, just from the love of the hobby and encouragement from friends to do it," Johnson said. "It has exploded [in popularity]."
---
---
More than 15,000 weather buffs now follow and share Johnson's every post; since the naming of Winter Storm Stella, he's been averaging more than 500 new followers every day.
Perhaps even more impressive: His custom weather maps, which crop out Manhattan in favor of Long Island–specific forecasts, are typically shared hundreds of times.
---
---
Predicting weather in a piece of New York state that's 13 percent larger than Rhode Island, the United States' smallest state, and surrounded by water, has proved tricky for the weatherman.
"Long Island weather is some of the most difficult to forecast, with the changing dynamics of sea breezes and ocean temperatures," Johnson said.
The lesson of staying calm in inclement conditions is one he's passing on to his students, because weather, like life, is always changing.
"It's important not to get so wrapped up and stressed over things that we can't control," Johnson said.
The self-taught meteorologist, whose teaching job entails directing the school's symphonic band and "
Pride of Malverne
" marching band, said the most important thing for potential prognosticators of precipitation is to have patience.
"Just appreciate the amazing dynamics the atmosphere has to offer and learn how each piece affects the other," Johnson said. "Dream big and never let anyone tell you that you can't do it!"
---
---
Get stories like these delivered straight to your inbox. Sign up for The 74 Newsletter