This NYC Hospital Teacher Is Crowdfunding E-Readers for Sick Students Who Can't Risk Handling Books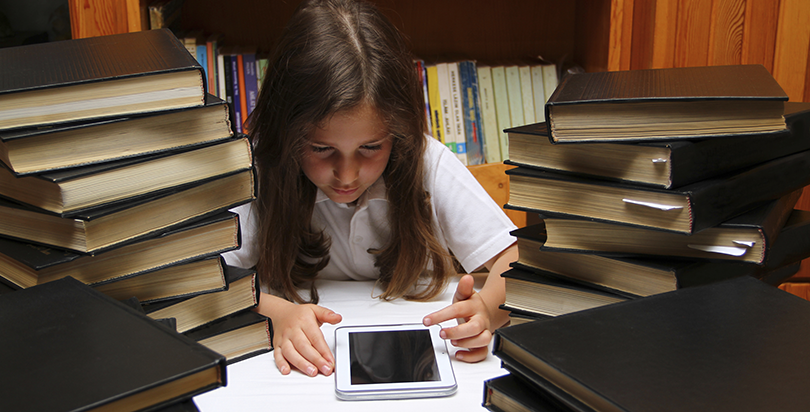 This article is one in a series at The 74 which profiles the heroes, victories, success stories and random acts of kindness to be found at schools all across America. Read more of our recent inspiring profiles at The74million.org/series/inspiring.
Hospital teacher Kris Gonzalez knows the scene too well: students suffering from sickle-cell disease forced to spend chunks of their school year in the sterile environment of a hospital room.
"We had one girl who was in and out three times last year," Gonzalez tells The 74. "They miss a lot of what makes a normal teenager's life." Students with chronic conditions also need to live in a room that's removed all risks of infection, which means nothing going in or out that can't be properly sterilized.
That means no traditional books.
"Obviously I want to keep kids engaged with books as much as possible," says the 32-year veteran teacher entering her second year as a hospital teacher. "As a hospital teacher you don't have a lot of space, which means you have a limited number of books and a limited number of books you can give away to kids.
"That is where the idea for the project came."
Gonzalez, in an attempt to create a better learning environment for the New York City hospital she is moving to this school year—where she will be the only teacher in residence—launched her first project on DonorsChoose.org, a crowdfunding website geared specifically for educational support.
Her first request: Kindle Paperwhite E-Readers, chargers and protective cases so her students can have reading material suitable for a sterile environment.
The project has a modest goal of $752 for four devices, an effort Gonzalez says will reach about 175 students.
"E-readers will allow students confined to their beds to read an endless supply of sterile books, newspapers, magazines and comic books," she says. "The waterproof cases I'm requesting can be sterilized with the supplies that are readily available in the hospital."
Chris Pearsall, a DonorsChoose.org spokesperson, says the Gonzalez project serves as an example of the innovation seen on the site. "I am so amazed at the lengths this teacher is going to," he says.
DonorsChoose.org launched in 2000 as a way to help teachers, and classrooms, in need and has since attracted over 2 million supporters who have funded 762,000 projects to benefit 19 million students. Pearsall says DonorsChoose.org provides a crowdfunding forum for educators to alleviate the financial burden of teaching, whether helping them secure needed basic supplies or offering unique experiences well beyond the budget of even a well-funded district.
The most common projects revolve around classroom supplies and while nearly 75 percent of projects reach full funding, Pearsall says projects from at-need schools that request between $600 and $800 have seen the most success.
For Gonzalez, her first year serving as a hospital teacher—the New York City Department of Education provides instruction by a licensed teacher to any child admitted to a hospital—opened her eyes to a new world of teaching. And she says moving to a new hospital for her second year gave her time to think how she could help the students.
"This is a great example of how DonorsChoose.org helps thousands of schools and millions of students on a huge variety of projects," says journalist and longtime DonorsChoose.org board member Jonathan Alter, "all of which are funded by small donors who know exactly where their money is going." (Alter also sits on the board of The 74)
"I learned a lot of things about kids being in the hospital and some of them, a lot of them, are things you don't think about," Gonzalez says. "Lots of kids spend a lot of time alone." Parents maybe have to work, and there may be siblings that need to be taken care of who aren't allowed into sterile hospital rooms.
Compounding issues: Many hospitals lack Internet access that may keep some of the older students occupied and some public hospitals don't have child life specialists focused on keeping kids productive.
"I get to spend one or two hours a day with kids," she says, "and going to a new site and thinking I am going to be by myself at that site, it was even more important for me to figure out a way to spread myself. I can use a reading assignment while I'm working with another child to make me more efficient and keep kids gainfully employed."
Gonzalez credits other NYC hospital teachers for turning to DonorsChoose.org, especially this project that looks to help provide needed technology to students with special needs.
Gonzalez says the needs are greatest for her "frequent fliers," or the kids who bounce between being in and out of hospital care, because of acute and chronic conditions. "It is hard for anyone to be in the hospital," she says, "but it is especially scary and difficult for little kids."
August 21 update: Gonzalez's project was fully funded by donors after roughly two weeks. Those interested in helping her secure e-readers for more kids can donate here; all additional donations will go to a DonorsChoose gift card that Gonzalez will be able to use for her next project.
Shortly after she reached her goal, Gonzalez posted: "You have once again confirmed my belief in the compassion and goodness of humankind. Your generosity is overwhelming and deeply appreciated. I know that these Kindles will bring a Paperwhite brightness to the lives of kids who are going through a dreary time. Thank you."
Get stories like these delivered straight to your inbox. Sign up for The 74 Newsletter