An Educator's View: My Charter School Network Was Founded to Battle Racism and Injustice. That's Why We Shut Down Last Week for a Day of Action, Healing & Connection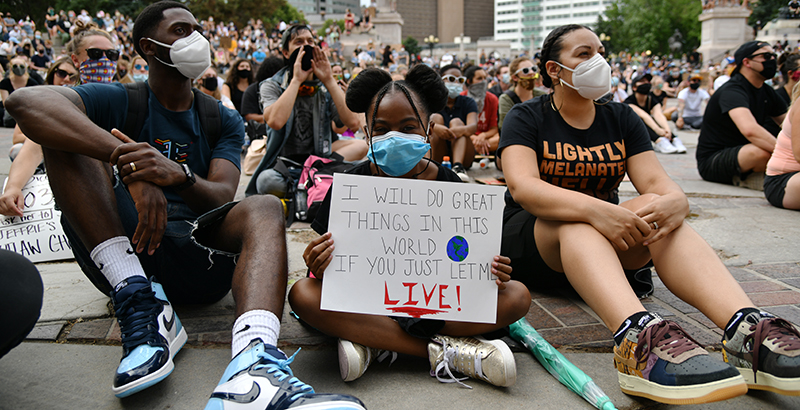 As the black mother of a black 16-year-old son, I watched the video of George Floyd and visualized my son on that ground. I visualized the thousands of black boys we educate in our Uncommon Schools. I thought about how I was witnessing yet another modern-day lynching, in broad daylight. And that broke me.
With protests erupting across the country, with our own staff and families and students participating, with countless conversations happening about the toll these events were taking on us personally, it became clear that we, at Uncommon Schools, needed to take bold action.
So, we decided last Sunday night that we would shut down our organization of 2,500 staff members and 20,000 students the following day. We recognized how deeply exhausted and upset so many of us were — especially our black and brown students, families and staff. We knew that the best way to honor our commitment to our students was to honor our commitment to our staff — and nothing was more important than for our staff and students to take a day for their own mental wellness. To process what was happening. To care for themselves. We knew it because it was exactly what we ourselves as people — not just as leaders — were feeling and needing.
We sent messages to all Uncommon staff, and to our families, and immediately spread the word externally via social media and additional email blasts. It was important to us to send our own public message of shared frustration and anger around the systemic racism and injustices that our very organization was designed to help combat.
We were incredibly moved by the response. We received so many messages from our staff, who appreciated feeling seen and cared for as people and not just as educators.
Our only guidance to our staff was to use the day in a way that feels right. Many of them commented on how they felt they were truly able to use the time to deeply reflect and heal. Many of our leaders used the day to hold community meetings about the events and their emotions. Kids and staff members came together to talk and connect about the incredible inequality so many of us live with every day.
Countless staff members used the time to identify personal actions that they could take to combat systemic racism, and to share those ideas with their friends. Our Leaders of Color Fellowship group at Uncommon Schools — a mentor/mentee group focused on how we show up for ourselves and for our students, and cultivate future leaders of color — had a powerful discussion about where we each were in processing the events and our feelings, and how we could show up at school the next day. What would our presence as leaders but also as people of color look like in these challenging times? What would we say, what would we do, what would we initiate? How do we lead while also recognizing what we are going through as individuals?
We also immediately started getting emails from our fellow charter school leaders who were moved by our action and felt the same need resonating for them and their organizations. They moved quickly as well, taking Tuesday as a day of solidarity and widening the reach of our collective statement.
Now, we're back to work with a renewed sense of purpose and with an urgency to continue providing spaces to have conversations around injustice and racism with our staff, students and families. We are continuing to examine our curriculum to ensure that we are telling our history. We are going to develop a session for our white leaders, who we know are so committed to listening and acting as allies. We are an organization in which almost 60 percent of the teachers and nearly half of the school leaders identify as people of color. The conversations about our shared work are deep and rich because of what we all bring to the table.
And we're going to stay involved in the dialogue outside our walls, sharing ideas and resources, learning from others who are engaged in this same work, and speaking out and standing up for our beliefs and for change. Our tagline at Uncommon Schools has always been to Change History — and more than ever, we are fiercely committed to doing just that.
Julie Jackson is president of Uncommon Schools.
Get stories like these delivered straight to your inbox. Sign up for The 74 Newsletter