Amira Literacy Uses Artificial Intelligence to Analyze and Support K-3 Students' Reading Skills, Opens Up Greater At-Home Learning Options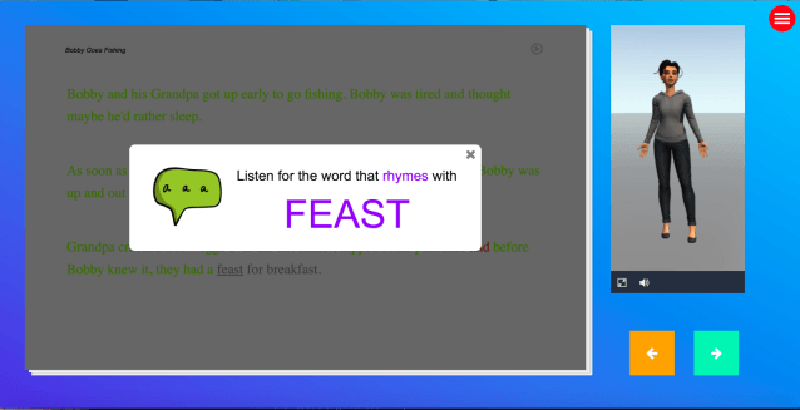 For K-3 students, Amira is an avatar — one wearing a green jacket with short, dark hair — that pops up on a screen while they work on literacy skills. For educators, though, Amira is more than an artificial intelligent program listening to students read aloud; it is technology that assesses student mastery while delivering personalized coaching and saving teachers time.
As teachers grapple with ways to stay connected to students, especially those already struggling with literacy, Amira wants to be part of the solution. Begun in 2017 with a project using Carnegie Mellon University technology, Amira has built an in-classroom product that is used in 280 school districts across the country and taking AI literacy software to new places, says CEO Mark Angel.
Amira's reading assistant begins by observing a student read for six to 10 minutes, "the same way a really good teacher does," Angel says. The software gauges the child's ability to name letters, sound out words and combine them into phrases and sentences. "We will put a student through a set of observational mini-tests, and then (the program) spends a couple minutes actually listening to that student read an appropriately leveled story or passage out loud," Angel says.
From that initial screening, Amira is able to grab information to spot signs of dyslexia risk, gauge mastery of phonetics, estimate a student's vocabulary size and get a good handle on decoding skills and comprehension levels. Then, the program reports findings to a teacher to support differentiated instruction, pinpointing the exact level of literacy abilities and needs for individual students.
Early on, when learning took a dramatic at-home-only turn for most students, Amira offered its online platform free of charge to districts and schools. As the pandemic continues, the cost for Amira is about $20 per student, per year.
"All the data shows that the ability to read is life's most important skill, and we are in a race to get every student to fluency by third grade," Angel says. "If students don't become masterful, motivated readers by third grade, they are four times more likely to drop out of school, have career earnings 35 to 40 percent less and confront a lifetime of difficulty and struggle. We are coming face to face with those dreadful statistics and getting to a place where a lot more kids have an opportunity to spend time reading out loud and do the practice necessary to rewire the brain for good reading."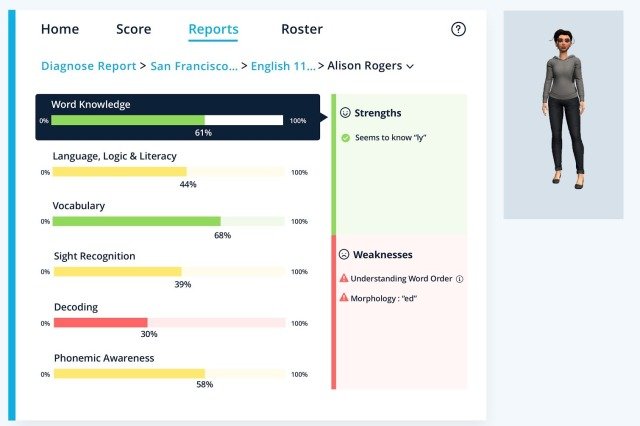 Following the initial assessment, Amira encourages teachers to have students spend time practicing reading with the AI assistant for 10 to 15 minutes per day, three to five days a week. The program listens for mistakes, hesitations or problems and provides individualized tutoring.
"It is in that individualized tutoring process Amira is special and unique, using artificial intelligence to look at the context of a student's mistake and decide the right kind of help to build skills," Angel says. "It might say they are struggling with this word because they are having a challenge decoding a particular phoneme, or sometimes Amira will decide a student lacks a decoding skill around a silent letter or plurals. Sometimes it is just a hard word, and Amira will provide a definition and get them to be more familiar. It is during that tutoring process Amira delivers personalized help around the observed mistakes and helps them get through the text and move on."
Students can plug their own assignments into the program or let the AI suggest stories based on the child's interests. Angel says a typical classroom will use Amira as part of a rotation, with a teacher working with one group of students, another group working on a different project and a third group working with headsets on a Chromebook, iPad or whatever hardware is in the classroom. The groups can rotate every 20 minutes.
"Amira has the potential to change the landscape of independent reading practice," says Dr. Katharine Miles, a Brooklyn College professor and reading scientist.
Amira's leadership team was born out of Renaissance Learning, where many of the staff, including Angel, worked. As the chief technology officer, he says, he started looking for a better way to help K-3 students, and he and a group of Renaissance employees licensed the Carnegie Mellon technology and built Amira around it. With venture capital backing the company, they created the core product and demonstrated its value, then found a partner in with Houghton Mifflin Harcourt that could take the product to scale and reach into the complicated ed tech marketplace.
In 2019, Amira partnered with the University of Texas Health Science Center at Houston to help administer the TPRI, an early literacy assessment created by the school and delivered to educational institutions across the country. The partnership allows Amira to give the test online as a digital application, creating the first fully automated AI curriculum-based assessment.
Amira has worked with 280 school districts across the country. Moving forward, Angel says the goal is to continue evolving and improving. "AI software is like any person who is learning a new skill," he says. "The more experience we get, the more different kinds of situations we see, the better we are at practicing our craft."
With more diversity of students, Angel expects Amira to soon work better with children who have unique challenges, whether it's pronounced regional accents, dyslexia or special needs. "These are capabilities," he says, "we can optimize by using the power of the AI."
Get stories like these delivered straight to your inbox. Sign up for The 74 Newsletter