Amid Rising COVID Cases and Concerns About Instruction, NYC Parents Face Deadline for Returning Students to In-Person Learning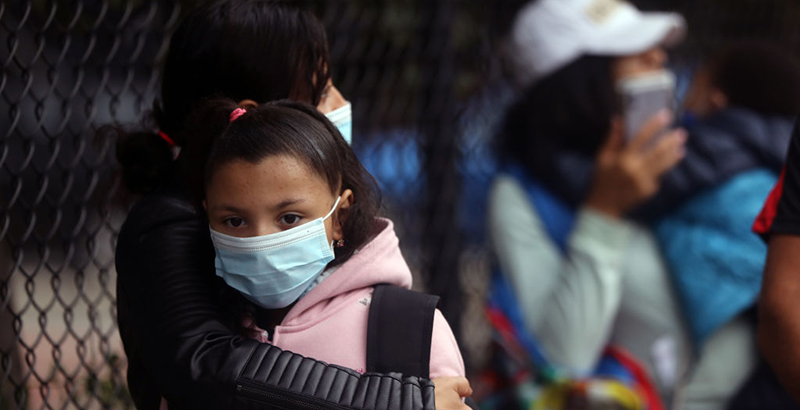 Updated, Nov. 11
New York City families are confronting a daunting dilemma this week, as they weigh the pros and cons of distance versus hybrid learning in light of a looming Department of Education-issued deadline.
By this Sunday, Nov. 15, most parents whose children have been learning remotely full time have to decide whether or not to stick with that option — potentially for the rest of the school year — or select a blended model that would put their kids in school buildings one to three days a week.
Caretakers and advocates interviewed by The 74 said the cutoff is ill-timed, given the city's steadily rising coronavirus rate and lingering questions about the quality of the remote and in-person instruction being provided to its 1.1 million students. Some principals have decided to offer parents additional opt-in periods, so that families aren't pressured to make a snap judgment one way or another.
"Parents feel very forced into this whole one-time opportunity thing," said Amy Ming Tsai, whose ninth-grader is one of the approximately 25,000 students in District 75, schools for students with profound disabilities, who were the first to return to in-person learning Sept. 21. "There are a lot of issues of concern about the rise in COVID and the services being given in schools."
New York's seven-day positivity rate reached 2.52 percent as of Wednesday, according to Mayor Bill de Blasio, up from a .9 percent low in early September. The mayor has said if that number reaches 3 percent, he'll close schools.
Flanked by health advisors at a press conference Monday, the mayor attributed the surge to indoor gatherings and travel, and asked New Yorkers to refrain from participating in those activities during the holidays this year. He also reiterated the importance of mask-wearing and social distancing in curbing further spread.
Schools Chancellor Richard Carranza announced the two-week opt-in window at the end of October, after officials told families over the summer that students would be able to switch to hybrid learning at any time.
"This will be the only time to opt in," Carranza said, modifying that position just days later to allow for the possibility of parents switching back down the line, depending on the evolution of the coronavirus.
A DOE spokesperson said Tuesday that the department recognized the many reasons students might be staying home — including quarantining in anticipation of and after the holidays or caring for a sick relative — but that these are "not reasons to move a student to remote."
"While we will maintain flexibility for families who have legitimate reasons for not being able to attend in-person, our schools cannot continue to hold spots for students who aren't showing up because teachers, resources, and classrooms aren't being used to their full potential for students who are showing up regularly," Deputy Press Secretary Katie O'Hanlon said in an email.
O'Hanlon said the city's attendance figure is now 300,000, up from the 280,000 reported Oct. 26, but still far fewer than the 46 percent of all students the department initially said were attending in-person classes. De Blasio set out to make — and keep — New York City one of the few big urban school districts nationwide to reopen schools, but the fact that the majority of students are learning from home has led some to wonder why the DOE didn't focus on making remote learning as robust as possible, while providing in-person support for the highest-needs students.
Some kids still don't have access to WiFi, including a number living in homeless shelters. The students that do have access to instruction can end up in virtual classrooms with upwards of 70 children, according to some reports.
"A lack of instructional planning this spring and summer, along with poor or contradictory guidance to principals, have left too many students struggling to get or stay online, or in overcrowded virtual classrooms," United Federation of Teachers President Michael Mulgrew said in a Daily News op-ed Monday.
Nov. 15 is also the day city law requires the DOE to report class size by school, by district and across the city. City Councilman Mark Treyger, who chairs the Education Committee, sent an Oct. 15 letter to Carranza urging him to release the numbers on time, and to break them down by remote classes and in-person.
"I am concerned that these reports may not be released on time this year," he wrote, adding, "The data is crucial, particularly now — and especially as many parents and teachers are reporting extremely large remote class sizes with as large as 70 or 100 students or more."
Maria Henderson, Treyger's communication director, said Tuesday he hasn't received a response from the DOE.
Advocates for special education students are especially interested in the class size numbers for those learners. At an Oct. 23 City Council hearing, Advocates for Children testified that the DOE had violated state limits on class sizes for special needs students in self-contained classes, and that they had received complaints about the size of inclusion classes, where special needs students learn alongside their mainstream peers.
"I think the attendance data is really important," said Ming Tsai, the District 75 parent. She pointed out that the numbers will inform citywide conversations on a range of issues, from staffing to admissions to testing. "It helps us know what to do now, and as we look forward to the rest of the school year," she said.
Advocate Leonie Haimson of Class Size Matters, who urged Treyger to send the letter, said she understands why the DOE is pushing parents towards making a decision about hybrid learning: the back-and-forth makes it difficult for principals to plan realistically for staffing and programming. But she finds the timing of the deadline problematic.
"A lot of the in-person classes are very small. Because of that, [principals] could definitely include more students," she said. "But to simply close off the possibility of opting in later in the year makes no sense whatsoever."
If New York City does hit the 3 percent positivity rate for new COVID-19 cases, there will be no more in-person classes.
"God forbid …we had a full-blown second wave, it [could mean] a lot more restrictions," de Blasio said Monday. "It could mean having to shut down schools … So that's why I'm telling people there's one last chance to stop that, and we need everyone to participate."
Last month, the city closed schools in Brooklyn and Queens to rein in outbreaks there. Those neighborhoods have seen improvements, and some of the formerly shuttered schools, including 23 in Brooklyn, are on track to reopen Thursday. Meanwhile, new hotspots in Staten Island have emerged.
Random testing of students and teachers reporting to school in-person shows that the presence of the virus remains low, with a 0.17 percent positivity rate, according to O'Hanlon. She said the DOE is looking ahead to programming as much in-person learning as possible.
"Beginning Monday, November 30, in order to best serve all children in their desired mode of learning, we want to make sure that the expectation is clear: if you are in blended learning, your school expects that you will attend school in-person."

Get stories like these delivered straight to your inbox. Sign up for The 74 Newsletter