Allen: The Real Ed Reform Schism Is Between Parents Who Need School Choice & Elites Who Just Don't Get It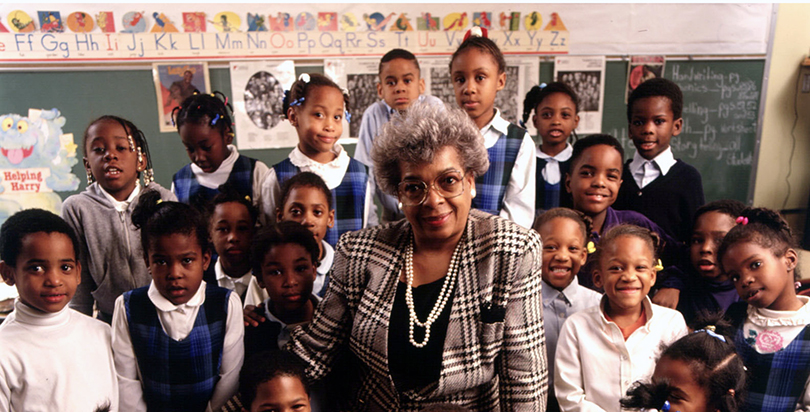 Much has been written lately reporting a deep schism in the ed reform arena. Most recently,
Associated Press
reporter Geoff Mulvihill wrote that "the movement has been cleaved into two camps: those who want to use choice to improve public schools, and others, like Education Secretary Betsy DeVos," who want to go further.
It's a fairly routine thing for reporters to declare a schism when diverse opinions abound, sending well-meaning advocates scurrying to either demonstrate that there is no schism or, worse, creating a firestorm of other articles, tweets, and such that reaffirm the theory.
It's certainly nothing new. It's a hardy perennial in the garden of education reporting, even if it's off base.
In October 2015, USA Today contributor Richard Whitmire wrote of "The Democrats' Great Education Schism," reporting the fissure between traditional liberals opposed to all violations of the status quo and those who embrace a variety of school options, like charter schools. A few months later, The Fordham Institute's Michael Petrilli described the school choice movement's schism as being like a family feud that grows larger as the family grows larger and more disparate.
The problem is that none of this really matters to the millions of Americans who care deeply about education, desperately need great opportunities at every level, and embrace the freedom to decide where and when and how they and their families are educated. Whether or not 300 elites in various issue areas, across political ideologies or any other traditional social divisions, disagree about the degree to which choices over education should be permitted at the local, state, or federal level, tens of millions of families continue to be woefully underserved by our 20th-century schools in the 21st century. Debates over whether charter schools should expand, or how much freedom of choice is too much (in America? Argh!) are maddeningly dismissive of the immediate needs of real flesh-and-blood children whose lives and futures are being sacrificed to preserve the notion that failing traditional schools must be protected at all costs.
The real schism is between the parents who are told they can't be trusted with making fundamental decisions about where and how they educate their own children, and those who live in the Ivory Tower or work on the 45th floor of an office building in any number of cities.
Indeed, it was the very parents fighting for real power and teachers frustrated by an often-suffocating environment that gave birth to education choice efforts. From the early 1990s, they found champions in both likely and not-so-likely venues.
Brave and determined people from a wide variety of political and economic backgrounds, including Milwaukee Assemblywoman Polly Williams and School Superintendent Howard Fuller, joined hands with Wisconsin Gov. Tommy Thompson to create that state's first educational choice plan. When Williams died three years ago, Fuller praised her legacy, saying, "There would be no parent choice movement had it not been for the courage of Polly Williams. She was the definition of a warrior." Williams was the mother of four children, a woman of modest means, and typical of the original education choice pioneers.
As she told the Milwaukee Journal Sentinel in 2010, she was just "fighting to give parents — regardless of their economic status — the right to have some say-so about the education their children were receiving."
Or take T. Willard Fair, a Miami civil rights leader who forged Florida's programs of education choice with then-Gov. Jeb Bush. In a column in USA Today last week, Fair lamented that "Nobody cared when … black kids were assigned to failure factories that set them up for a life of poverty and dependency. But give the parents of these children a choice to select alternatives, and suddenly the people who care about where these students go to school come crawling out of the woodwork."
Polly Williams and Willard Fair, like so many thousands of others over the past quarter-century, were more than willing to cross the aisle for the sake of school choice for children everywhere. It's the reason the movement has been so successful. And they'd never engage in idle chatter about who is schism-ing with whom. Not when people's lives are stake.
The AP article was off the mark in that it not only misrepresented the purpose, legacy, and current state of educational opportunity, but put stock in the opinions and ideas of the elite, few of whom actually know from whence education choice came and how every signature law passed from the earliest days was made possible by a blend of the most diverse groupings of people that social policy analysts have ever seen. And even if there are a comparably few people running around the country complaining that proposals go too far, or not far enough, so what? Disagreement is news?
There is no requirement that everyone who works or funds the work to change that status quo must be in absolute agreement. The divide lies between those who stand in the way of change and those who want the widest available range of opportunities for children. That's the schism — the status quo versus advocates for transformational opportunities for students. Which side of the dividing line are you on?
The status quo doesn't work for kids; that's indisputable, and that's news to all too many people.
Support The 74's year-end campaign. Make a tax-exempt donation now.